Best monitor for MacBook Pro: the top picks for your Apple setup
Find the perfect partner for your MacBook pro with our recommended monitors that work best with a MacBook Pro.
Updated: Apr 18, 2023 11:52 am
01

Best Overall Monitor for MacBook Pro

02

Best Apple Monitor for MacBook Pro

03

Best Touchscreen Monitor for MacBook Pro
While the MacBook Pro is an impressive and powerful device with a fantastic display, it doesn't have the largest screen. And as long as you're not working on-the-go, you'll likely want to pick up a secondary monitor for your office to give you more room to work and play, or just a single display that's a little more suited to a desk.
But at the same time, Apple's MacBook Pro laptops (and their entire Mac range) have incredible Retina screens that are vibrant, colorful and super-detailed. How do you make sure you get a monitor that doesn't ruin that overall experience?
Best monitor for MacBook Pro 2023: products at a glance
Apple Studio Display (6501568)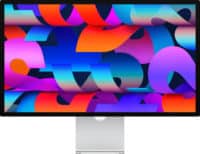 ASUS ProArt Display PA148CTV
Fear not, we've trawled the hundreds of monitor options available now to help you find the best monitor for MacBook Pro users, including looking at touchscreen monitors for anyone who is looking for that functionality. Whether you're a designer, a video editor or you just love sketching on your MacBook, these monitors are a great choice.
---
Best monitor for MacBook Pro 2023: our top picks
01

Best Overall Monitor for MacBook Pro

02

Best Apple Monitor for MacBook Pro

03

Best Touchscreen Monitor for MacBook Pro
---
Best monitor for MacBook Pro 2023: reviews
Best monitors for MacBook Pro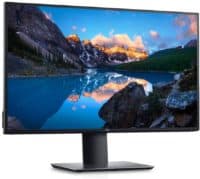 Really sharp and vibrant

Can power your MacBook Pro

Plenty of adjustment options
Not cheap

Screen size may be too big for some desks

Not a touchscreen
While a lot of Dell computing products can be disappointing, one area where they still do a great job is in their monitors. And this 27" 4K option is widely regarded as one of the best choices for using with a MacBook Pro.
Ergonomically it's really easy to use – it can swivel, tilt, pivot and has adjustable height, so you don't need to worry about risers or having it at an uncomfortable angle. It's also got a ton of ports, so connectivity is no issue, including two USB-C (one downstream, one upstream). Use the USB-C port and you can power your MacBook while you're using it too.
In terms of image quality, it's a really sharp 4K display with a brightness of 300 cd/m2 which, while not the finest, is still really vibrant and plenty for creatives to use for at-home projects. It also has SDR 30-bit mode for really accurate color reproduction. Serious users might need to spend some time tweaking settings to get the perfect results, but out of the box it's great for most people.
Overall, this monitor looks great, doesn't take a lot of complicated tweaking to get it right, and is just simple to connect. It's not a touchscreen, which is a downside of a lot of the best monitors, and it's not particularly cheap either. And at 27" it might be a little too large for some desks. But we have no problems recommending this otherwise.
Best Official Apple Display
Apple Studio Display (6501568)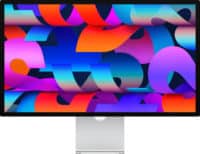 Really solid 5K display

High quality speakers built-in

Excellent color accuracy
Super expensive

No HDR support

Tilt-only as standard
We've included the Apple Studio Display because we know some people are super-loyal to Apple and want to make sure everything matches. And it does have some really good features. It's one of the best 5K monitors available, and it has a peak brightness of 600 cd/m2 and a wide color gamut. Things do look really bright, colorful and accurate on the screen.
It also has six speakers built in around the edge of the screen and the sound is crisp and powerful. It's pretty impressive actually – not many monitor manufacturers put much thought into speaker quality because they assume you'll have separate speakers, but these are easily good enough for most uses and help keep your setup clean.
Onto the downsides. The Studio Display is already an extremely expensive monitor, but as standard you don't get the anti-glare screen and you don't get the fully adjustable stand; you can only tilt it. And the upgrades aren't cheap either.
Plus, the monitor doesn't support HDR, and while it has a built-in camera the quality is pretty poor. If you need a webcam, then you'll definitely want to rely on the MacBook Pro's one instead.
If you love Apple, then go for it, and it does look pretty amazing. But at this price you should be expecting perfection, not having to spend a few extra hundred dollars just to adjust the height of the screen.
Best Ultrawide Monitor for Macbook Pro
5K2K resolution

Nano IPS is almost as good as Liquid Retina

USB-C connectivity
Not the best build quality

Expensive
MSI are a company that are normally associated with gaming products, but this monitor is instead fully-aimed at creatives. With a 34" ultrawide display you can easily work on multiple projects at the same time, and they'll all look fantastic thanks to the Nano-IPS panel display. Colors are exceptionally bold and it has great accuracy too, covering 98% of the DCI-P3 gamut and 100% of sRGB.
It's a 5K 2K screen too (5120 x 2160) which offers plenty of sharp detail. It can struggle a little with finer font sizes though, but you can often fix this with some tweaking of the settings.
In terms of connectivity, you've got a USB-C port that delivers enough power to keep your MacBook pro running and works at full resolution, as well as DisplayPort and HDMI options. With picture-in-picture you can split the display too between different inputs.
It is a little pricey at around the $1,000 mark, and what's really disappointing is the build quality at this price. It looks fine, but it's plastic-y, and it doesn't feel like the premium product that you'd want to partner a MacBook Pro with. If that's not too important to you though, then this is a fantastic option.
Best Touchscreen Monitor for Macbook Pro
ASUS ProArt Display PA148CTV
Sharp Full HD display

Touchscreen

Portable
Expensive for a portable monitor

Small screen size
Finding the right touchscreen monitor for a MacBook Pro isn't easy because many of them just aren't responsive enough to be useful for creatives.
The Asus ProArt Display is different – it's got exceptional color accuracy and vibrancy and works really well as a touchscreen either for maneuvering through apps or even for drawing. The display is nice and crisp too with a Full HD resolution.
Of course that's helped by the fact that the monitor is the smallest on this list at just 14". It's not designed to give your MacBook Pro a ton of extra display real estate, but instead is a second monitor for having multiple apps open, or for accessing touchscreen controls for your primary app.
And while it's expensive, it's also portable, so you can work on-the-go easily. And because it's a USB-C connection you don't need to carry around an adapter with you.
Best Value Monitor for Macbook Pro
Great value overall

Wide viewing angles
Average brightness

Not the most accurate colors
It's important to be clear that this isn't the best budget monitor – there are plenty you can get for probably half the price if you just want something that works. But when you want to balance quality against price, then this Dell option is a great choice.
It's Full HD only but images are nice and sharp, and while it's not the brightest (250 cd/m2) and doesn't have the best color reproduction (by some distance) it's still perfectly fine for anyone who isn't serious about design work, and it's an IPS panel so it's not terrible.
With a 22-inch screen it's the smallest at-home monitor on this list but if you're looking to add multiple displays to your setup then this could work in your favor. You should avoid buying cheap monitors, but if you're working to a budget then this is a solid choice that will be perfectly fine for anyone who isn't working on a project where exact colors matter.
What is the best monitor for MacBook Pro right now?
It's hard to say what the single best monitor is for MacBook Pro because it depends on what you're using it for. MacBook Pro users will work on a wide spectrum of projects or might just be everyday users who wanted a powerful device.
Which is why we've taken a look at a broad range of monitors to suit different needs. There are those suited more to serious creatives who want a wider space to work on designs, and others that prioritize touchscreen functionality over color reproduction and sharpness.
It'd be great if there was a touchscreen monitor that ticked all the boxes of being super-high resolution and amazingly bright, but that's not the case yet. Touchscreen functionality isn't a priority for most secondary monitors – most people who want the best functionality will buy a drawing tablet instead.
We've picked out what we think is the best overall choice, with the features that most people will need, but we've also looked at portable, touchscreen and ultra-wide options too. And of course, we know some MacBook Pro users are Apple customers for life, so we've taken a look at the best Apple monitor for MacBook Pro too.
Is the MacBook Pro compatible with all monitors?
The MacBook Pro is compatible with pretty much any monitor. The issue is connectivity. The MacBook Pro doesn't have the same DisplayPort or HDMI port connections that a laptop or PC tower does. Instead, it relies on Thunderbolt.
Thunderbolt is an excellent port, capable of carrying visual and audio data but also working with peripherals too. You can connect a load of devices to a Thunderbolt port, and you can do it all at once if you use a Thunderbolt hub.
However not all monitors can connect to Thunderbolt directly, so you're either going to need to buy specialist cables or, more likely, an adapter for your MacBook Pro to allow you to plug an HDMI or DisplayPort cable into the Thunderbolt port instead.
One benefit though – if you do choose a monitor that can connect directly to the Thunderbolt port via USB-C, some are capable of powering the MacBook Pro at the same time. By plugging in the monitor and connecting it to the MacBook Pro, you can power both with just the one mains cable.
That's not the case for all USB-C monitors though, so make sure you check the power delivery. How much power you need depends on your MacBook Pro model, but 60 watts will work on most, and 85 watts likely being enough to handle the latest MacBook Pro at full load.
Things to consider when purchasing a MacBook Pro monitor
There are a couple of key things you need to consider when buying a monitor for a MacBook Pro. One of the most important is connectivity, as we've already covered. Look out for one that has a USB-C upstream port ideally – be careful that it's not just a downstream port that can power your phone.
If you find a monitor that you like that doesn't have USB-C as a connection type, you'll need to make sure you buy an adapter for your MacBook Pro. Bear in mind that these can cost around $70 for an official Apple one, so if you're working on a budget then you'll need to factor that cost in.
Then there's the touchscreen factor. MacBook Pro laptops don't have a touchscreen, despite it being one of the most wanted features for the last couple of years. Remember that MacBook Pros are mainly designed for creatives. They're not gaming laptops and they're not for people who spend intensive amounts of time using Microsoft apps. A touchscreen would make sense.
So, it's worth looking at options to add a touchscreen monitor to your MacBook Pro setup. But again, bear in mind that touchscreens aren't going to be as responsive as a dedicated drawing pad or tablet.
Also make sure you don't ever buy a resistive one. These don't work with multitouch controls and require a harder mechanical press to work, massively reducing sensitivity options.
Best monitor for MacBook Pro: Understanding the specs
Here are the key spec you need to be looking out for when choosing a monitor for your MacBook Pro:
Size
Most people buy a monitor for their MacBook Pro to get a larger screen. Depending on the size of your workstation, you'll need to factor in how big of a screen you can fit (and afford). 22-24" is on the smaller side but will still be a significant improvement over the MacBook's own display but aim for a 27" monitor if you can fit one. Or, if you want a wider working area, an ultra-wide 34" monitor is a fantastic choice.
Resolution
The MacBook Pro's Liquid Retina XDR display doesn't have a typical resolution, but it's closer to 4K than Full HD. If you want to replicate that quality, you should be looking for a 4K or even a 5K monitor to get the most out of the larger screen. 5K monitors are rare and often not worth the extra cost, so 4K is probably the best choice.
Of course, there's nothing wrong with Full HD for some tasks, and they're a more budget-friendly option. On a 27" display Full HD will just about hold up.
Brightness
Brightness is really important for creatives. Your MacBook Pro display will look amazing, and you don't want a monitor that looks faded in comparison.
Most monitors are measure in candelas per square meter (cd/m2). As a guide, 1 cd/m2 is the same as 1 nit, so if you see a display advertising nits then you can easily compare. Basic monitors will be around 250 cd/m2.
300 and above is good but beware of monitors that only advertise peak brightness without any extra color-accuracy features. Anyone can crank up the brightness without considering contrast or color reproduction.
Panel type
We'd recommend an IPS panel for a MacBook Pro user. IPS panels have much better color accuracy and viewing angles than a TN monitor and maintain that color at a wider viewing angle compared to a VA display.
Read more: TN vs IPS vs VA
How we test and choose the best monitors for MacBook Pro
We always try to make sure that we physically test the products that WePC recommends before we publish our guide. Sometimes though that's not possible – as is the case with the best monitors for MacBook Pro – and so any that we've not fully tested we've chosen instead based on our knowledge of prior models from the brand and our expertise in the spec.
We will perform tests of all the monitors we recommend in this and our other guides – and if we need to change our recommendations, we'll do so immediately.
Related pages
Monitor for Macbook Pro: FAQs
Can you use a monitor with a MacBook Pro?
You can use a monitor with a MacBook Pro. It'll also export to a project or a TV if you prefer, although a monitor is the best choice for preserving the high-quality image. You just need a cable that plugs into the Thunderbolt port, or an adapter.
What monitor works well with MacBook Pro?
Any monitor will work with a MacBook Pro, but your priorities are one that's a high resolution, good color accuracy and ideally a touch screen monitor. Only some of the more powerful MacBook Pro laptops can handle a resolution above 4K but there are very few monitors capable of this anyway.
Which monitors do Apple recommend for MacBook Pro?
Apple will only recommend their own products, and so the Pro Display XDR and Studio Display are the main Apple-recommended monitors for a MacBook Pro. The Pro Display XDR is overkill for most at-home users so if you want an Apple one, go with the Studio Display.
Can I use a non-Apple monitor with MacBook Pro?
You can use any non-Apple monitor with a MacBook Pro providing you have the right cable and adaptor. You'll need a USB-C monitor, or the right adapter for your MacBook's Thunderbolt port. Once connected they should work without issues.
Can I connect two monitors to my MacBook Pro?
The number of monitors you can connect to your MacBook Pro depends on your model, or specifically the processor your model has. MacBook Pros with an M1 Max can connect to four displays, M1 Pro models can connect to two monitors, and any with a standard M1 can only connect to one external display.
Final Word
The best MacBook Pro monitor very much depends on your preferences for screen size, budget and touchscreen capabilities. Most of the best touchscreen monitors don't have anywhere near a good enough resolution or color accuracy to be worth using with a MacBook Pro, hence our choice of a smaller display – compromising on size is better than quality.
But among all of these monitors, the best all-rounder is definitely Dell's U2720Q. A great screen size, all the ergonomic controls you need, and ease of connectivity are matched with a razor-sharp 4K display and great color. If you don't have a specific need from your MacBook Pro monitor, then this is the one to go for.
---