Pokemon Legends: Arceus Kleavor Boss Guide
Get the best of the first major boss in the game!
Updated: Nov 10, 2022 10:39 am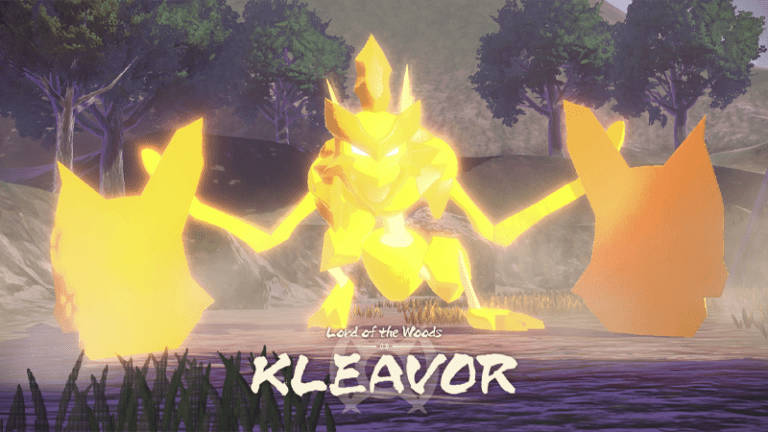 This is part of our ongoing Pokemon Legends: Arceus guide series, with everything to do with the game and more – including Pokemon Go – all living in our dedicated hubs for the games!
The first major boss in Pokemon Legends, Kleavor is a giant version of the actual Pokemon that has become enraged. You won't be able to catch it, but the fight actually works differently to any of the previous games, as you'll be running around the area in between actual one-on-one battles.
This is a boss that will effectively test your meddle of how well you can chuck a Pokeball because you'll be hucking medicine at Kleavor in hopes of bringing down that health bar.
Of course, the rules of the exploration field apply here, so be sure to keep your distance and aim high, as well as dodge the various attacks that come your way. He'll attack you with a series of rising rocks, slices and a charge move you'll need to use to have him crash into the side of the tree to knock him out.
Once knocked down, this is when you can run in and begin a fight in the more traditional sense. Remember that the defence is boosted in this fight, but the rules of Pokemon still apply.
Kleavor is rock/bug type, so be sure to bring something that can deal with these or maybe just try over levelling yourself into oblivion. I do highly recommend that you at least hit level 20 before going into this, my Pokemon that were under levelled, struggled to survive a couple of the attacks – especially Quillava against the more traditional rock moves.
Once you've done this, it'll be dazed and just get in as close as possible to lob more medication into its face until you're done. In the final phase it'll start getting quicker, but don't fret.
For more on Pokemon Legends: Arceus, be sure to check out our review of the game, as well as the many guides we're either working on or have published! If there's something you need help with, drop a comment below. 
---