Ahead of what already sounds like this E3-less summer's most entertaining publisher broadcast, Devolver Digital and Flying Wild Hog have revealed quirky new first-person melee shooter, Shadow Warrior 3. The polish developer has been teasing something for the past few days, courtesy of several tweets, and we finally know what it is.
As the name implies, Shadow Warrior 3 is a third entry in the franchise's 2010's reboot, and Devolver has cooked up an irreverent, tongue-in-cheek teaser to mark the occasion.
— Shadow Warrior 3 (@ShadowWarrior) July 2, 2020
Stylized as a phone call between the game's ninja antihero Lo Wang and his agent about the reveal trailer, it takes a few jabs at both Devolver and developer Flying Wild Hog as well as at the reveal trailer format itself, before showcasing an encounter with a group of enemies. As we've come to expect, it marries deadly gunplay with unforgiving melee combat alongside a good dose of mobility for quite the potent, murderous cocktail of violence. There's also a look at the new grappling hook set to further bolster the series' free-running movement system.
Packed with gags, over the top violence, a rather distraught looking rabbit, and some spine-removing takedowns, we'd expect nothing less from Devolver. As these things go, it hits the mark for a pretty entertaining first look at the gruesome combat of Shadow Warrior 3 and signals a welcome departure from the tone of most game announcements.
As for what Shadow Warrior 3 is all about, we'll refer you to the official description, which paints quite a good picture of what to expect. Unsurprisingly, Lo Wang's predicament seems to be mainly of his own making and involves an ancient dragon, and warding off an imminent apocalypse. It reads:
"Shadow Warrior 3 launches the offbeat first-person shooter series to the next level with a seamless blend of fast-paced gunplay, razor-sharp melee combat, and a spectacular free-running movement system. Fallen corporate shogun Lo Wang and his former employer turned nemesis turned sidekick Orochi Zilla embark on an improbable mission to recapture an ancient dragon they unwillingly unleashed from its eternal prison. Armed with a punishing mix of blades and bullets, Lo Wang must traverse uncharted parts of the world to track down the dark beast and push the apocalypse back yet again. All it will take is the mask of a dead god, a dragon's egg, a touch of magic, and enough firepower to tear down the encroaching Shadowlands."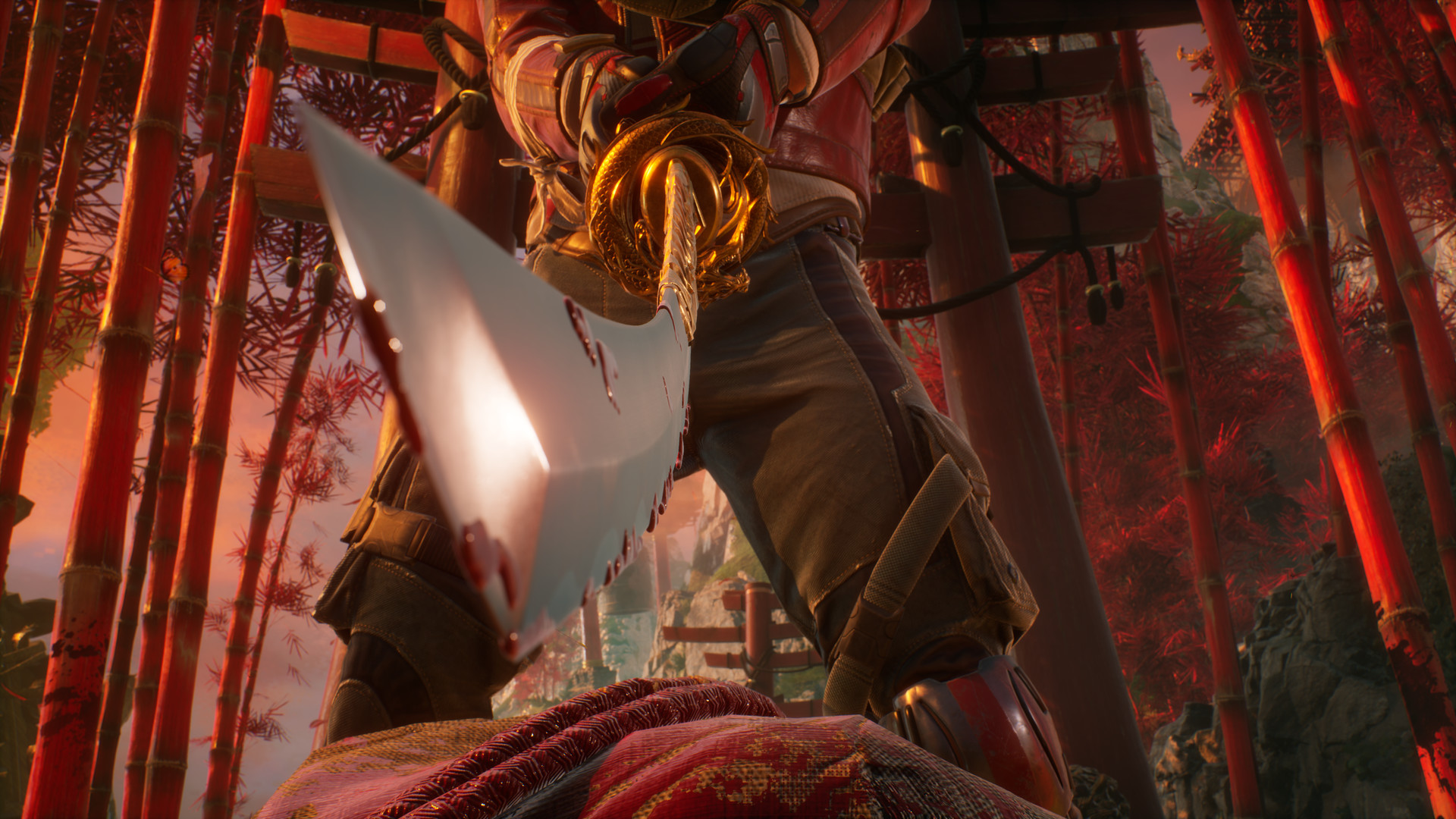 As for when we can expect to get our hands on Shadow Warrior 3, a tentative release window of 2021 is on the cards. There's no word on platforms quite yet other than a confirmed PC launch. As for consoles, we're still in the dark, but possibly PlayStation 5 and Xbox Series X, given the planned release comes after the expected release of both at the end of 2020.
Devolver has promised a full gameplay reveal during its upcoming Devolver Direct 2020 presentation, which is currently scheduled for July 11th at 12 pm PST. Be sure to tune in as other than the first look at Shadow Warrior 3 gameplay, Devolver is sure to continue its gory, comedic multi-event saga and, of course, showcase a generous selection of upcoming games.