Finding The Best Gaming Chair For Big Guys – 2019 Reviews and Top Picks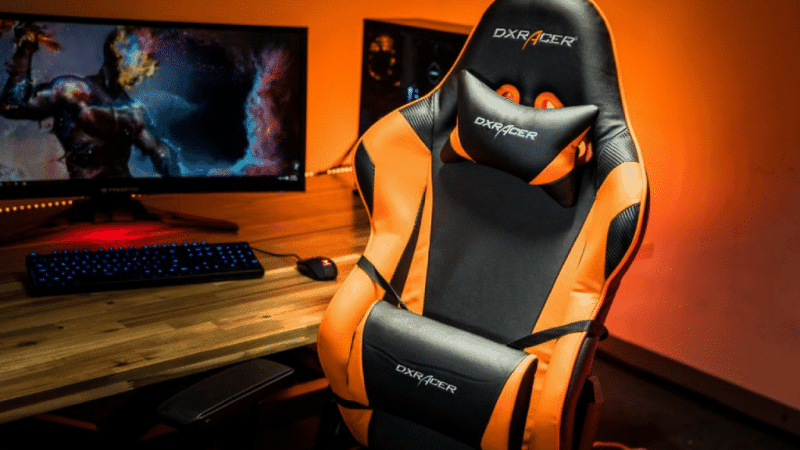 If you're out trying to find the best gaming chair for big guys, congratulations: you've reached the end of the road. Other articles will list a dozen options without giving the important info on each one, and a few more will just list two DXRacer chairs and call that the end of it.
You'll be happy to hear that we didn't do that. We dove deep into the details, specifications and user reviews of dozens of gaming chairs on the market, and pulled out five diamonds in the rough.
Additionally, I (the writer) happen to fit this category. I'm shopping just as much for myself as I am for you.
Any of these chairs could be considered the best gaming chair for a larger person, and whichever one you pick will likely be the best for your needs.
Our top pick is the DXRacer Tank Series. But let's dive into all of our options, shall we?
The Best Gaming Chair For Big Guys: Breakdown
Product
Details

#1

Boss Office B991-CP

weight capacity: 350 lbs
color options: Black, Brown, Gray
height capacity: 6'1 Feet+ (According To Reviews)

Check Current Price

#2

DXRacer OH/SJ08 Sentinel Series ERGO Seat

weight capacity: 350 lbs
color options: Green, Blue, Red
height capacity: 6'6 Feet

Check Current Price

#3

OFM Essentials Big and Tall

weight capacity: 400 lbs
color options: Black
height capacity: 6'2 Feet+ (According To Reviews)

Check Current Price

#4

Alera Merix450 Series

weight capacity: 450 lbs
color options: Black
height capacity: 6'3 Feet+ (According To Reviews)

Check Current Price

#5

Boss Office B991-CP

weight capacity: 350 lbs
color options: Black, Brown, Gray
height capacity: 6'1 Feet+ (According To Reviews)

Check Current Price
TECH SPECS
Weight Capacity

350 lbs

Color Options

Black, Brown, Gray

Height Capacity

6'1 Feet+ (According To Reviews)
PROS
Best budget option
Good build quality
Good weight capacity
Variety of color options
CONS
A bit short
Those at or approaching 350 lbs should consider looking elsewhere
Our first entrant is the Boss Office B991-CP, which we'll just be calling the Boss Office from now on.
The list price for the Boss Office is a whopping $500, but at the time of writing it's a mere $156. Judging from the history of reviews, this is also a chair that regularly goes on crazy sales, from the mid-200s to the low 100s.
We wouldn't suggest this chair at list price, but at sale price it makes for a compelling option. On a surface-level, it's a bit bulkier than your average office chair, just as you may be a bit bulkier than your average office worker.
However, it's our weakest overall option. This is because it doesn't accommodate the higher end of "big and tall".
If you're in the low-300 pounds weight range, this chair will work for you. If you're very close to its weight limit, though, and you aren't currently in the process of losing weight, it won't feel as stable as it should and it might not last as long, either.
And while this chair can accommodate 6-feet people fine, it doesn't quite account for those that are closer to 7 feet. A high backrest does compensate for this somewhat, but if you want full-body support and you're fairly tall, this may not be the right option for you.
About "Big and Tall" Chairs
Why are they all so expensive?
As you may have noticed, most gaming chairs for big guys are significantly more expensive than their mainstream counterparts. There's a few reasons for this.
The first reason, obviously, is that a chair needs better build quality in order to support the above-average height and weight of the big and tall population. Most chairs are made for average heights and weights.
The second reason is due to a lack of options. If you're a big guy and you need a comfortable chair, you aren't going to find it for $20. You're a statistically smaller part of the population, with an even smaller market segment.
This market segment knows it can charge a lot more for its services than others can, because you don't have an abundance of other options. It's fairly unfortunate, but that's just how this stuff works.
We tried to accommodate for it, however, by offering chairs from a wide variety of price ranges. We could've gone cheaper, but we wanted to remain sure that the chairs we were recommending were actually good/
What weight should I be shopping for?
You want at least 25 lbs of flex room, preferably more, from the weight capacity of the chair that you're buying. We'll go into a bit more detail on that below.
Weight
Obviously, a bigger guy is gonna want to shop for something that will handle his weight and still feel sturdy and comfortable.
To do this, you'll want a chair with a capacity at least 25 lbs higher than your own weight, preferably higher. The closer you come to a chair's weight capacity, the more you'll strain the chair and the less stable it will feel.
Buying a chair while maxing out or exceeding its capacity will degrade it much more quickly than it would otherwise. Chances are if you're spending a couple hundred bucks on a chair, you want it to last for years into the foreseeable future.
Height Capacity and Back Size
Height Capacity is another important consideration. You don't want to lean back in a chair only to feel it digging into the middle of your spine, and this is an unfortunately common experience for taller people trying to get comfortable.
Additionally, while you don't necessarily need a full back on your chair, having one will offer a much higher level of comfort than anything else can offer. By supporting your neck and your head in addition to your back, you can recline completely and relax in a way that most office chairs simply don't allow.
Material and Features
Materials and features are also worth considering.
Materials like leather and PU vinyl will feel amazing to rest on, and most of the chairs on this list come with high-quality materials like those to enhance your seating experience.
Features, meanwhile, can include things like additional adjustment options, or cushioning for your head/back. Chairs that go out of their way to make sure you feel completely comfortable reclining in them are a priceless joy.
Ultimately, what makes the best gaming chair for big guys depends on where in that range you fall.
The best overall is the DXRacer Tank, but you can also settle for one of the less-expensive options if you can't quite afford it. The Sentinel offers the same amazing experience for those who are just tall instead of big and tall.
The best budget gaming chair for heavy guys is almost certainly the Alera Merix450 Series. While it won't offer full back support, it will provide you comfort and stability at a good price.
Meanwhile, the best budget gaming chair for tall guys is the Essentials Big and Tall Leather Executive Chair. This one is still pretty expensive, though.
Ultimately, what chair you settle on depends on your needs and your preferences.
I'm personally saving up for the DXRacer Tank. What do you guys have your eyes on?
Read more: Top 5 Best Gaming Chairs Reviews