A gaming console's greatest strength is its design and small form factor. While a console will never be as versatile as a gaming PC, they can still elegantly sit in the living room and blend in with home theatre setups. This is where the Fractal Design Node 202 enters the fray, the brand's smallest PC case on the market, with a slim, HTPC-like, Mini-ITX design.
The model we have here is paired with the Fractal Integra SFX 450W PSU and is 10.2 liters, with the ability to stand vertically or lay horizontally. Despite this smaller form factor, a full-sized GPU can be installed. However, there is no room for a 5.25" drive with the Node 202.

Let's see what this slim, true to form, ITX case from Fractal Design has to offer.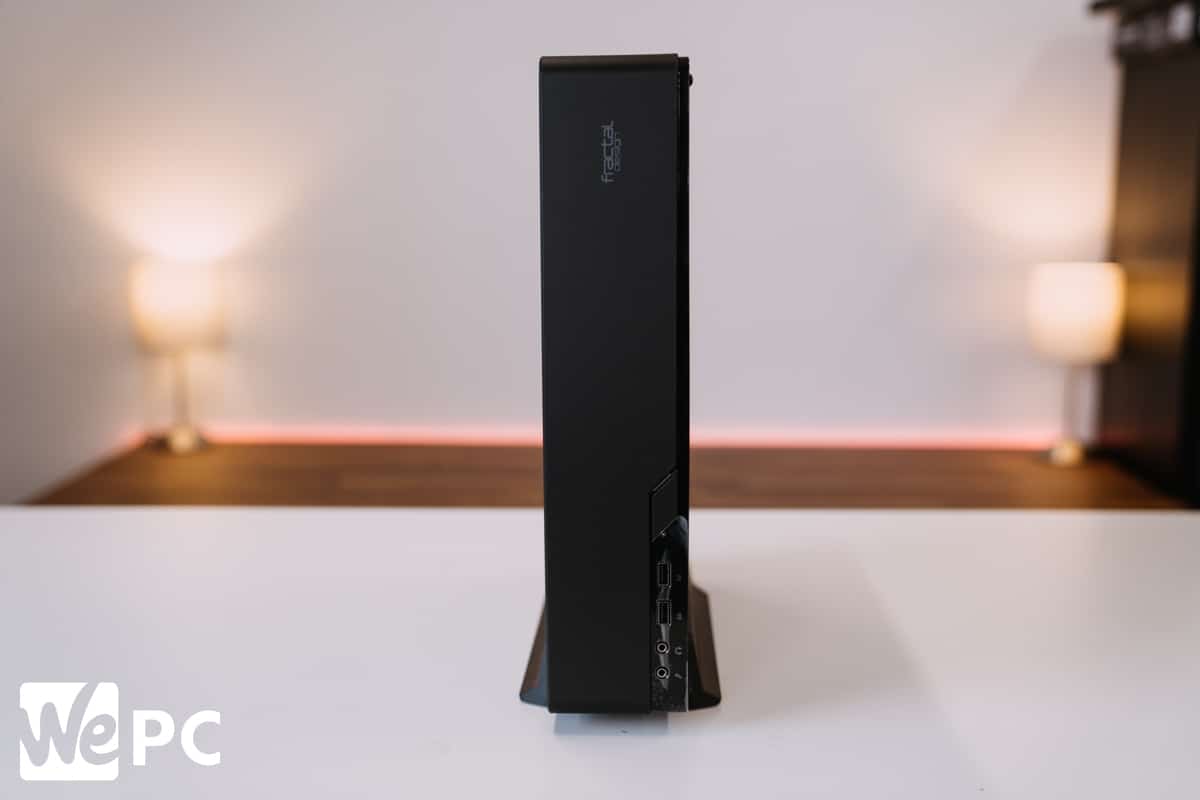 Specifications
| Case Type | Mid-Tower |
| --- | --- |
| Dimensions (mm) | 377 x 82 x 330 (W x H x D) |
| Materials | Steel, Plastic |
| Available Colours | Black |
| Weight | 3.5 KG |
| Front I/O panel | Power Button, USB 3.0 x 2, Audio jack x 1, Microphone Jack x 1 |
| Expansion Slots | 2 |
| Drive Bays | 2 x 2.5" |
| Motherboard support | Mini-ITX |
| Cooling (Front/Top/Rear) | Room for 2 x 120mm intake fans in GPU chamber |
| Maximum GPU length | 310x145x47 mm (L x H x D) |
Main Features
Small Form Factor
Impressive interior layout
Dust-Free
Inside the Box:
Fractal Design Node 202

Fractal Integra 450W PSU
Stand
Riser card
Adhesive Feet
Manual
The Outside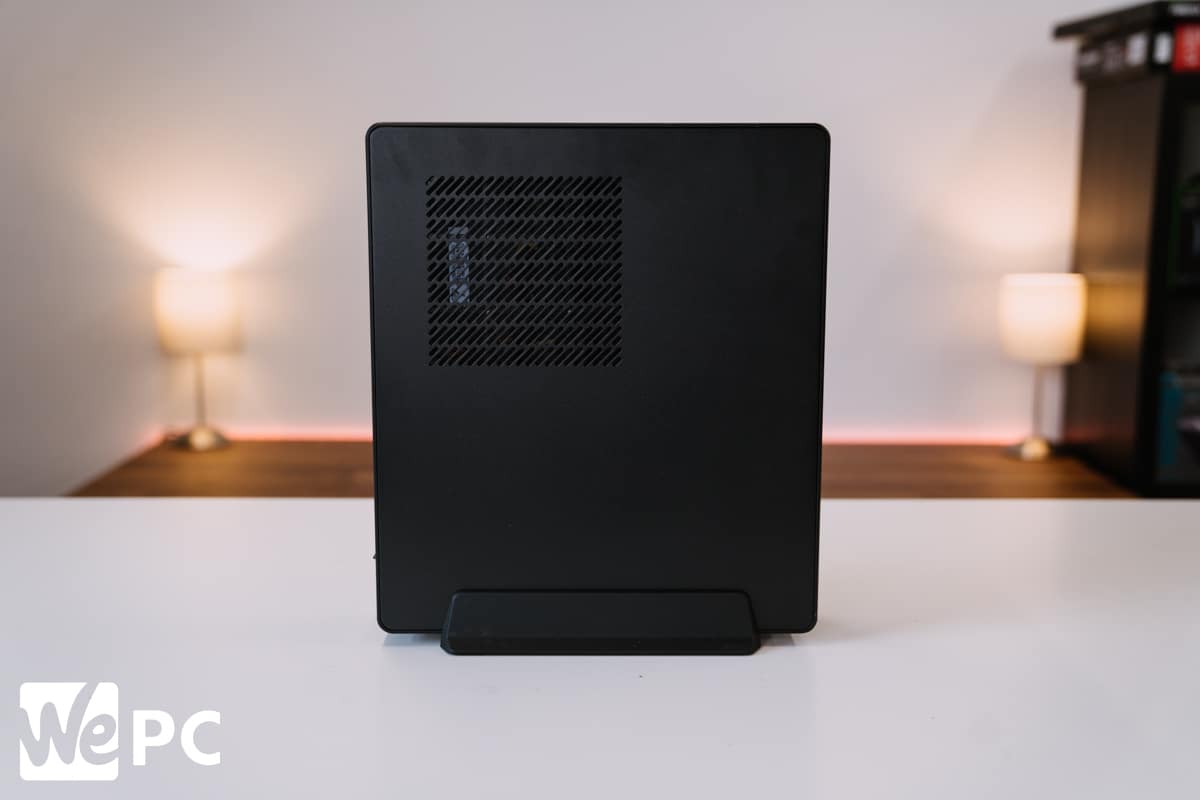 The Node 202 looks great. Its actual design is simplistic, which is a common theme from Fractal Design, but the slim look is much preferred to the boxy Nodes we see elsewhere in the range. It's mostly comprised of three parts, with the top shell lifting off after removing the screws from the underside. This is small but I'd still say noticeably bigger than consoles.
The front sees the most features, from what is essentially a ventilated box. The only bit of branding is on the front, Fractal Design is near the top, or right depending on how you have this orientated and it looks quite nice. The branding appears to only suit this when laying flat but I quite like it either way.
The front I/O ports sit neatly along the bottom, much like a console. The connectivity isn't the greatest but two USB 3.0 ports and an audio/mic jack are an OK place to start. The on button sits just above or to the right of the front I/O depending on how you have it setup. The power button looks great, it's an angular piece of plastic that works well with the design of the case and has a small amount of illumination.
Rear
Looking at the Node 202 from the back, we can see it's just about an inch wider than a standard I/O shield. There are two expansion slots and you can fit a 2.5 slot GPU in here without issue.
Aside from that, there is nothing to report at the back, although, this is where the PSU power extension comes out.
The Top/ Side/ Bottom
The top of the case (when laying horizontal) is one entire piece that securely screws into the base plate. The sides are just airflow ventilation panels and don't come off as you would see from a regular PC case. The sides are part of the entire top shell, which lifts off.
There is a small square ventilation section to help the CPU with airflow but other than that, it is pretty basic.
The bottom is kind of a back panel, except it isn't fixed to the rest of the chassis. The bottom joins the top cover in creating the shell of this PC case but the third internal part is where we see cable cut-outs, tie points and storage. Just four screws separate the two "panels" and the bottom is where we see some extra ventilation. There is a small vent for the PSU and a GPU sized vent for the graphics card, two 120mm fans, or both.
The Node 202 ships with an included stand. When using the stand you can set this up vertically and it feels incredibly sturdy. There is no wobble and the PC case slides into a very snug fit, meaning this is going to take quite a bump before falling over. Alternatively, you have this lay horizontally, with included rubber feet to prevent slipping on the table. With the PSU and GPU intake being on the bottom, it is advisable to have it vertically for cooling purposes but it can manage well enough horizontally.
The Inside
Lifting the lid on the Node 202 reveals a clever layout. Removing the top panel is relatively simple, you unscrew the four screws at the bottom, flip it over and voila. That being said, it was a little fiddly when re-attaching but it's easy enough. 
The lower cover can also be removed via the clips and has to come off if you are wanting to clean the magnetic intake filers for the GPU/PSU. The clips are a little fiddly again, with you having to unclip it one by one. 
The interior is incredibly easy to work with, despite its small form but Fractal Design has done away with 5.25" and 3.25" device support. Inside, there is a single drive bay that attaches to the inner frame with a single screw. You can mount two SSD drives to the inside but I'd advise going for an M.2 SSD drive if you can afford it. I used an M.2 with a single 2.5" SSD to support it, giving me a bit of much-needed room to stash cables in the drive bay.
 The interior is split into two areas, giving this chassis room for a standard gaming system and full-sized video card. Our model shipped with an SFX PSU preinstalled but the compartment can fit a PSU up to 130mm long. There is a kettle lead that loops around the case to keep external power at the back of the chassis without interfering with the layout.
This SFF PC case can only accommodate for a Mini-ITX sized motherboard and comes with the stand-off screws already in place. The board just barely fits, with minimal space around the edge for cable management. There is a touch of room to manage your front I/O cables in quite a neat fashion but you are definitely going to want to break out the cable ties. The CPU cooler clearance is about 56mm, which is enough for some stock coolers but double-check this before buying. Intel stock coolers fit no problem but some AMD coolers are a bit bulky.
A key feature to the Node 202 is its ability to support a full-sized GPU; however, with a case this size, there are always going to be a few limitations. This case uses a PCIe riser card to connect the GPU in the other chamber. The card you go with can be up to 310mm long and about 50mm thick when using no intake fans. If you wanted to install intake fans (which is recommended), the GPU you go for can only be 35mm thick. It may be advisable to go for a blower-style thin profile GPU but with a 450W PSU pre-installed, you are probably looking at an impressive mid-range build at best here.
When building in the Node 202, it will be a bit tricky for inexperienced builders. Even if you've built your fair share of PCs over the years, a case of this form factor can still pose a challenge. So yes, a tight fit with the interior but this chassis stays true to the form factor and the layout design is intuitive and builder-friendly. That being said, the case isn't very versatile, you can create a decent gaming system and little else. There is no modularity like we see with most Fractal Design cases these days but the unique nature of the Node 202 is still very appealing.
Features
Despite being quite old and small, the Node 202 still comes with a few key features. Like most Fractal Design cases, the Node 202 has excellent build quality, with high-end materials and solid construction. This is quite a versatile machine made for both the living room and computer desk. The Node 202 can stand it vertically with the use of the stand and lay down horizontally for the home theatre setup.
Small Form Factor - The Node 202 stays true to the form factor and is truly a Mini-ITX chassis. This features a 10.2-liter volume and is incredibly slim, much like a console. This may only support SFX power supplies and Mini-ITX motherboards but it can still fit a full-sized GPU(up to 310mm). 
Due to the small footprint of the Node 202, we see an impressive interior layout with separate chambers. The motherboard and graphics card are separated in what Fractal Design call, thermal interior design.
Dust-Free - Where ever we see an intake vent, we see a dust filter. With such a small foot-print, keeping dust out of this PC case is more important than with a mid-tower as dust can add heat. While the dust filters aren't the easiest to access it's great to see them included.
A lot of pleasing features to really help get the best out of my components and the pre-installed PSU made things even easier. This is going to be a great addition to the modern living room but with no 5.25" drive bay, it might not replace everyone's HTPC needs.
Our Verdict
The Fractal Design Node 202, in many ways, is a superb Mini-ITX chassis. It offers a unique layout for SFF builders and will look the part in the living room or at the gaming desk. The vertical or horizontal versatility means there is space in almost any setup for this PC case.
The Node 202 is a bit of a challenge to build in but the layout is logical and there is still a bit of wiggle room to manage your cables efficiently. Like most Fractal cases, the Node 202 is built from high-end materials and constructed to last.

While the node 202 can't strictly be used as an HTPC, due to no 5.25" drive bay, it can bring high-end gaming into the living room, with enough space for a full-sized GPU. Cooling is limited with a case like this but it can still handle a decent gaming system and offers that console form factor. A great Mini-ITX case.