OneOdio A30 Hybrid Active Noise Cancelling Headphones review
Active noise cancellation and supreme comfort on a budget
Updated: Nov 23, 2022 7:22 am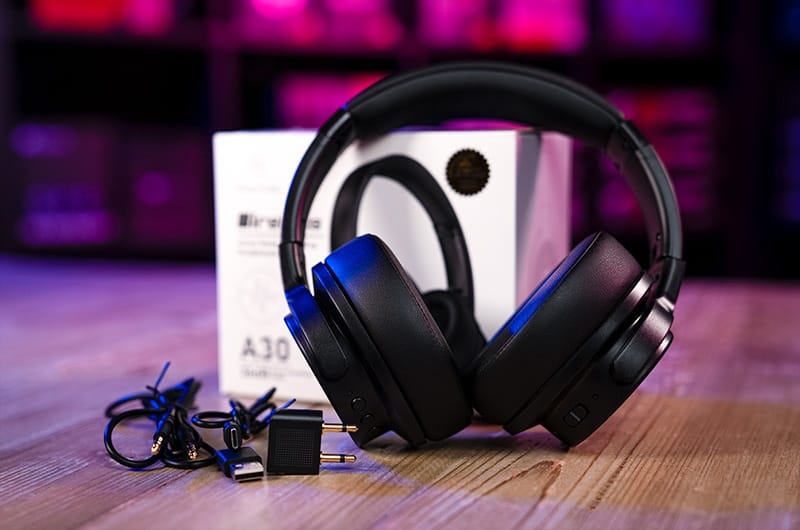 Active Noise Cancelling headphones can come at a significant price premium due to the complex technology used to recognize and counteract sounds around you. However, in recent years, there have been more budget options cropping up from brands such as TaoTronics, Anker, and more. The OneOdio A30s are a new contender in this category and come in at a very competitive $59.99, but with such fierce competition, will they stand out among the increasingly crowded pack of budget ANC headphones?
OneOdio A30 Hybrid Active Noise Cancelling Headphones
Frequency Response
20Hz-20kHz
Using Time (BT+ANC)
15 Hours
PROS
Low price
Very comfortable and light
Great sound - solid bass and good mids & highs
CONS
Flimsy construction
Cheap materials
No ANC adjustment is possible
Tech Specs
Frequency Response
20Hz-20kHz
Using Time (BT+ANC)
15 Hours
Battery Capacity
3.7V/500mAH
Noise Reduction Depth
26±3dB
What's in the box?
OneOdio A30 Active Noise Cancelling headphones
120cm 3.5mm Auxilliary cable
50cm USB Type-A to Type-C charging cable
Dual 3.5mm airplane adapter
User manual
Build quality
Our first impressions of the OneOdio A30s, were that they felt distinctly 'rickety', with the materials not feeling up to scratch for something that's going to be sat on top of your head for hours on end. Additionally, the hinges felt particularly brittle, which doesn't bode well for headphones that are designed to be folded away daily. The headband is simply constructed, with padding over an otherwise naked strip of aluminum, which offers little comfort, nor protection for the headphones themselves. This cheap-feeling construction and quality left us wondering whether the A30's headband could potentially be permanently bent out of shape, which is less than inspiring.
The earcups feel disproportionately high-quality in comparison to the rest of the headset, with memory foam padding and additional coating of artificial leather. Ultimately, the experience of wearing a headset relies on how comfortable they feel when you're actually wearing them, and it seems like OneOdio has put a lot of the material cost into the earcups themselves, in hopes that comfort will beat out their overall build quality.
Design
Dressed in a dashing matte-black, the OneOdio A30s are pretty unassuming, which gives them a more 'stealthy' aesthetic. The surface of the earcups is dressed with a tight-knit texture of concentric circles and the OneOdio logo in the middle. There is some additional branding on the top of the headband and sides of the headset, but it's nothing gaudy or egregious. It appears as if the product design team at OneOdio has taken no risks – the A30s look like any other pair of wireless headphones you've ever seen, with the only available color listed as "Warehouse Black". It's a bit of a shame that there aren't any other color options.
Comfort
The OneOdio A30s feel soft around the ears, and the earcups are perhaps a little small for larger-eared people as they are closer to circular in shape than an oval. If your ears are on the larger side, you might want to steer clear. The hinges can be contorted into whichever way fits you best, which is a nice addition as even Sony's entry-level ANC headsets are pretty limited.
The OneOdio A30s come in at a featherweight 0.45lbs/368g, which helps mitigate the less-than-generous padding on the headband. After an extended period of use, the earcups can get humid, thanks to the memory foam materials clamped to your head, although they are fairly comfortable, given the asking price. However, due to the stuffy earcups, we don't recommend doing any physical activity in them.
Sound Quality
These headphones have an impressively balanced soundscape, and a surprisingly powerful bass considering the unremarkable 40mm driver. The mids and highs come through with relative definition too. After a few weeks of daily listening to a variety of music genres, we've yet to find a notable flaw in the audio fidelity of the headphones. Some audiophiles may be left lukewarm, but the price point makes this a really solid value-for-money proposition. The battery life is very impressive too.
Noise-cancelling performance
Active Noise Cancelling (ANC) works by using microphones on the exterior of the headphones to capture outside sounds. The onboard electronics then measure the wavelength and amplitude of the unwanted sounds and reproduce the same sound 180 degrees out of phase, thus cancelling them out. In theory, the wearer should only hear the sounds that they want to listen to. No ANC system is perfect and this technology is better at cancelling out consistent sounds, like car engines or loud fans.
The OneOdio A30s have decent ANC, nullifying ambient chatting noise in the office and provide a reasonable excuse to ignore your colleagues, which is always a bonus. These were tested on tram rides to and from the office, and were impressively effective at removing the frequent bumps and groaning noises from our surroundings. For those of you who'd like more info about the technology of Active Noise Cancelling there's an informative and easy to read breakdown from SoundGuys.
Final verdict
The OneOdio A30 Active Noise Cancelling Headphones are close to being utterly fantastic. The comfort, design, and sound quality land far above the expectations we'd have from headphones costing this much, and the noise cancellation is very effective at removing background noise. We like them a lot.
OneOdio A30 Hybrid Active Noise Cancelling Headphones
Frequency Response
20Hz-20kHz
Using Time (BT+ANC)
15 Hours
---