Best ASUS motherboard
In this article, we will outline the best ASUS motherboards for both AMD and Intel systems.
Updated: Jul 1, 2022 11:22 am
Motherboards are an integral part of your computer. We don't think there's a computer that exists in the world without a motherboard. Today, we are going to outline the best ASUS motherboard you could purchase for both AMD and Intel systems.
ASUS is synonymous with quality, high performance, and beautiful aesthetics. The way that ASUS designs its boards to not only look the part but play the part is an astonishing thing of beauty. ASUS has been one of our favorite component manufacturers for many years now, and once you get a look at one it's easy to see why.
Looking for the best Intel motherboard of 2022? Maybe even the best AMD motherboard? or the best 12th Gen compatible CPU coolers? We have articles for those!
Best ASUS motherboard: Top picks
01

The best, high-end ASUS motherboard

ASUS ROG Maximus Z690 Hero WiFi

ASUS ROG Maximus Z690 Hero WiFi

02

The best ASUS motherboard for enthusiasts

ASUS ROG STRIX X570-F Gaming Motherboard

ASUS ROG STRIX X570-F Gaming Motherboard

03

A solid mid-range ASUS motherboard

ASUS TUF Gaming Z690-Plus WiFi

ASUS TUF Gaming Z690-Plus WiFi
What is a motherboard?
Before we get into our selection process, it's important to understand what a motherboard is and what it does. This should help you make an informed decision about your next motherboard.
Motherboards are possibly the most important component inside your PC, it's like the base everything is built on. A motherboard allows all your components to communicate with one another, such as your GPU, RAM, and CPU, all of these components would be rendered useless if you don't have a motherboard to install them onto.
It's this communication that allows a computer to operate, if even one component isn't pulling its weight, or communicating properly with the rest of the system, then the PC will not function properly and result in complete system failure.
Besides ensuring all of your components communicate in perfect synergy, your motherboard also houses a chipset that controls most PC I/O interactions. This is designed specifically to work with a certain CPU architecture, whether that be Intel or AMD's respective architecture. For example, Z690 chipsets belong to Intel and X570 chipsets belong to AMD.
What is a chipset?
A chipset resides on every motherboard and is one of the most important sub-components of a motherboard. The chipset is the device that controls most of the communication between your CPU, RAM, and other components such as peripherals. The chipset also determines how many high-speed devices such as USB interface devices your motherboard can support at any given time.
Chipsets are usually composed of one or more chips that feature controllers for not just hardware devices, but more commonly used peripheral devices too, such as keyboards and mice.
If you know anything about motherboards you will have heard the terms, 'X570, Z590, B440', and so on. These are the motherboard chipsets. The names seem a little confusing, however, all you need to know is that they follow a specific hierarchy for both AMD and Intel processors, and the higher the number the better the chipset and the more features it will have and the more it will support.
Chipset hierarchy
As we previously mentioned, AMD and Intel motherboards follow a chipset hierarchy. Here is the hierarchy they both currently follow.
AMD
Intel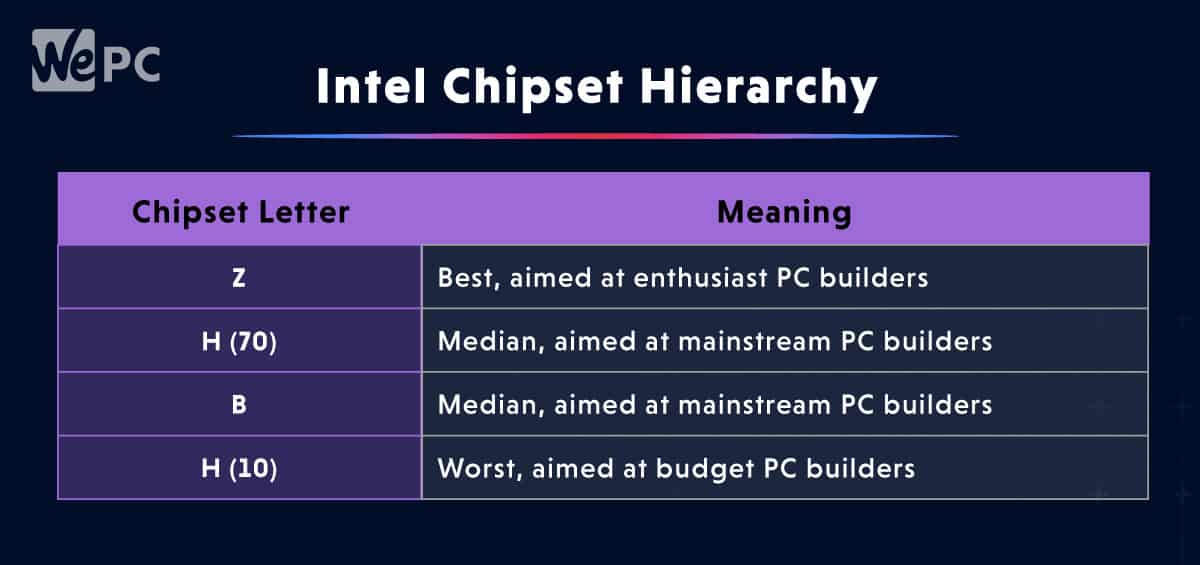 Usually, the better chipsets are lettered towards the end of the alphabet, depending on whether it's for Intel or AMD. Z is better than H for Intel, and X is better than B for AMD. It's usually in reverse alphabetical order. So, an X570 chipset will be better than a B450 chipset because the letter is later in the alphabet and the number is higher.
How we choose
Here at WePC, we only select the best of the best to recommend in our articles. The choice comes from a combination of our specialist's knowledge, user experience within the company, and public opinion.
So rest assured, every product we recommend to you has been used by at least one member of the WePC team. It's not really a hard choice however, no matter what ASUS board you choose to pick up it will always be a great one.
How we test
All of the products that come through WePC are subjected to a rigorous testing process, that allows us to determine the viability of a product. Whether that be a CPU, a mouse, a motherboard, or a gaming chair. We all have our own processes and testing methodology.
Motherboards are tested in a base system to see if they have an effect on FPS and are constantly measured for thermal baselines. Not only that, but we conduct a rigorous quality check to make sure that everything is in full working order, and designed the way it should be.
The BIOS and BIOS navigation is also assessed to ensure there are no bad practices being performed there, and everything is easily accessible. As well as navigation, the features are also assessed. You would be surprised how many high-end motherboards sometimes skip basic BIOS functionality.
Things to consider
Here we will outline a list of things to consider when opting for a new ASUS motherboard.
Form factor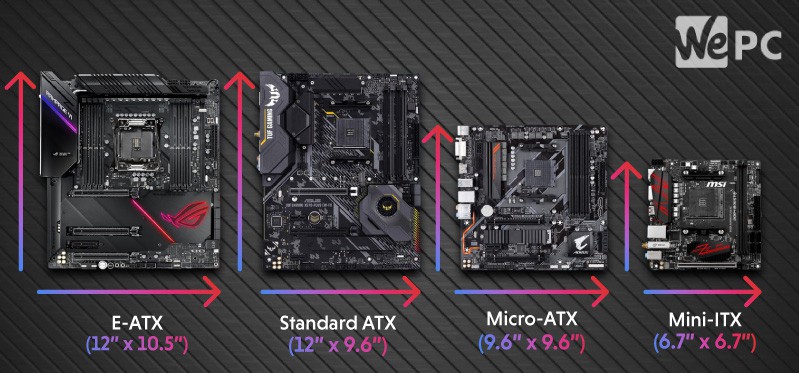 The form factor is a big one, you don't want to purchase a motherboard that won't fit in your PC case. Motherboard and case form factors need to align before you can consider any other aspects.
Note that the form factors of both the motherboard and case do not need to align perfectly, the case just needs to support it. For example, you may have an ATX motherboard and your PC case is a standard mid-tower that supports ATX, ITX, and M-ITX. Your motherboard will fit here, as long as the motherboard's form factor is listed in the list of compatible ones on the case, you're fine.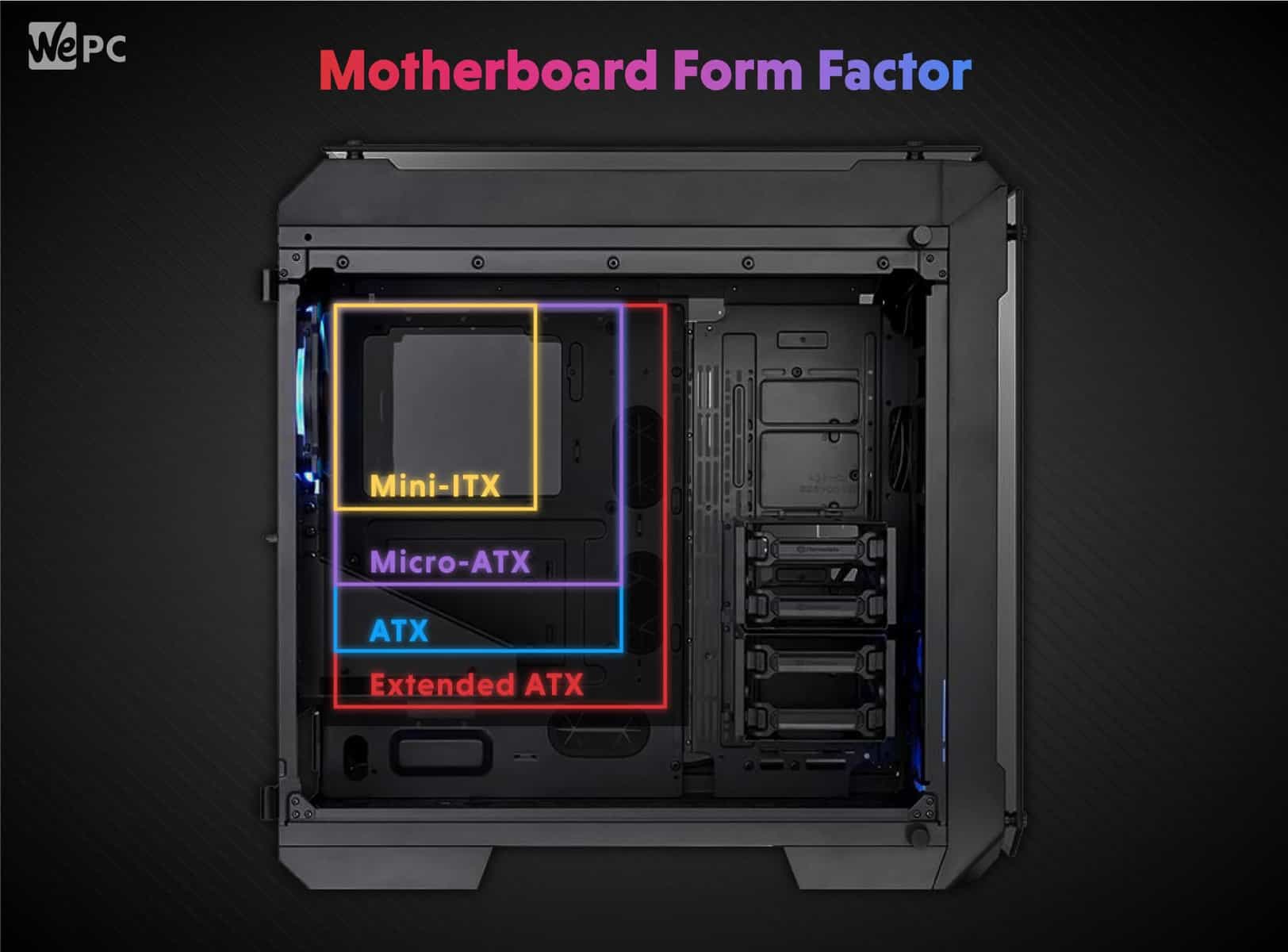 Motherboards come in a multitude of different shapes and sizes, from E-ATX, all the way down to the incredibly small Mini-ITX. More often than not, the smaller the motherboard, the less feature-rich it will be, you only have so much you can pack into such a compact piece of silicon.
What form factor should I get?
As a rule of thumb, we generally push towards the ATX form factor as this is the standard, and most cases support it or are built around it. For the most part, there are no compromises on features with the ATX form factor either. Intel first introduced the ATX form factor in 1995, and since then it's become an industry standard.
Socket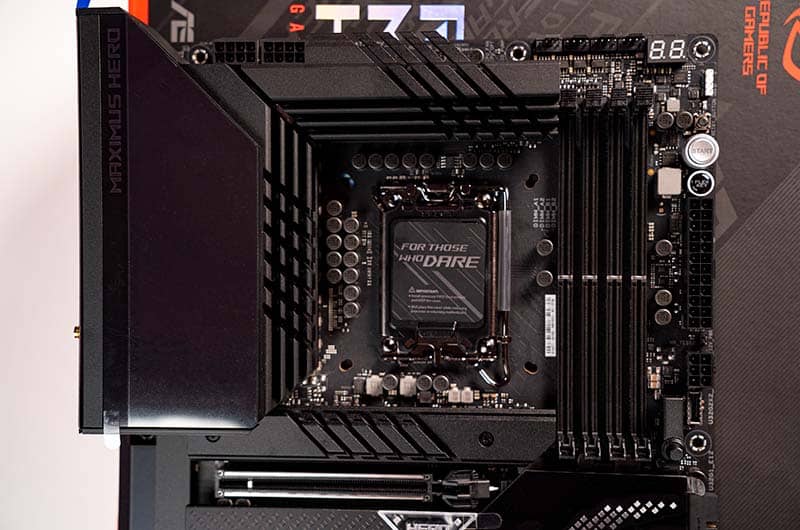 The socket is less important this time around because we're not focusing on a specific CPU or brand of CPU, we're just looking at ASUS motherboards. However, when you do decide on a CPU it's important the socket on the motherboard corresponds to the socket on the CPU.
CPU sockets are like shapes, if your CPU and CPU socket isn't the same shape then they're not going to fit together. This is important because Intel currently uses the LGA (Land Grid Array) configuration, whereas AMD currently uses PGA (Pin Grid Array). These are two completely different configurations and there's no way they're compatible either physically or technologically.
Fun fact, AMD is moving to the LGA socket configuration with the release of AM5, but that still won't make Intel and AMD CPUs compatible with the same sockets – as cool as that would be.
RAM
As you know, the release of Intel's 12th-generation CPUs brought us DDR5 RAM. Currently, there are NO DDR5 RAM-compatible motherboards on the AM4 platform, it's only with the release of AM5 that they will add support. Please do not purchase an AMD motherboard and try to install DDR5 RAM into it.
With that being said there are also a number of 12th Gen compatible motherboards on Intel's side that support DDR4 RAM. So please check the specifications of the motherboard before you pick one up.
PCIe/PCI slots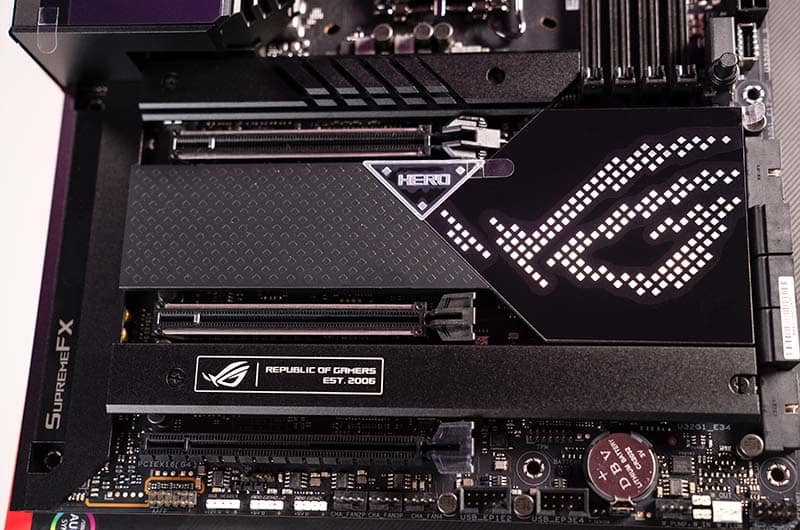 There are two types of PCI slots: PCI and PCI Express (PCIe). The PCIe slot is a larger, faster version of the PCI slot. Most motherboards come with PCIe and PCI slots, and these serve a very important role, this is where you'll seat your GPU. This isn't the only purpose that PCIe slots serve, as there are a plethora of expansion cards that can accommodate a PCIe slot.
Some examples of additional expansion cards are:
NVMe expansion cards
USB expansion cards
Capture cards
High-end sound cards
Wifi cards
For average use cases and gaming, two PCIe slots will suffice. It's rare that you'll ever need more than two PCIe slots unless you're looking to add storage or more functionality to your system with an expansion card. Or if you're looking to add two GPUs in SLI, we don't recommend this, however.
Most motherboards ship with integrated sound chips and for average use these are fine. However, you may want to grab a motherboard with more expansion slots to suit your industry/niche. For content creators, you might want a high-end capture card or a sound card for high-end audio mixes.
This also applies to USB cards, NVMe storage expansion cards, and WiFi cards. We're not suggesting you head out and buy a WRX80-SE-SAGE with seven PCIe slots, just that you consider any future expansions you may wish to make to your system, and leave your options open.
In-depth Review
Here we will delve a little deeper into each product and assess its strengths and weaknesses, whilst deciding what use case it fits.
ASUS ROG Maximus Z690 Hero WiFi
ASUS ROG Maximus Z690 Hero WiFi
ASUS ROG Maximus Z690 Hero WiFi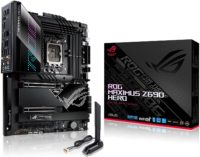 The ASUS ROG Maximus Z690 Hero is one of the best Z690 options on the market currently. It is an incredible option despite what it may lack in power stages and ethernet bandwidth.
The ASUS ROG Maximus Z690 Hero's design is different from the previous generation of Hero. Featuring outstanding personalization with the Polymer Lighting I/O cover and accompanying fully customizable RGB lighting. The Z690 Hero ships with 20+1 power staging and intelligent control, which is ASUS' Ai overclocking feature which has proven to be pretty much unrivaled in the industry today.
Cooling is handled by a very large aluminum heatsink and integrated aluminum I/O cover, of course with a very highly conductive thermal pad to increase contact surface area. The M.2 SSDs are kept cool with three M.2 heatsinks and two backplates. With an additional ROG water cooling zone.
Additionally, there is a multitude of features that truly matter for everyone, whether they're a gamer or not. Full PCIe gen 5 support, ultra-fast DDR5 ram slots with support up to 6400Mhz. Dual Thunderbolt 4 USB-C and a ROG Hyper M.2 PCIe gen 5 card. Gives you some pretty powerful connectivity wherever you need it the most.
Dual Thunderbolt 4 USB-C

PCIe Slot Q-Release

20+1 power stages (90A)
No 10Gb Ethernet

Less power stages than more premium models
ASUS ROG STRIX X570-F Gaming Motherboard
Best AMD ASUS motherboard
ASUS ROG STRIX X570-F Gaming Motherboard
ASUS ROG STRIX X570-F Gaming Motherboard
The ASUS ROG STRIX X570-F Gaming Motherboard is regarded as one of the best X570 chipset motherboards you can buy, with a plethora of features justifying its large price tag. This is definitely not a budget option, as it comes equipped with a very efficient 12+2 Digital power phase design which requires a pretty large heatsink.
The design of the ASUS ROG STRIX X570-F Gaming Motherboard is definitely a thing of beauty, its sleek stylish design features full Aura-Sync RGB which can be customized endlessly within Asus' proprietary RGB software "Aura Sync".
Other features include a new heatsink design, M.2 expansion card, and Intel Gigabit ethernet connectivity. The board also features PCIe 4.0 support, HDMI 2.0, DisplayPort 1.2, and dual M.2 slots – alongside USB 3.2 Type-A and Type-C connectors.
Overall, this is an amazing motherboard with unrivaled functionality, sporting some of the best features X570s has to offer. Its included WiFi and Bluetooth features definitely put the icing on the cake.
Superb aesthetics

Comes equipped with Auro Sync RGB

Supports ASUS's 5 way optimization tuning

Great audio thanks to SupremeFX S1220A codec
ASUS TUF Gaming Z690-Plus WiFi
A solid mid-range Asus motherboard
ASUS TUF Gaming Z690-Plus WiFi
ASUS TUF Gaming Z690-Plus WiFi
The ASUS TUF Gaming motherboard remains a fan favorite, offering incredible value for those on a budget with its almost unrivaled price-to-performance ratio.
The TUF Gaming Z690 offers a revised and enhanced power solution over the previous generation of boards. With 14+2 DrMOS power stages and Digi+ VRM offering incredible durability and performance. Of course, the cooling is more than adequate, as the motherboard features a PCH fanless heatsink, a VRM heatsink, an M.2 heatsink, and hybrid fan headers along with Asus' Fan Xpert 4.
Unfortunately, this happens to be a DDR4 model, one of the ways ASUS has managed to keep the cost down on this motherboard. So you can't have DDR5 RAM but the motherboard does feature enhanced DDR4 capabilities, allowing up to 5333Mhz DDR4.
14+2 power stages

Thunderbolt 4

4xM.2/NVMe SSD
ASUS TUF GAMING X570-PLUS (WI-FI)
Best mid range AMD ASUS motherboard
ASUS TUF GAMING X570-PLUS (WI-FI)
ASUS TUF GAMING X570-PLUS (WI-FI)
In terms of value, the ASUS TUF Gaming X570-Plus is one of the best motherboards out there. This is perfect for a mid to high-end system and offers consumers a wide variety of popular features such as their signature RGB backlighting, a powerful heatsink capable of dissipating large amounts of heat, and support for up to DDR4 4133Mhz RAM when overclocking.
This motherboard is excellent for Ryzen 5000 series CPUs, featuring full WIFI and Bluetooth support and amazing build quality. This board also features an excellent capacity for faster RAM, at 4133Mhz to be exact, which just so happens to be near the Ryzen 5000 series CPU sweet spot.
Along with the usual Wi-Fi, decent power stage, M.2 slots, and PCIe 4.0, this board offers premium quality at an affordable price, something that can be hard to come by.
Features geared towards to gamer's

Comes equipped with WI-FI

Excellent overclocking headroom
Can be considered on the expensive side
ASUS ROG Strix Z690-I Gaming WiFi
The best Mini-ITX ASUS mothebroard
ASUS ROG Strix Z690-I Gaming WiFi
ASUS ROG Strix Z690-I Gaming WiFi
The ASUS ROG Strix Z690-I is definitely one of the best Mini-ITX motherboards out there for this chipset. It's incredibly well designed, packed full of features, and reliable beyond most motherboards.
The Strix Z690 comes equipped with DDR5 RAM support and PCIe Gen 5 support, but also comes featuring two full Thunderbolt 4 USB-C ports. We see another 10+1 power stage motherboard here, it could have more to it, but this is an ITX Motherboard. With that in mind, it's still an incredibly feature-rich motherboard. The thermal design has been revised with an integrated I/O cover and upgraded VRM heatsinks that feature high-conductivity thermal pads.
This motherboard also supports HDMI 2.1, in addition to industry-leading audio. This small board really packs a punch.
14+2 power stages

Thunderbolt 4

4xM.2/NVMe SSD
ASUS ROG Strix X570-I Gaming
Best ITX ASUS AMD motherboard
ASUS ROG Strix X570-I Gaming
ASUS ROG Strix X570-I Gaming
For any prospective 5000 series CPU-based builders looking to create a smaller form factor PC, there is no better option than the Asus ROG Strix X570-I motherboard.
Of course, as you would expect from something this small it compromises on a few features, but don't let that put you off this premium ITX option. While there are only two RAM DIMM slots, they can support up to 64GB of DDR4 RAM, with the ability to boost your RAM to 4800Mhz with the in-built XMP support, This board also comes equipped with PCIe 4.0, an M.2 slot that features a heatsink, and built-in Wi-Fi.
Wi-Fi on ITX boards is a rare feature, and if that wasn't enough, the design is simply stunning. A highly recommended ITX motherboard and perfect for those looking to create a compact build with the X570 chipset.
High quality ITX option

Fantastic performance for it's size

Great connectivity and includes build in WIFI
Final word
Well, there you have it. Our best ASUS motherboards for both AMD and Intel. No matter what you choose, you're in good hands with ASUS. Thanks to their feature-rich, superior functionality, and build quality. You'll never be left wanting more, even ASUS' ITX motherboards feature more functionality than some full ATX boards – now that's impressive.
We hope this Best ASUS motherboard article helped you choose the right motherboard for you.
---