AMD might be the superior choice of CPU, with offerings such as the AMD Ryzen 7 3700X and the long-awaited Ryzen 9 3990X dominating the game, but they've definitely had more of a struggle when it comes to graphics cards.
In their attempts to produce a GPU worth talking about in an industry that has not long turned the conversation away from Nvidia, AMD brought out the Radeon VII.
Despite being the first 7nm GPU for gaming it was met with lackluster enthusiasm from the community. Perhaps because it was released during the far more eager anticipation of what was then their upcoming GPU Navi architecture, or perhaps it was down to the fact that it wasn't what the people were crying out for. Either way, it was clear early on in its debut that the Ryzen VII was not the GPU to lead the new AMD dynasty.
Enter the Radeon RX 5700 XT. With its RDNA graphics architecture, multiple exciting features, and ability to perform to the highest standards, the 5700 XT came onto the scene and solidified its place as one of the best graphics cards currently available.
But where did the Radeon VII go so wrong and where does the 5700 XT truly shine? We compare both of these GPUs so you can see for yourself.
MSI Gaming Radeon VII 16GB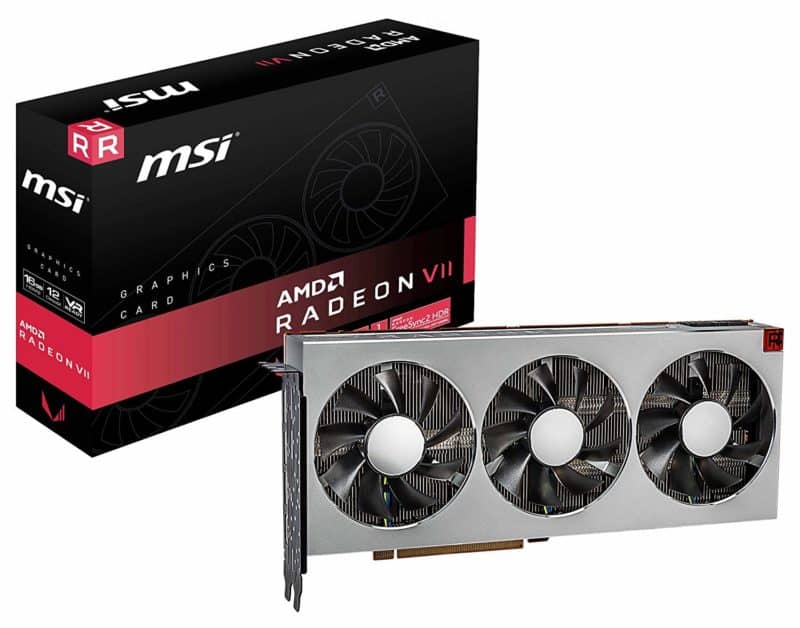 XFX Radeon Rx 5700 XT 8GB
While the Radeon VII was the very first GPU to feature AMD's 7nm Vega 20 architecture, this is the first strike against it when comparing it to the 5700 XT.
The Radeon VII's performance was improved by 25% when compared to the previous unit, but while the singular card has great compute potential, the GCN 5.1 architecture lets it down when it comes to gaming purposes.
This old architecture requires more hardware yet it's less effective, and compared to rival Nvidia components or up against AMD's new RDNA architecture, it doesn't stand a chance. This is especially in terms of speed and efficiency.
The Radeon RX 5700 series, however, does feature the new RDNA Navi microarchitecture which has been developed for gamers. It's designed to render your games faster with improved performance and less latency, and it was marketed as part of Microsoft and Sony's release for the Xbox X series and the PlayStation 5 respectively.
AMD has traded in their blower-style cooling systems in favor of a triple-fan cooler in the Radeon VII. Each fan measures 75mm in diameter, but while it's not big enough to blow you away, it's generally more efficient than blower-fans and is quieter than the Radeon RX Vega graphics cards. Although admittedly that was hardly a challenge.
A graphite thermal cooling pad means the chamber is supposedly vapor cooled, but it still gets pretty hot when you're running it at maximum capacity or for extended gaming time. The dual-slot cooling system is yet another area where it's bested by the 5700 XT.
We had hoped that we'd seen the last of blower fans with the Radeon VII, but AMD made the choice to bring them back for the 5700 XT. However, we're happy to report that the 5700 XT is actually far quieter while it's running and is more effective at lowering the temperature.
During our testing, the fans ramped up to around 2,100 RPM after starting at a gentle 700 RPM, although it spiked again after the first loop until settling around the 1,800 RPM mark, and it stayed cool during demanding games.
The Radeon VII is practically a mirror image of Nvidia's GeForce RTX 2080 Founders Edition and has a pretty similar weight of 1.282kg. Running from the edge at the top of the PCIe slot along the top of the cooling unit, it measures 26.8cm in length and it's 11.5cm tall.
Dimensions for the whole card are 280mm x 125 mm x 40 mm and it features 1 HDMI and 3 DisplayPort outputs. It has a large die area that measures at 331 mm squared and it uses a PCI-Express 3.0 x 16 interface.
The 5700 XT is only slightly smaller at 272mm x 111mm x 36mm by comparison, and it has a dual-slow cooling solution.
The front panel of the 5700 XT has multiple outputs, including DisplayPort 1.4 and HDMI 2.0 which, in conjunction with AMD's Eyefinity, means you can enjoy a fully immersive gaming experience as it's more than capable of handling 4K at 60 fps or 1080p at 240 fps.
The 5700 XT is an upgrade on the preceding Radeon RX Vega 64 with a higher frame rate of up to 15 percent. It pushes 72 FPS and it's a great choice for anyone who wants to play the most recent releases in 1440p or 1080p definitions.
Turning it up to 4K will stretch the 5700 XT graphics card to the limits of its performance, but it can otherwise handle even the most demanding of games with no noticeable compromise on quality, which is a clear point to the 5700 XT.
By comparison, the Radeon VII requires more power to run than the 5700 XT and you don't necessarily see a return on this. It struggles to push beyond 120 fps, reaching an average of just 65 in Battlefield V and in the low 80s in games like Black Ops 4 and Forza Horizon 4.
When it comes to the long-standing war between AMD and Nvidia, ray tracing stands to be the next front on which these two companies will battle. Once exclusive to Nvidia, those in the AMD camp will be happy to know that the new RX GPUs support this technology.
However, neither the Radeon VII nor the 5700 XT is compatible with ray tracing as they were released prior to AMD's success in this area and instead they rely on rasterization. If you want the best shadow and lighting effects you'll be forced to turn to Nvidia, or to shell out for the newly released RX 6800, 6800 XT, and 6900 XT which became available at the end of 2020.
MSI Gaming Radeon VII 16GB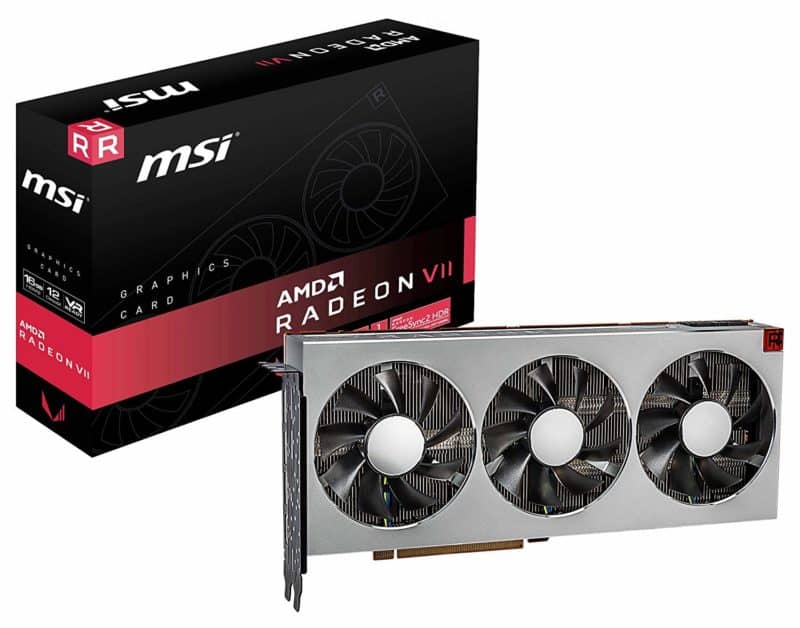 XFX Radeon Rx 5700 XT 8GB
The Radeon VII has doubled the memory of its predecessor and offers a generous 16GB of HBM2 VRAM and 1 TB/s of memory bandwidth. That only narrowly misses out to the Nvidia Titan RTX for the top spot in terms of video memory capacity, so it's well equipped to handle storing lots of image data and ensures smooth gameplay at high resolutions.
It's a lot of VRAM, and while it's impressive, it's also what makes the Radeon VII a GPU geared more towards professional or creative users and less towards gamers, who are less likely to be running applications that benefit from this.
The 5700 XT has just 8GB of GDDR6 VRAM, but this is more than sufficient for the majority of games. Thanks to its RDNA architecture, this graphics card still runs faster than the Radeon VII and is undoubtedly the better choice for gamers looking to upgrade their GPU.