What gaming chair does Pewdiepie use?
What gaming chair does Pewdiepie use? Lets have a look
Updated: Oct 18, 2023 12:16 pm
What gaming chair does Pewdiepie use? Well, like many other famous gaming personalities, he's working directly with a chair brand to produce a custom solution.
However, unlike Ninja, who uses a custom chair that you can't get, Pewdiepie has taken the KSI route and collaborated with a brand to make a chair you can actually buy.
The result is the Clutch Throttle Pewdiepie Edition gaming chair. A bespoke gaming chair bearing the characteristic black & red wiggly stripes, with the 'Bro fist' logo front and center.
Interestingly this gaming chair joins a long line of officially licensed Pewdiepie gaming peripherals, including a gaming keyboard, gaming mouse, toy dog, artisan keycap, and even a desk pad. Jeez, what an industrious man he is.
However, what if you can't get ahold of the Pewdiepie chair? It might not be available in your region, or as is often the case, what if it's permanently out of stock? Here are some alternatives we recommend.
Pewdiepie gaming chair alternative: Secretlab Titan EVO 2022 Series
Our top pick for an alternative to the gaming chair that Pewdsiepie uses is the Secretlab Titan EVO 2022 Series. It's our current best gaming chair pick, and there are many good reasons for this.

Secretlab Titan EVO 2022 Series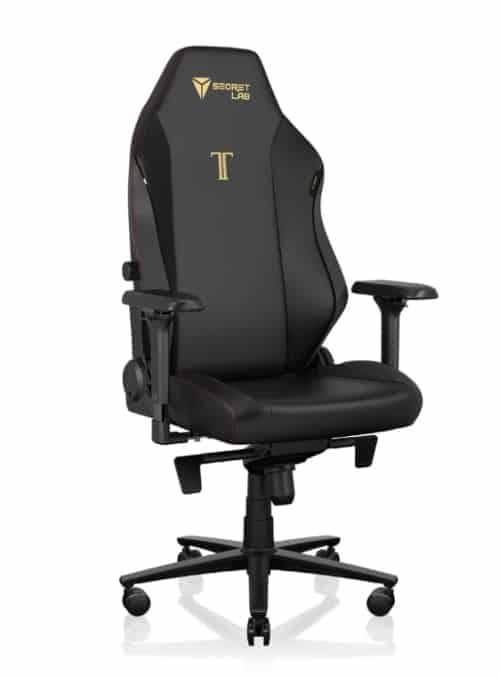 Height range (Medium Size)
First up is the novel and actually effective L-ADAPT lumbar support system. This fully-featured posture tool allows you to fully adjust the lumbar support bulge. Alling you to move it up and down, and vary the prominence, so there is finally a one-size-fits-all ergonomic solution out there.
Additionally, the Titan EVO comes in all sorts of upholstery options, with a huge number of designs too. They are even officially licensed esports variations, and some fun anime, video game, and movie collabs too.
Also, just in case you occupy people on the distant ends of the size spectrum, the Titan is available in small and large versions too, so no matter your height, you'll be catered for here.
---