What monitor does Shroud use?
Here's everything you need to know about Shroud's monitor setup
Updated: Dec 21, 2022 10:39 am
Michael Grzesiek, also known as Shroud, is a popular streamer and professional gamer known for his skills in games such as Counter-Strike: Global Offensive and Apex Legends. Many were acquainted with him when he was playing for the Cloud9 Counter-Strike: Global Offensive team, and that's also where he first became worldwide famous. Now, he is one of the most popular live streamers on the planet. In order to ensure the best possible gaming experience, Shroud relies on high-quality equipment, including a monitor that can keep up with his fast-paced gameplay.
What monitor does Shroud use for gaming?
According to our sources, Shroud currently uses Dell's Alienware AW2721D monitor. This monitor has a 240Hz refresh rate, which allows for incredibly smooth and fast gameplay, as well as a 1ms response time, meaning that there is minimal delay between a player's actions and the display on the screen. The Alienware AW2721D also has a full QHD 1440p resolution, ensuring that games and other content are displayed in crisp, clear detail. Moreover, it boasts IPS technology, which gives a rich and vibrant color palette for the monitor's owner to enjoy.
READ NOW: Best 1440p 240hz monitors
In addition to these impressive specs, the Alienware AW2721D also has several features that make it ideal for professional gaming. It has G-Sync technology, which helps eliminate screen tearing and reduce input lag, and a customizable light-up logo on the back of the monitor. The monitor also has many ergonomic features, including a fully adjustable stand and VESA mount compatibility, allowing Shroud to find the most comfortable viewing angle easily. And those things matter, believe me.
Alienware AW2721D Gaming Monitor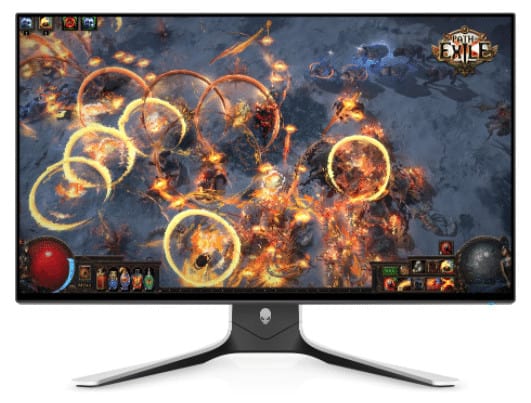 240Hz (DisplayPort) Or 144Hz (HDMI)
Overall, the Alienware AW2721D is a top-of-the-line gaming monitor that is well-suited to Shroud's quick and reaction-based gameplay style. Its high refresh rate, low response time, magnificent colors, and various other features make it a perfect choice for any serious gamer looking to take their gameplay to the next level. If Shroud himself makes the Alienware AW2721D his go-to display, you should take it into serious consideration next time when you'll be choosing a new monitor.
---