Lost Ark leveling guide & tips for early grinding
Need a Lost Ark Leveling guide? Here are some handy tips to use while leveling your first character.
Updated: Feb 9, 2022 1:48 pm
Lost Ark is now live and the grinding is now underway. When you make your character, you will find that there are two different XP bars you can get your hands on, the roster XP and the combat XP bar. Both are bars you are going to want to grind and level up. Below you will find a Lost Ark leveling guide, along with some useful tips to help manage your journey to the end game.
Lost Ark leveling guide
There are a few must-know features you need to know about leveling in Lost Ark, Below we will list the best Lost Ark leveling tips that have worked for us and others in the game. We also recommend changing your mouse and keyboard control scheme, as the two default options are not particularly intuitive. At least in our opinion, anyway.
Best Lost Ark Leveling tips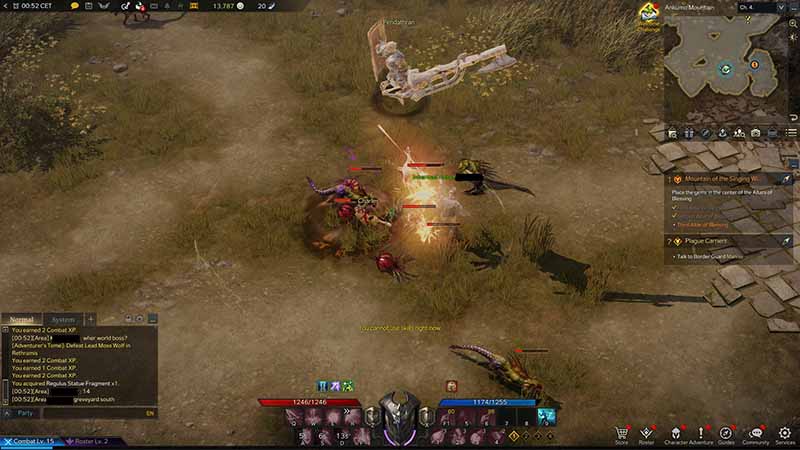 The first tip we will give you in the Lost Ark leveling guide is to do side quests. Unlike most other MMORPGs, you really do not have to go far to actually complete the side quests. For example, the plaguelands zone side quests at the first main story hub as side quests where your main quest takes you. We recommend doing this for the silver boosts, combat XP and the roster XP.
Buy gear from the vendors. Some of the vendor gear, while you are leveling, tends toward having 20 more gear score than the gear that you wear by the time you arrive. The only time you replace the gear is via the dungeons, regardless of single-player or public matchmaking. It is therefore worth it if you are interested in cashing in your silver for that increased speed.
Use the battle gear you get. When you play through the main story, you will get your hands on loot to use. These can include movement speed consumables, grenades for extra AOE damage and party movement buffs. Zooming helps a lot with speeding up the process, and less time on annoying packs also make you get through the levelling process quicker.
Do the sudden quests. Around the world, you will find quests randomly appearing around you within a limited time. It is similar to the fate system in FFXIV or the public quests in Guild Wars 2. Get yourself some bonus XP, along with potential gear, silver and other items.
Keep an eye on chat channels. The reason why is because the server's general chat is filled with players mentioning the presence of world bosses. If you are at the point you can encounter world bosses, then we recommend keeping an eye on that. That way you can join the appropriate channel, and the server layer and fight the world boss for that sweet loot, xo and more.
Do public dungeons on hard more. While you are leaving you will find no short supply of public matchmaking dungeons you can select the difficulty of. As part of the Lost Ark leveling guide, we highly recommend doing these dungeons on hard. They take slightly longer, but you do get epic quality leveling gear, which is a great boat for the following main story missions and hubs.
Lost Ark Combat XP vs Roster XP
The other thing you need to consider is the Lost Ark combat and roster XP. All the difference is that your combat XP is your character's XP bar. You will eventually make your way to character level 50, which is the end game. You can then level to 60, with each level in between granting a shad load of skill points so you can upgrade your skills further.
On the other hand, roster XP is an account level on the server. Whenever you do anything on a character, you will get some roster XP. The roster XP can grind up to level 350, with the roster XP levels granting different buffs. It makes it so you can get additional perks and bonuses for your characters, along with offering extra cath up mechanics to any new alternative characters you are making.
We figured it was worth mentioning in this Lost Ark leveling guide, since there is some confusion between the two XP bars. Not to mention that it is something you can farm passively by following the above Lost Ark leveling tips.
---