Intel's i9-14900K and i7-14700K appear for the first time in benchmark software
The 14th gen release might be right around the corner
Updated: Aug 8, 2023 10:32 am
It seems that Intel's latest flagship and second best have surfaced online via a popular benchmarking platform named Bapco. Not only does this confirm the 14th gen flagship's name and it's specs, it also suggests that an Intel 14th gen release could be right around the corner. Intel's i9-14900K and i7-14700K appear for the first time on benchmark software, but how well does it do?
---
Intel's 14th gen appears on Bapco Software
VideoCardz reports that this is the first benchmark we have ever seen of the 14900K, marking that time between first glimpse and release that we all get very excited for it. It looks like we have good reason to be. But how good is Intel's 14th gen?
This Raptor Lake refresh is designed on Socket LGA 1700, just like Raptor Lake, so that means you won't have to upgrade your motherboard this time – thank god. This updated CPU series promises higher core speeds and even more cores, in the case of the i7-14700K.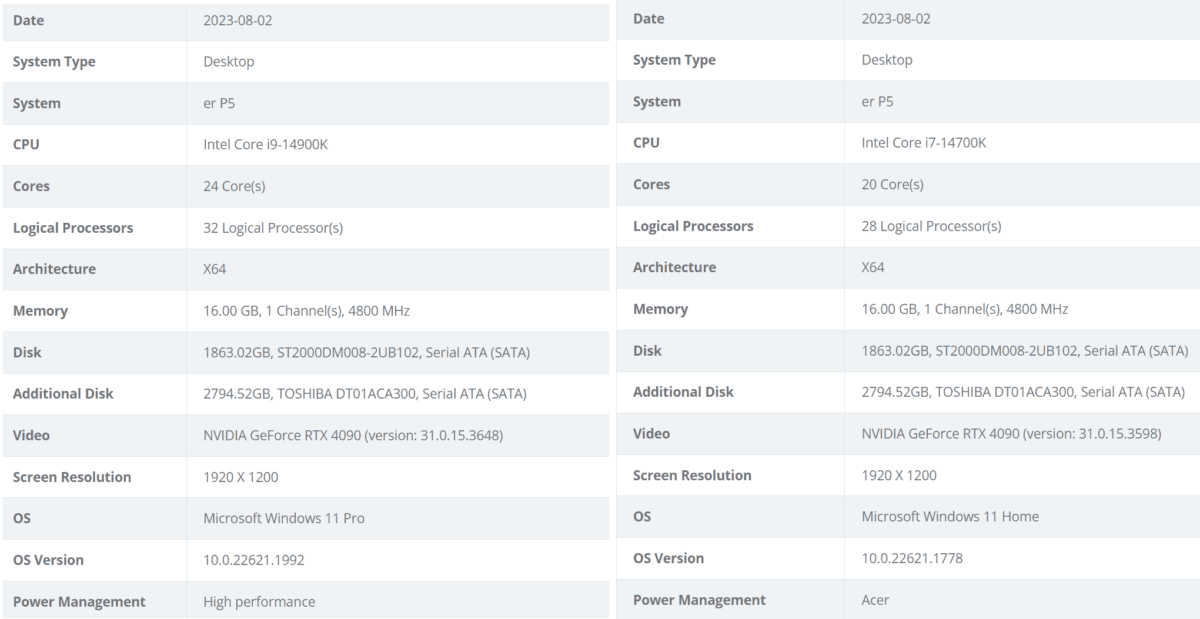 The leaked information verifies the identities of two processors: the Core i9-14900K, which is the main flagship CPU, and the Core i7-14700K with 20 cores. Importantly, the Core i7 group sees a big increase in the number of cores compared to its earlier version, moving from 16 cores in the 13700 model to 20 cores.
---
Intel 14th gen performance benchmarks
Benchmarks had been posted on Bapco, but have since been removed. Thankfully, VideoCardz documented the results before they were taken down.
When it comes to performance, the Core i9-14900K seems to be faster than the Core i7-14700K by about 14 to 20% on average, based on various tests. What's even more significant is that when we compare it to the Core i9-13900K, it's clear that the CPU isn't running as well as it could. In fact, the current-generation CPU outperforms it by anywhere from 1% to 16% – reports VideoCardz

These benchmarks seem a little off, despite the two CPUs being paired with an RTX 4090, the scores don't really reflect what we'd expect to see right now. It's more likely that these preliminary benchmarks serve as validation rather than a full performance benchmark. Intel's i9-14900K and i7-14700K appear for the first time on benchmark software, but it appears not quite ready just yet.
---