New Space Marine 2 trailer released!
Warhammer 40,000 Space Marine 2 - trailer 2
Updated: Dec 9, 2022 1:07 pm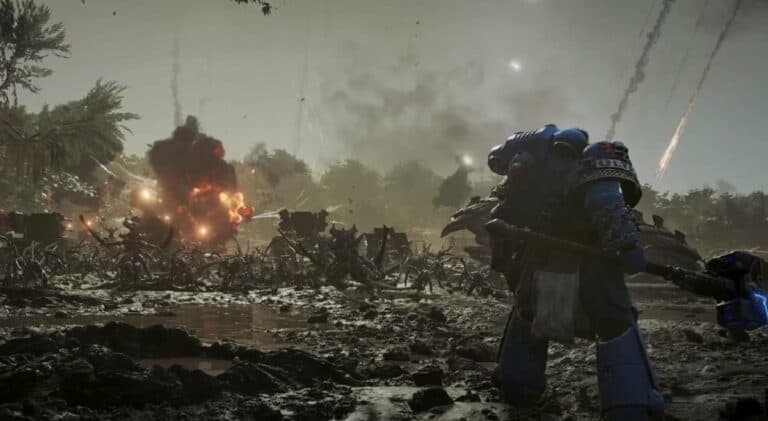 The new Space Marine 2 trailer has just been released, and it's got us throbbing at the progenoid gland!
One year after the sequel was first announced, and the first cinematic trailer dropped not long afterwards, we've now been gifted the first ever Space Marine 2 gameplay trailer. Praise be to the Emperor!
Although it's only around a minute long, there are a lot of sumptuous in-game graphics to feast your eyes on (make liberal use of the pause button) and of course, large helpings of ridiculously over the top carnage.
Warhammer 40K Space Marine 2 gameplay trailer content
The new trailer shows off what appears to be a slightly more vibrant and stylised iteration in the series (but we're not talking Dawn Of War 3 levels here, so rest easy) with lots of crackling blue power weapons, arcs of Tyranid blood, and sweeping combat poses being thrown out by Titus himself in the midst of combat.
The good old jump pack makes a return (how could it not) and generally (from what we've seen) it appears to be much the same as before, just better, which isn't necessarily a bad thing. The trailer seems to suggest a similar linear structure to the level designs, though perhaps with wider, more open spaces, though we don't know if this is definitively the case yet.
What platforms can I play the new Space Marine game on?
Warhammer 40K Space Marine 2 will land on Xbox Series X & Xbox Series S, PlayStation 5 and, of course, the mighty PC. It will not be available for previous-gen consoles unfortunately.
When will Warhammer 40,000 Space Marine 2 release?
At the end of the trailer, 2023 is announced as the year of the game's release. There's absolutely no information for a more specific time than that unfortunately, but we'll update you here at WePC as soon as there is.
---