Pokémon Go Halloween Mischief event 2021
Spooky music and your favorite Pokémon getting all dressed up? Must be Halloween!
Updated: Oct 25, 2021 2:01 pm
October is upon us, and so we are counting down the days until the next Pokémon Go Halloween event. We're still celebrating the game's 5th birthday as well, so expect this to be the biggest Halloween event ever!
2021 Halloween event in Pokémon Go
Pokémon Go's Halloween events are among the best throughout the year, and 2021's is set to be the most thrilling yet. Split into two sections, the event will take place over two weeks, with a selection of new Pokémon, new raid bosses, new in-shop items and the continuation of the Hoopa special research. In-line with the other 5th anniversary events we've seen this year, we'll also be treated to a haunting new in-game song that will play during the event, so be sure to take your game off mute for a taste of the spooky Lavender Town remix!
Pokémon Go Halloween event – When is it?
The full event will start on October 15 and finish on Halloween, October 31, 2021.
Part 1: Creepy Companions
Creepy Companions will take place between 10am local time on Friday, October 15th and 10am local time on Friday, October 22.
Part 2: Ghoulish Pals
The event will conclude with Part 2: Ghoulish Pals, between 10am local time on Friday, October 22 and 8pm local time on Sunday, October 31.
New Pokémon for Halloween 2021
A selection of adorable – I mean, suitably haunting – Pokémon are going to be introduced to Pokémon Go for the first time during this year's event.
Galarian Slowking
During the first part, Creepy Companions, a very exciting evolution will finally be available. Galarian Slowpoke will finally be able to evolve into the magical-looking Hexpert Pokemon, Galarian Slowking.
Galarian Slowpoke evolution requirements
If you've already got a decent Galarian Slowpoke, you can start preparing for evolution now. Just make Slowpoke your buddy and, while adventuring together, catch 30 Psychic-type Pokemon. Since the Slowpoke needs to be your buddy when you carry out the requirements, there's no point in doing it yet if you are hoping for a stronger catch. If that is the case, hang tight until the event begins, and try your luck with Galarian Slowpoke in 1-star raids. As well as the 30 Psychic-type Pokemon requirements, you will also need 50 Slowpoke candies saved away as well. While the evolution launches during the first part of the event, you will still be able to evolve your Galarian Slowpoke after the event ends.
Pumpkaboo and Gourgeist
Starting from October 22nd, Pumpkaboo will start appearing in the wild for the first time. The adorable Pumpkin Pokemon will bring with it a new game mechanic, as well. While different sized pokemon have existed in the game since the beginning, Pumpkaboo will introduce different sized sprites to go with it. The larger the Pumpkaboo, the larger it will actually look in-game! Large and Super-size Pumpkaboos will be rarer in the wild.
While Gourgeist will not be appearing in the wild, you will be able to evolve your Pumpkaboos into Gourgeists. Average-sized Pumpkaboos will also be available in one-star raids.
To celebrate the new game mechanic, there will also be a new Collection Challenge in which you will be tasked with collecting Pumpkaboo of all different sizes!
Phantump and Trevenant
Along with Pumpkaboo, the equally adorable Phantump (I thought these guys were supposed to be scary, not cute!) will also be appearing in the wild and one-star raids. Phantump can then be evolved into Elder Tree Pokémon Trevenant.
Halloween Costumed Pokémon
As in previous years' Halloween events, you will get new costumed Pokémon to add to your collection. These are new and exclusive to this year's event, and three Pokémon will appear in game wearing new Halloween Mischief hats! They are Pikachu, Piplup and Drifblim, and if you're lucky, you might encounter any of them in shiny form!
Hoopa Misunderstood Mischief special research
With Hoopa still causing trouble in the Misunderstood Mischief special research, what better time for it to reappear than a spooky Halloween event with Mischief in its own title?! If you are currently up to date with the research tasks, you'll be on step 8 of 16, with 9 set to relaunch the research from October 15th. Upon completion of the Season of Mischief storyline, players will get special access to another in-game event, so there's no better time to get cracking on with your Hoopa research!
Pokémon Go Halloween Cup
A new Halloween themed Cup will start in the Pokémon Go Battle League starting from October 15th. To make this cup spooky enough for the Season of Mischief, of course there are special restrictions on which Pokémon can enter the Cup. As well as being CP 1,500 or below, any Pokémon entering the Halloween Cup will need to be poison, bug, ghost, dark or fairy type.
New Pokémon Go avatar items for Halloween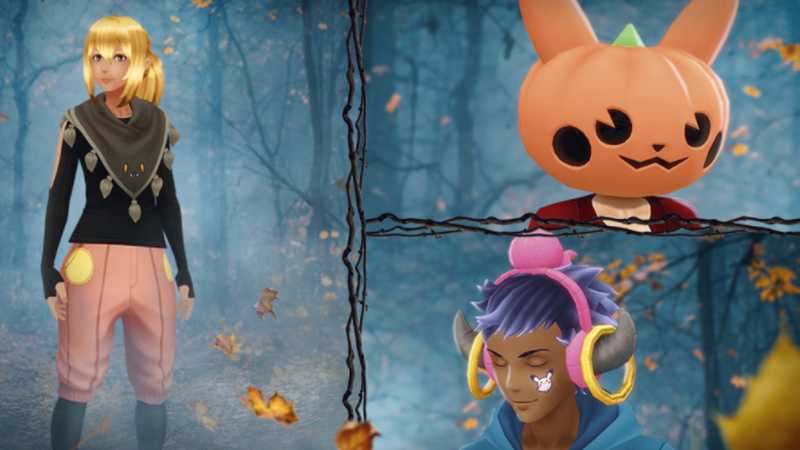 Got loads of coins burning a hole in your item bag? Good news! Five new Halloween-themed avatar items will be launched in the in-game store on October 14th at 1pm PDT/4pm EST/8pm GMT.
Pikachu Pumpkin Head
Pumpkaboo Top
Pumpkaboo Pants
Hoopa Headband
Halloween Face Sticker
Clearly, I think we can all agree that Pikachu Pumpkin is the best of the bunch and we should all be carving Pikachu pumpkins this year…
Pokémon Go Halloween-themed stickers
Speaking of stickers (see face sticker, above), there will also be a selection of cute new spoopy stickers for you to send to your friends with gifts. These not only include artwork of costumed Pikachu, Drifblim and Piplup, but also the ghost-pikachu-balloon combo you can just about make out in the image above, to match the aforementioned face sticker. As well as available in gifts, the stickers will also be available in the in-game shop from October 14th at 1pm PDT/4pm EST/8pm GMT.
New limited-edition event bundles
By last but no means least, you can also blow those coins on a range of new spooky-styled event bundles. These will also be launched in the in-game shop from October 14th at 1pm PDT/4pm EST/8pm GMT.
Creepy Crate
Costing 480 PokéCoins, the Creepy Crate includes:
50 Poké Balls
One Remote Raid Pass
Two Super Incubators, four Incense
Boo Bundle
Costing 1,480 PokéCoins, the Boo Bundle includes:
16 Premium Raid Passes
Eight Super Incubators
Four Incense
Four Star Pieces
Pumpkin Pack
Costing 1,480 PokéCoins, the Pumpkin Pack includes:
18 Super Incubators
Two Incubators
Four Incense
Four Star Pieces
---