Best Cheap Prebuilt Gaming PCs Under $500 – 5 Budget Desktops 2019
After spending nearly 100 hours testing 8 popular prebuilt gaming desktops, we've concluded that the iBuyPower Enthusiast is the best budget prebuilt gaming computer currently on the market for around $500. This PC packs a punch with it's AMD Ryzen 2400G APU, 8GB DDR4 RAM and 120GB SSD. This prebuilt machine will allow you to run most of today's AAA titles on low to medium settings with very little compromise. If you want to learn more about what makes the best prebuilt gaming PC for $500 then continue reading below.
If you are feeling a little more adventurous and you are up to the task of building your own gaming computer, then check out our guide right here: how to build your own custom PC with less than $500.
CUK has been known to manufacture a lot of durable products over the years. So if you're rough on your electronics (or maybe have a pesky pet or destructive toddler), then the CUK Continuum Gaming Desktop PC could be your match.
Not only do you have a powerful processor that's sure to handle multiple applications at once, but you also have that rapid solid state drive which is going to massively reduce loading times. 
The VR Gaming Pc from Gamer Xtreme also comes equipped with 16GB of RAM which is quite capable of handling most games. The powerful processor guarantees speed and performance. It also comes with a hybrid storage solution which makes use of 240GB of SSD, more than enough room for your O/S and games.
For the price, it's guaranteed to give you the future-proofing you need for the next couple of years.
Our Pick
iBuyPower Enthusiast Gaming PC
A powerful prebuilt gaming PC
Not only does the iBuyPower Prebuilt PC run the latest AMD Ryzen processor, but it also has a Vega 11 onboard graphics card. With the included 120GB SSD, you'll experience faster boot and loading times. For a budget prebuilt machine, you can't look anywhere else.
Elegant and compact - this is what the iBuyPower Enthusiast series is about.
The iBuyPower Enthusiast prebuilt machine with it's AMD 2400G APU is the perfect choice for gamers on a budget. This machine is capable of running most AAA titles at low to medium settings and absolutely smashes Intel's 8th generation integrated CPUs out of the park.
This machine with it's AMD APU is the perfect blend, giving you great value for money.
AMD Budget Pick
IOZ Gaming Desktop Custom System
Another good gaming desktop under $500
The Ryzen 2200G features once again in this build and why not? pound for pound it's one of the best price/performance processors on the market, not to mention it comes with VEGA 8 integrated graphics which blows anything Intel has to offer out the water. 
The IOZ Gaming Desktop Custom System compromises nothing. The entire system is capable of handling older AAA games. It can also run some of the newer AAA titles-- as long as you're smart enough to tone down some in-game graphics.
For $500, the Ryzen 3 2200G in this build is a great component to build around. It's been paired with 8GB of DDR4 RAM and an SSD to boot. Enjoy rapid load times thanks to this combination. 
Mini Form Factor
CUK AsRock DeskMini
A powerful mini gaming rig
Many will be surprised with the power this small gaming rig has within. Thanks to technological advancements over the past 10 years, developers have been able to squeeze more power into much smaller form factors. Thus we have the Deskmini.
To touch on hardware briefly, the deskmini comes equipped with the Ryzen 3 2200G processor, widely considered the greatest value for money CPU available. Paired with this, the build has been armed with 8GB 2,666Mhz RAM which helps boost performance exponentially.
There is no real downside to this build, however if you are thinking about expansion down the line you are severley limited due to the size of the case.
If you want to upgrade the GPU then you would have to buy a mini GPU as well, no surprises there. However they are usually a bit cheaper so it's win win.
How We Choose What to Test
When choosing which prebuilt desktops to test, we first checked the most recent releases by Acer, iBuyPower, CyberPowerPC, Dell, HP, CUKUSA, Lenovo, and other big manufacturers of gaming PCs.
From there, we scoured the internet to see which prebuilt gaming computers gamers have actually been using. We didn't just read the top results from Google; instead, we went to forums to get real information from real consumers.
We checked hundreds of actual customer reviews from Amazon, NewEgg, eBay, and other well-known eCommerce websites to gather real-world experiences. We also checked in-depth video reviews and comparisons.
After spending several hours gathering and comparing customer reviews, we finally came up with our 8 initial candidates that showcased different features as to best meet a variety of gaming needs. From that 8 we decided upon 5 top picks which meet our criteria of solid gaming performance at around $500.
Things to Consider When Choosing a Prebuilt Gaming PC
For $500, you aren't aiming to get the best computer on the market, you are trying to get an entry-level gaming computer that requires the least amount of upgrades to experience the newest releases with a 1080p resolution at 60FPS. Still, it's surprising just how far the best gaming computer under $500 can take you nowadays.
In the process, there are several factors that need to be considered.
First and foremost, you want a powerful processor. Why? Because a processor is the key to future-proofing or ensuring that you don't have to upgrade your computer anytime soon.
Here's why…
A graphics card can be plugged into just about any motherboard as long as the right amount of voltage is supplied from the power supply.
The processor, however, has to be compatible with the motherboard. So if you want to upgrade your CPU, it's likely that you will also have to upgrade your motherboard, which is more costly.
That's why our list favors rigs that come with powerful processors rather than graphics cards.
Based on our above logic, the graphics card is likely the first thing you'll want to upgrade on one of these rigs to get it from being merely good to being great.
As stated, the processors on the list are capable of handling average AAA games. However, a GPU upgrade should make a tremendous difference. A 3GB GTX 1060 should be enough to experience 1080p gaming with a 60 FPS average.
Having 8GB of RAM is the common threshold for modern gaming. In fact, that's why all of the desktops on our list boasts at least that much.
This means a RAM upgrade isn't really necessary with any of these builds.
When it comes to storage space you have two options: SSD or HDD. For the purpose of this review, you don't need to know much more than this: SSD is fast but expensive while HDD is slow but cheap.
Ultimately, it is less about which type of storage you'll use and more about how much you'll make use of each since it's advisable to go with a hybrid storage system -- 120GB SSD for system files and 1TB HDD for games and personal files.
I'd recommend checking out our SSD vs HDD page to find out more.
Never forget, airflow is one of the most vital factors in keeping your computer's temperatures down. Whenever possible, you want to choose a computer whose case has enough room for future upgrades. Broadly speaking, the bigger the better.
LED lights and other aesthetics may benefit your eyes but if this doesn't provide enough airflow to keep the system cool, you're better off shopping for another one that does.
Testing the prebuilt gaming PCs is pretty much straightforward. We installed the following games and recorded benchmark results:
PUBG

Fortnite

Overwatch

GTA V

Rocket League

Battlefield 1

The Elder Scrolls V: Skyrim

The Witcher III
Note: Some of the recent games such as Tom Clancy's The Division 2, Devil May Cry 5, Anthem, and Resident Evil 2 may need more power that what's inside the most powerful one on the list. But can still be played with huge sacrifices in the graphics department.
We spent hours playing games just so we could test and see what each rig is really capable of. (Obviously, we have very hard lives.)
After playing hours of games and benchmarking the results, we confirmed that the Syber Domono can handle games in 1080p with a few adjustments to the game's graphics settings.
The syber is currently the only build in this list that makes use of an Intel chip, but make no mistake,the Ryzen 3 2200G and Ryzen 5 2400g which the IBuyPower Enthusiast Gaming PC, the HP Pavilion Gaming Desktop Computer, and the CLX Set Gaming PC use are powerful processors. They don't necessarily need a standalone GPU to be efficient thanks to AMD's VEGA graphics which is miles ahead of anything Intel have to offer.
Instead of stopping there, we decided to do some further testing... we hooked a GTX 1060 graphics card up to some of the picks in the list to see what kind of performance improvement we would achieve. To our surprise, the performance increase that was achieved turned out to be much greater than our initial forecast. Great news for those wanting to upgrade down the road.
Further to this, we decided to upgrade the RAM to 3,000Mhz in all the builds, the performance boost we saw from the Ryzen chips was massive. We can't recommend upgrading the RAM enough, the Ryzen chips are built to enjoy quicker memory and once you upgrade, you'll understand why.
Disclaimer: The prebuilt gaming desktops we tested were purchased and were not sent or sponsored to make biased opinions or feedback.
The 5 Best Prebuilt Gaming PC Under $500
Product
Details

CUK Continuum Micro Gamer PC

cpu: AMD Ryzen 3 3200g
gpu: Radeon Vega 8 Graphics
ram: 16GB DDR4-3000RAM
storage: 256GB SSD

Check Current Price

Gamer Xtreme VR Gaming PC

cpu: Intel i5-9400F
gpu: NVIDIA GeForce GTX 1660 6GB
ram: 16GB DDR4
storage: 240GB SSD & 1TB HDD

Check Current Price

iBuyPower Enthusiast Gaming PC

cpu: AMD 2400G
gpu: Radeon Vega 11
ram: 8GB DDR4
storage: 120GB SSD

Check Current Price

IOZ Gaming Desktop Custom System

cpu: AMD Ryzen 3 2200g
gpu: Vega 8
ram: 8GB ddr4
storage: 240GB SSD

Check Current Price

CUK AsRock DeskMini

cpu: Ryzen 3 2200G 3.5Ghz
gpu: Vega 8 Integrated Graphics
ram: 8GB 2666MHz DDR4 RAM
storage: 256GB NVME SSD

Check Current Price
#1
CUK Continuum Micro Gamer PC
PROS
3rd Gen AMD technology
16GB of super fast DDR4 RAM
Rapid 256GB solid state drive
Comes with keyboard and mice
CONS
Case could be better
Only has a small hard drive
The CUK Continuum is by far, the most impressive gaming rig in this list of best pre-built gaming PCs under $500. It hosts the impressive new Ryzen 3 3200G CPU, widely considered to be one of AMD's best pound for pound processors available. We have had one of these APUs in office since they were released back on July 7th and it has impressed us since day one. This thing has the ability to play AAA game titles, all-be-it in limited graphics, upwards of 50FPS.
The RAM is 16GB 3000Mhz DDR4 and is the absolute perfect choice for this build. Why did you ask? Well, as most will know, Ryzen APUs come equipped with Vega 8/11 integrated graphics. And unlike conventional GPUs that come with their own dedicated VRAM, an APU must go via your PCs main RAM to run efficiently. So, in short, having 16GB RAM is essential when using an APU.
If that wasn't enough, CUK has attached a cheeky 256GB NVME SSD as well. SSD's are known for their rapid load times, so having one in this build is a real treat. You can install your O/S and primary games on the SSD and reap the rewards of the non-volatile storage solution.
The case has some additional drive bays so you can happily go and get an extra hard drive when your SSD fills up. It also has plenty of room for future upgrades which is another plus in my book.
A great, budget pre-built which has everything you'd expect and more for its price tag.
#2
Gamer Xtreme VR Gaming PC
PROS
Good value for money
16GB DDR4 RAM, enough to power any modern AAA title
Hybrid storage solution for fast boot time & capacity
Comes with 2 year warranty
CONS
Case is pretty poor
Doesn't come with keyboard and mouse
The Gamer Xtreme VR Gaming PC is our number 1 pre-built Intel pick and one that showcases the ever-popular 9400F. The CPU is in many ways similar to Ryzen's 3200G and displays extremely good value for money. The CPU is powerful from a value point of view but also has enough juice to be able to play modern AAA game titles respectively.
Memory is another highlight in this build, it comes with 16GB DDR4 which is considered the go-to amount these days it would seem. You can run most games with 8 if truth be told, however, if you want to get the most out of your build, we'd always recommend 16GB. Gamer Xtreme has fitted its VR gaming PC  with the GeForce GTX 1660 6GB GPU. Now, this card is brilliant. AAA game titles, multi-media editing, and VR. It does the lot.
This build is lucky enough to have a hybrid storage solution which makes use of 240GB of SSD and 1TB HDD as well. This means users can utilize the rapid load times of the SSD and use the HDD as a media library. It's a great way to getting the best of both worlds without breaking the bank too much.
This is the most expensive build on our list and it's clear to see why. It has the best overall components list and comes with a 2-year warranty. If you're looking to spend that little bit extra, definitely go down this route.
#3
iBuyPower Enthusiast Gaming PC Desktop (ARC 032A)
PROS
Widely Considered The Best CPU In It's Price Range (Ryzen 2400G)
Excellent Graphics Geared Towards Gaming
120SSD Storage For Super Quick Boot Times
8GB Ram Which Pairs Nicely With The CPU
Comes With Keyboard And Mouse
CONS
Only 120GB Storage Capacity
No CD Drives Which Could Be Problematic For Some
What we have here is our best AMD pre-built gaming PC for $500 (or around that mark). We were really impressed to see what IBuyPower had been able to cram into this build whilst still maintaining a decent price point, something other brands simply could not achieve. The best CPU in it's class, fantastic graphics specifically geared towards gaming and a solid state drive are just a few of the tech features we're going to touch upon shortly.
When we recommend a pre-built gaming PC we like to point people in the right direction, we like to make sure the hardware inside the builds is both up-to-date and able to handle popular AAA game titles that we all know and love. This build ticks all those boxes with ease thanks to it's bang up-to-date hardware which we dive into now.
The first thing that caught our eye with this build was the 2400G that centers this build. It is simply the best pound for pound, price/performance gaming APU available in today's market. It comes clocked at 3.6Ghz which is plenty quick enough to handle games such as League of Legends, Fortnight and CS:GO. A long side the potent CPU is AMD's onboard graphics solution, VEGA 11. Now many of you will be saying, 'onboard graphics, thats garbage', and up until recently you'd of been correct in thinking so. However with the technological advancements we're seeing now, the VEGA 11 is the most powerful onboard graphics solution, ever. It's easily capable of handling HD gameplay at 40-60FPS across a plethora of gaming platforms.
AMD aside, this build comes with 120GB of SSD which is more than enough to get you up and running with Windows and a few primary game titles. Inevitably, you are going to have to get a larger drive, but for now you can enjoy the super quick load and boot times that come with an SSD. If you pair all this with super fast 8GB of DDR4 RAM then what you have is a very capable, extremely affordable gaming rig.
All you need to worry about now is getting a keyboard and mouse sorted....Well think again, IBuyPower have you covered here and decided to throw those in as well!
Excellent value for money, excellent performance power for the price, a fantastic all round pre-build that takes the top spot for AMD.
#4
IOZ Gaming Desktop Custom System
PROS
Fantastic value for money
8GB of DDR4 RAM
Plays some AAA game titles
CONS
Case is pretty poor
Doesn't come with keyboard and mouse
Can't play anything in high settings
Our budget choice comes in the form of IOZ's gaming desktop custom system, I know, catchy.
Now, it's worth mentioning that a lot of compromises have been made in this build to accommodate the price tag. I mean, the case doesn't exactly scream "cool gamer build" does it. That being said, the case does its job. It houses the components and keeps things inside pretty cool.
Focusing on this builds good points, the 2200G is AMD's entry-level APU which comes to tables armed with Vega 8 graphics. We benchmarked the 2200G in office and was pretty impressed with what it could do if truth be told. Playing games like CS:GO and Apex Legends was definitely achievable, however, graphics did need to be tweaked to get to playable FPS levels.
We get 8GB DDR4 RAM in this build which is again, entry-level for a gaming build. It does the job though if you're only looking to play some of the lesser demanding game titles which are available.
IOZ managed to squeeze a 240GB solid state drive into this build which is pretty impressive when you consider the price tag. This is both good and bad for your PC though. The pro is that you get super quick loading speeds across every app and game installed onto this drive. However, with games being much larger these days, you're drive will fill up as fast as it loads programs. At some stage, you will have to buy an extra HDD to accommodate the rest of your games library and media files.
For a starter PC though, I feel the gaming desktop custom system by IOZ is a really good starting place.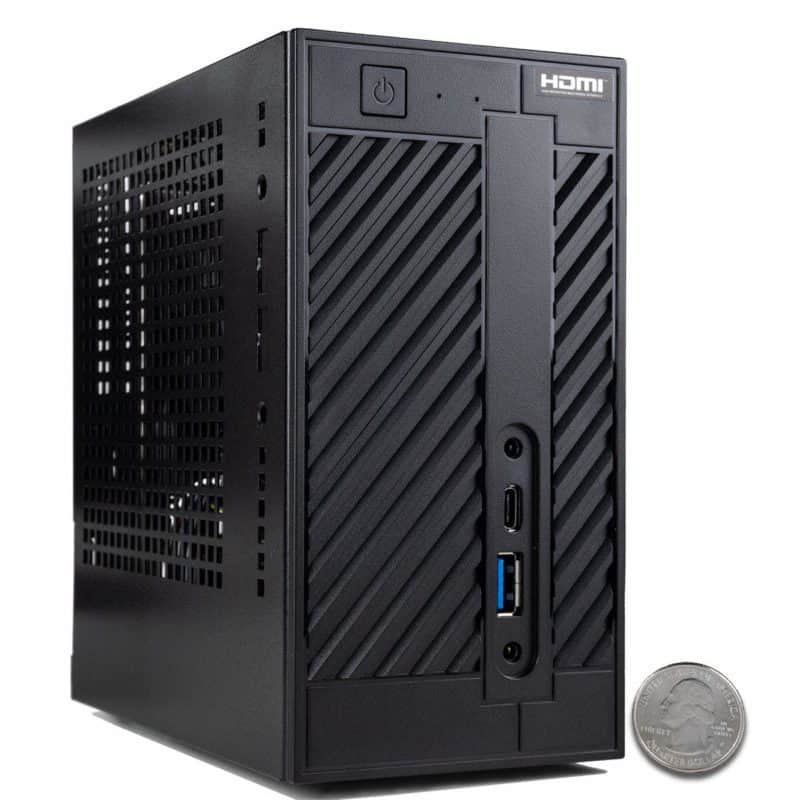 TECH SPECS
CPU

Ryzen 3 2200G 3.5Ghz

GPU

Vega 8 Integrated Graphics

RAM

8GB 2666MHz DDR4 RAM

Storage

256GB NVME SSD
PROS
Mini Form Factor For Minimal Footprint
Solid CPU Tailored Towards Gaming
Very Efficient Onboard Graphics Geared Towards Gaming
256Gb Solid State Drive
CONS
Very Limited Room For Expansion
No Standalone GPU
We come to something a little different, literally. The CUK AsRock Deskmini is pretty much what it says on the tin, a mini desktop gaming rig. Don't be fooled however with it's small form factor, this thing packs a serious punch.
It comes to the table with the classic Ryzen 3 2200G chips, which is currently in 3 of our best of $500 pre-build list. You really can't go wrong with the 2200G when you're working with a budget, its simply the most powerful, efficient APU in it's price range. It will handle AAA game titles wonderfully, granted at lower settings.  This machine doesn't come with a standalone GPU so it has to make use of AMD's VEGA 8 graphics which, in all honesty, is a very good graphics substitute. It handles Fornite, CS:GO and LOL very well if you tweak the settings just right. The 8GB of 2,666Mhz RAM are a perfect pairing for the 2200G and provide a healthy performance boost whilst still remaining within budget.
Further to this, the Deskmini comes with 256GB of SSD making it the largest SSD solution out of all the builds on this list. We all know the benefits of SSD, Super fast boot and load times, so being able to put as many games on here as possible is hugely advantageous to the consumer. However with the Mini's small form factor you're probably going to have to use an external HDD when it inevitably comes to it.
Overall, the CUK AsRock Deskmini is an acquired taste and you really need to be in the market solely for mini form factor if you go for this one. It does have it's pro's but it certainly has it's con's as well. As far as mini form builds go though, this is a fantastic option.
Best Prebuilt Gaming PC Under $400
So that's our list of best pre built gaming PC's for $500, but what if $500 is just out of reach?
Luckily, a number of manufacturers now provide decent gaming builds for around the $400 mark. However, for this price, you're theoretically scraping the bottom of the barrel in terms of performance levels and won't be able to play the latest games.
This being said, if you're looking for a build that's going to handle older games, simulators and general usage, maybe these $400 builds will be right up your street.
Great $400 Gaming Build
Intel i5 3.20GHz Desktop Gaming Computer
This is about as low, in terms of specs, as you'd want to go if gaming is one of your main agendas. It comes to the table with an i5-650 clocked at 3.2GHz and GTX 650 graphics meaning it is by no means an FPS killer.
What it will do however is play the likes of CS:GO at medium settings fairly stress free. For the price tag, you'd struggle to get better unless building your own.
Best AMD $400 pre build
Gaming Desktop Custom System Ryzen 3 2200G
As far as gaming rigs for $400 are concerned, you can't go wrong with this little build. At it's centre is the superb Ryzen 2200G clocked at 3.5Ghz which is considered pound for pound one of the best Price/performance value APU's available.
It has Vega 8 integrated graphics and a rapid 240GB SSD which make this much faster than it's cheaper competition above.
A nice little build but again, do not be expecting to smash out PUB:G on ultra anytime soon.
Honestly, spending only $500 for a killer gaming computer means your final product is going to inevitably fall a little short -- but it is enough to give you a solid foundation for future upgrades.
If all you want is the

best prebuilt gaming PC under $500

to play AAA title games, you can't go wrong with the

CUK Continuum Gaming PC

. The Gamer Xtreme Gaming PC is equally as efficient and powerful as the Continuum but with an Intel chip. 

Get the

IBUYPOWER Enthusiast Gaming PC

 or the

IOZ Gaming Desktop Custom System

 if you wish to invest in a prebuilt gaming desktop that you can use right away at the expense of sacrificing graphics for performance.

For something a little smaller, the

CUK AsRock Deskmini

is the only option in this list which has been built with Mini form in mind. This being said it still packs a mighty punch and is arguably one of the most powerful rigs in this list. Size doesn't always translate to power.
So that's the run down of our best $500 Pre-builds, which one are you going for?
Comment below letting us know how you got on and whether or not they lived up to their reviews.