Best Prebuilt Gaming PC Under $800 – Top 5 Desktops 2019
After having spent 96 hours sifting through the best and most recommended prebuilt gaming PCs under $800 on the market, we concluded that the CyberPowerPC Gamer Xtreme VR is the best-prebuilt gaming PC under $800. It comes to the table with Intel's latest I5-9400F processor and a powerful 1660Ti for outstanding graphical output. 8GB of DDR4 RAM, and a storage solution that consists of a 480GB SSD for lightning-fast boot and loading times.
If you're looking for the best, this is literally that. You can easily get over 60 FPS at 1080p in most modern AAA games (max settings) with no compromise whatsoever.
You can also save some money by building it yourself. If that sounds interesting, go ahead and read our how to build the best gaming desktop under $800.
Our Top Pick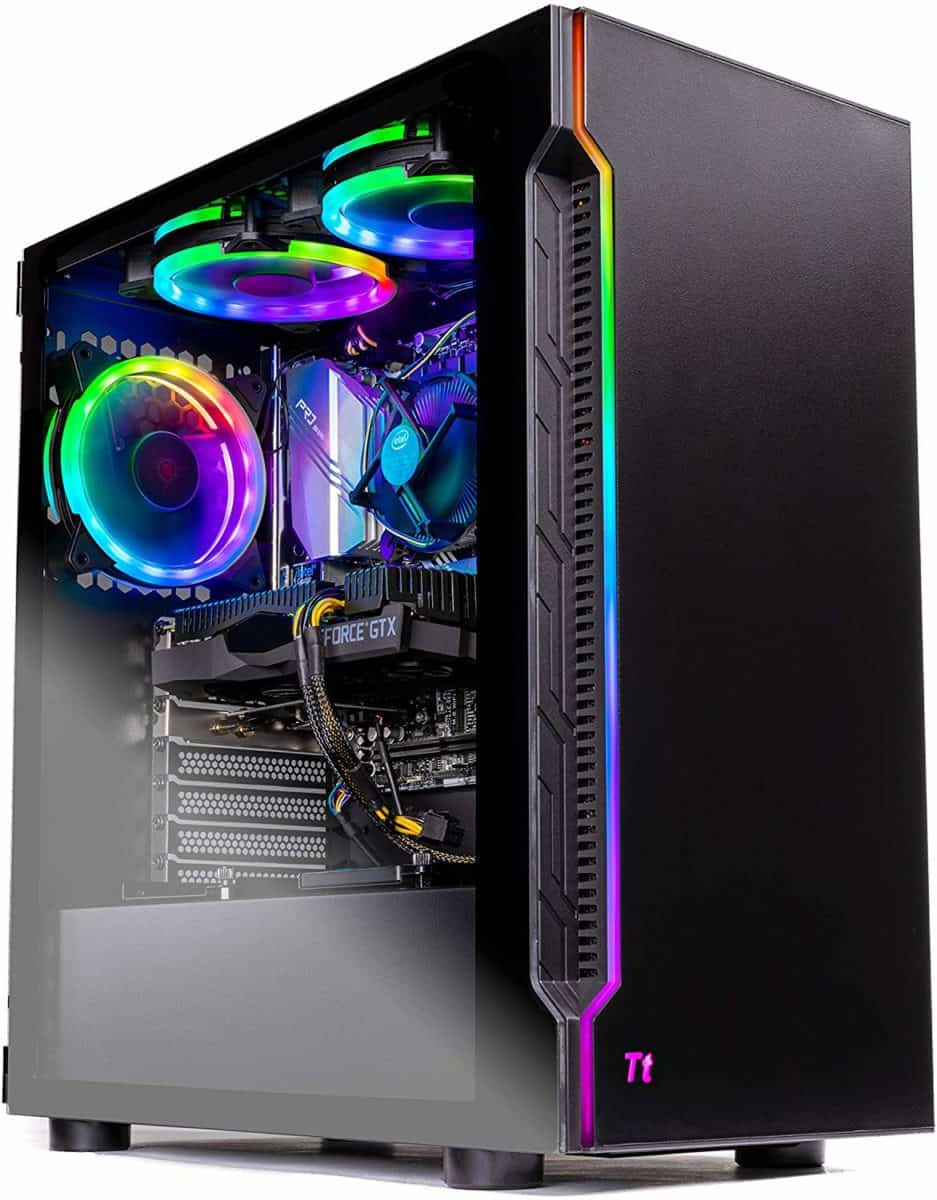 Skytech Shadow Gaming Computer PC Desktop
A strong, fast gaming desktop
This gaming PC from SkyTech comes equipped with all the bells and whistles you could want for an $800 gaming pre-build. It will handle AAA game titles with ease at mid-high video settings thanks to the Nvidia GTX 1650 graphics card. 
The 1660 comes paired with Intel's 9400F CPU, widely considered the best pound for pound (Price/performance) processor money can buy right now. The 8GB DDR4 RAM and 500GB SSD help motor this build along creating seamless, compromised gameplay.
AMD Pick
CYBERPOWERPC Gamer Master GMA8860CPGV2
A brilliant all round AMD pre build that ticks all the boxes
CYBERPOWERPC are no strangers to creating stylish, performance heavy pre-builds and the Gamer Master V2 is absolutely no different. AMD is at the heart of this build with the Ryzen 5 3600 CPU. We also see the powerful Nvidia 1660 GPU, creating a deadly partnership that is going to make 1080p gaming an absolute breeze.
The Gamer Master is the most all-round build in our list. The partnership of Ryzen's 3600 CPU and the RTX 1660 make stressing about FPS lag a thing of the past. The build features 2TB of HD space and is accompanied with a 240 GB SSD.
This is our top AMD pick for $800 pre-builds and would be a worthy upgrade for anyone looking to try and get the edge over the competition.
This gaming rig comes packed with powerful hardware and features that make for a fantastic final product.
Stylish RGB and tempered glass is the housing for this build. Inside we find AMD's 2700 paired with Nvidia's 1660 which makes for a deadly combination.
Budget picks are a huge part of our recommendations here at WePC and the SkyTech Blaze II offers an excellent price to performance.
A stylish, sleek, case bursting with RGB fans houses old but gold Ryzen 2600 CPU at the heart of this build. Accompanying this is the GTX 1660 GPU, 8GB DDR4 RAM and 500GB of SSD storage capacity, which all work in harmony to create a fantastic, all-round budget selection.
Thanks to a great CPU and GPU pairing, this PC is the perfect option for gamers looking to play AAA games in 1440p.
With its 500GB SSD this build has more than enough room to accommodate most of your games and some general media storage. It also comes with 8GB of DDR4 - exactly what you need to get the most out of this Ryzen CPU.
How We Choose What to Test
Just like our best prebuilt gaming computer under $500 guide and our best prebuilt gaming desktop under $1000 guide, we gathered all the recently released prebuilts, specifically, the best gaming PCs under $800 from major manufacturers such as Acer, iBuyPower, CyberPowerPC, Dell, HP, CUKUSA and Lenova and put them through the strict WEPC test's to see if they were worthy of a mention in our best of guide. 
Things to Keep in Mind Before Buying a Prebuilt Gaming Desktop
If you only have $800 to spare for the best-prebuilt gaming PC in 2018, don't go with the most popular one. Instead, look at the things that matter to you. Here are a few things to keep in mind:
The processor is what handles every data-processing task you do on your computer. AMD's Ryzen© and Intel's Skylake© and Coffee Lake© processors are both very capable of running AAA games.
All the processors on this list are more than enough to give you an average of more than 60FPS at 1080p resolution (with almost everything set to max) so this shouldn't be an issue.
In general, Ryzen processors are more often picked by streamers thanks to their stronger multi-core performance (this means they can handle multiple tasks at a high level). They are also often slightly cheaper.
On the other hand, Intel processors are better if you want to play games exclusively and nothing else because they have better single-core performance than Ryzen processors. However, the differences between CPUs that are in the same tier as one another are largely overblown.
Our list features the following processors:
Processor (CPU)
| Processor (CPU) | Core/Thread Count | Base Clock Speed |
| --- | --- | --- |
| Ryzen 5 1700 | 8 Cores, 16 Threads | @3.0GHz |
| Ryzen 7 2700 | 8 Cores, 16 Threads | @3.2GHz (baseclock) |
| Intel Core i5-9400F | 8 Cores, 8 Threads | @2.9GHz |
| Intel Core i5-9600k | 6 Cores, 6 Threads | @3.7GHz |
Checking out UserBenchmark will also give you an idea how and what makes one better or faster than the other.
The graphics card is what's responsible for rendering 3D images. As such, being able to game on your PC is disproportionately dependent on your graphics card. In the sub-$800 category, an RX 580/GTX 1660ti (6GB) is the best you can expect to get without compromising some other part of your build.
If you're mainly concerned with gaming quality, a prebuilt gaming PC that's equipped with an RX 580 is what you need. It's vastly superior to the GTX 1050 Ti and just as fast as (or slightly better than) the GTX 1060 (3GB) in terms of graphics processing quality.
There are a couple of other viable picks in this range:
GTX 1660

GTX 1660ti

RTX 2060 (if you're lucky)
UserBenchmark allows you to compare different components, so you can use it if you're unsure about the value proposition offered by one of these PCs.
All our picks have at least 8GB of DDR4 RAM, which is the least amount of RAM you should get for gaming in 2018. If you're unsure how much RAM is too much, you can head over to our "How Much RAM Do You Need for Gaming?" article to invest wisely.
You should be interested in computers that pair HDDs with SSDs since SSDs load games faster and can make the entire system respond faster. While only some of our picks have HDD + SDD combos, all of them have at least 500GB of storage, so you shouldn't be hurting any time soon unless you intend to install a lot of games.
Prebuilt gaming desktops are known for using unbranded power supplies. If the prebuilt PC you buy does this, then you should absolutely invest in a new one as soon as you have the chance.
For $800, it's possible you'll want to make some upgrades to components in the near future. The list we have should give you a lot of options for upgrade. When considering future proofing, you will often want to prioritize a powerful CPU since most PC compatibility revolves around it.
To give you an idea of how well these prebuilt gaming PCs performed, tests were made and benchmark results were recorded across a number of different games and platforms. We specifically picked popular games to give you an up to date reference. 
We are currently in the process of collating data from the different builds, stay tuned for the results which will be showcased in chart form shortly....
The 5 Best Prebuilt Gaming PC Under $800
Product
Details

Skytech Shadow Gaming Computer PC Desktop

cpu: Intel Core i5 9400F 2.9GHz
gpu: GTX 1660 6G
ram: 8GB DDR4 3000MHz

Check Current Price

CYBERPOWERPC Gamer Master GMA8860CPGV2

cpu: AMD Ryzen 5 3600
gpu: NVIDIA GeForce GTX 1660
ram: 8GB DDR4

Check Current Price

CYBERPOWERPC Gamer Master GMA8880CPG

cpu: AMD Ryzen 7 2700
gpu: GTX 1660
ram: 8GB DDR4

Check Current Price

iBUYPOWER Elite Gaming PC

cpu: i5-9400F
gpu: GTX 1660 Ti
ram: 8GB DDR4

Check Current Price

SkyTech Blaze II (GTX 1660TI) Gaming Computer PC Desktop

cpu: AMD Ryzen 5 2600
gpu: NVIDIA GeForce GTX 1660 Ti 6GB
ram: 8GB DDR4

Check Current Price
#1
Skytech Shadow Gaming Computer PC Desktop
PROS
Intel's impressive i5-9400F
Good graphical performance
Nice aesthetic including tempered glass
The SkyTech Shadow gaming computer comes with one of the best cases in the price category, the Thermaltake H200! Style aside, this prebuilt PC brings excellent value into the under $800 price range with no compromises on performance.
At the heart of the PC, we see the trusty Intel Core i5-9400F which has a reasonable single-core performance for the price. While it doesn't stack up against the AMD CPUs for your general computing tasks, it will serve you excellently for gaming. The CPU runs at a base clock speed of 2.9GHz and has been backed up with 8GB of 3000MHz RAM, bringing you a well-rounded PC.
For gaming performance, we see an Nvidia GTX 1660 graphics card. While this card is largely considered an entry-level GPU, it still manages to smash FPS counts across most AAA titles.
The Shadow is one of the best budget prebuilt computers currently on the market and that is largely down to its impressive price to performance. The sleek case is of high quality and illuminated by RGB lighting. So for a gaming PC that looks great and will handle your games with ease, consider rthe SKytech Shadow.
Which One is the Best for Your Needs?
With all of these laid out, it's likely that you're almost certain which one is for you. But if you're still unsure, here's a quick summary to help you pick the right one:
We feel we've covered plenty of ground here and have selected a pick for almost everyone's needs. Let us know which one you decided to go for and why in the comments section below!
Making the right choice when trying to find the best prebuilt gaming PC under $800
boils down to your needs and your ability to upgrade various components. There's no one-size-fits-all best prebuilt gaming desktop, though, so take time to figure out what you need and then the rest will be much easier.
If you are having problems choosing amongst the top picks, let us know in the comments and we'll be happy to help you out.