Overclockers have been kind enough to send us another of their popular pre-built gaming options. Today, it's the XVI Essential gaming PC that goes under the team's testing scrutiny. It's one of the cheaper options available but don't let the price tag fool you. It still has enough performance power to smash out all your AAA game titles on mid-high while getting a solid, stable 60+fps.
The XVI Essential is another custom-designed PC specifically targetting the enthusiast gamers out there. At the heart of the build, you will find AMD's 2nd Gen Ryzen 2600x paired with the ever-popular GTX 1660 from Gigabyte. The pairing offers superb performance in gaming, video editing, and general multitasking. The memory is 8Gb of Vulcan T-force 2400Mhz RAM. It's not the most optimized RAM for Ryzen but does the job nicely. It comes equipped with a hybrid storage solution consisting of a 1TB Seagate HDD and a 240GB Kingston SSD. The perfect partnership for super-fast load times and a large backup library drive.
Like any budget offering, at some stage compromises need to be made, for the XVI Essential that comes in the form of the case. It's not the most attractive thing in the world by any means; also, the airflow isn't great. Not ideal if you plan to overclock the Ryzen.
Overall I did enjoy this pre-built, but, before we go into any more detail, let's have a closer look at what's inside.
PC Specs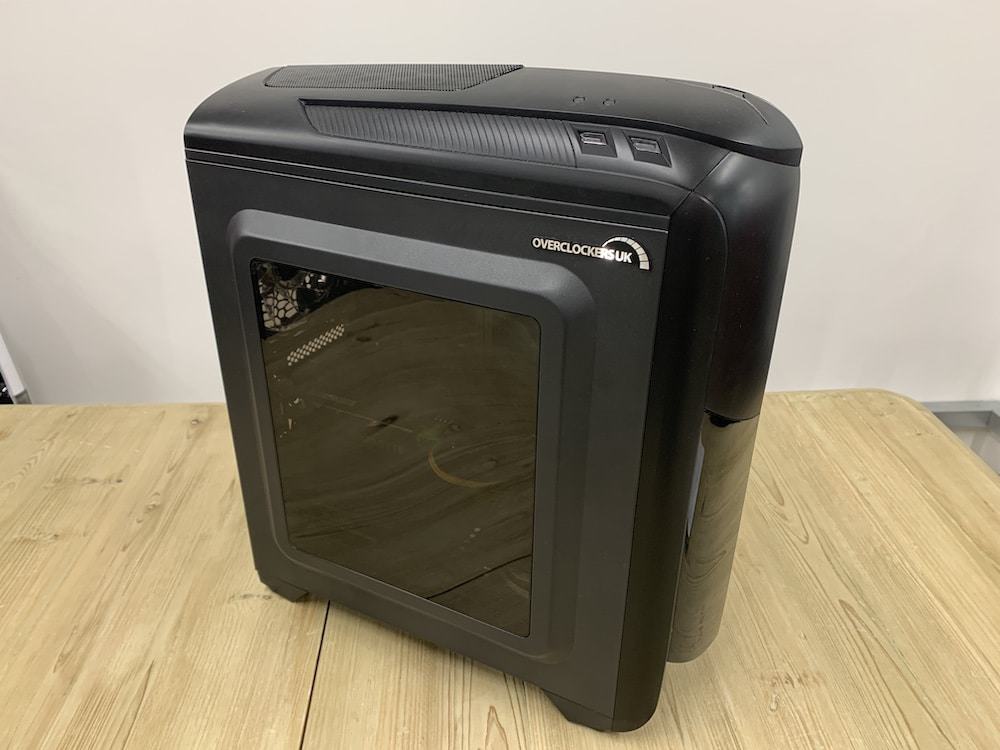 Below, we've put together a small chart which showcases exactly what the XVI Essential has to offer:
| Hardware Device | Model Description |
| --- | --- |
| Case | Kolink Aviator M RGB Micro ATX Tower - Black |
| Power Supply | 500W 80Plus Rated PSU |
| CPU | AMD Ryzen 5 2600 Six Core/Twelve Thread Processor |
| Motherboard | AMD A320 DDR4 Micro ATX Motherboard |
| Cooler | AMD Wraith Stealth CPU Cooler |
| Memory | Up to 16GB DDR4 2400MHz Dual Channel Kit |
| Primary Solid State Drive | 240GB 2.5" SATA Sold State Drive |
| Storage Hard Drive | Seagate 1TB 7200RPM Hard Drive |
| Graphics | Nvidia GeForce GTX 1660 6GB Graphics Card |
| Audio | 7.1 High Definition Audio |
| Operating System | Microsoft Windows 10 Home Advanced 64 Bit |
Pros and Cons
Before we get into the finer details of how this PC handles specific scenarios and more in-depth gaming performance, let's touch upon some of the major pros and cons we experienced when using the XVI Essential.
Pros
Plays AAA game titles at a high level
RGB fans give a cool, gaming look to the PC
Packs a good punch for the size of the build
Quite low temps recorded
Cons
Can be a little noisy
More graphically demanding games will struggle on ultra
Case, even though small, leaves a little to be desired
Performance and Benchmarking
So, you now have a better idea of what to expect from this build, let's dive straight into exactly how this thing performs in real-world situations. Now, we could have talked about its gaming performance solely, but, we thought the XVI Essential handled itself so well in a number of different scenarios, why not break the performance up into three categories:
Gaming
Multi-tasking & Media Editing
Home Theatre System
We've chosen these three categories as we feel they're the most common reasons why an individual would look to buy a pre-built computer.
Gaming Performance
As far as budget gaming PC's go, this has to be respected for its great value, especially when you consider the asking price of £700. The first thing that caught my eye when we got this pre-built was the 2600x 2nd Gen Ryzen processor from AMD. For those that don't know, the X stands for unlocked overclocking, and the Ryzen range has great overclocking headroom for extra performance boosts. The 2600x comes with a base clock of 3.6Ghz across its 8core/16thread multi-threaded makeup. AMD has always excelled when it comes to multi-tasking, and the 2600x is no different. However, considering most modern games are now graphically demanding and no longer CPU demanding, the focus turns quickly to the GPU.
The GPU comes in the shape of Gigabyte's GTX 1660 6GB graphics card, one of the latest cards to come out of the Nvidia top drawer. The 6GB's of VRAM is GDDR5 meaning we lose out on a bit of memory bandwidth. However, the card does have more CUDA cores and better clock speeds than it's predecessor. But what does all this mean in real-world situations? Well, cutting a long story short, you can expect 60FPS on pretty much all your AAA game titles when pushing mid-high settings. Games like counter strike and GTA V will run well in advance of 100FPS though. Overall, for the price, a 2600x & a GTX 1660 6GB GPU are going to be hard beaten.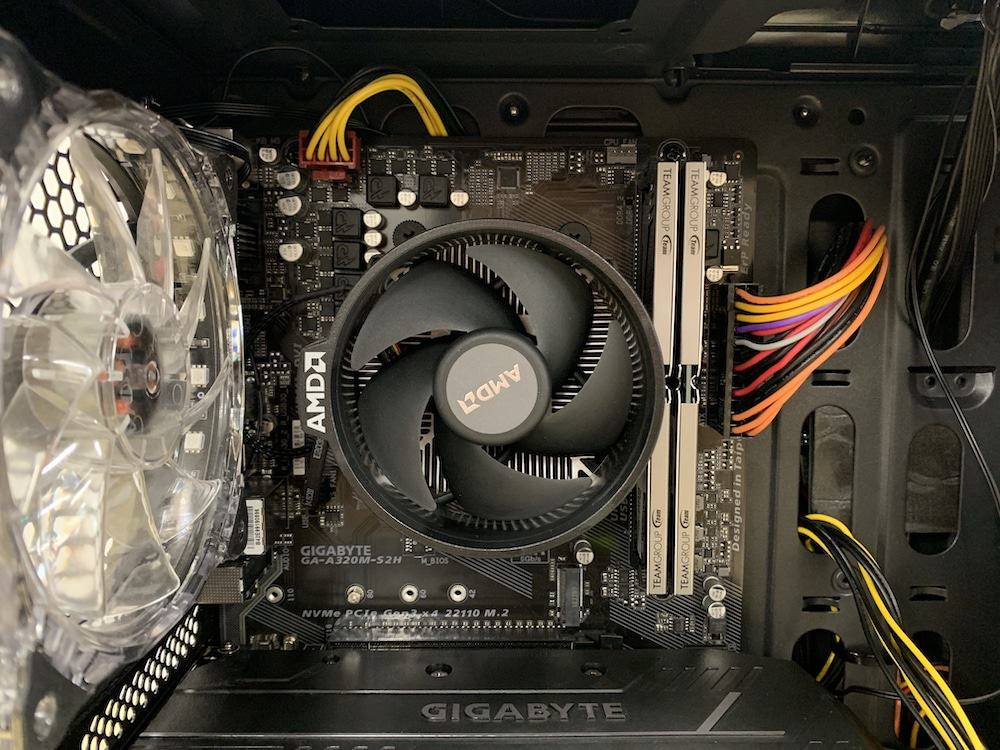 Anyway, moving onto the storage, as we mentioned above, the XVI Essential comes with what is widely known as a hybrid storage solution. What that means is, your computer has both an HDD and an SSD. The benefits of having this setup mean you can install your O/s and primary games onto the SSD, for super-quick loading time, and have the addition HDD for backup storage. In this scenario, the XVI has a 1TB backup storage from Seagate, which, as we all know, is extremely reliable. The SSD portion of the drive is by Kingston and is 240GB, more than enough room to accommodate some of your favorite games and the operating system.
Let's quickly touch upon the RAM. The XVI essential from Overclockers has 8GB of 2400Mhz Vulcan T-force memory installed. Now, for those that are unfamiliar with the importance of the relationship between memory and Ryzen CPUs, be aware, it's an important one. One of the main features of a Ryzen chip is its multi-threaded nature. This being said, to run the virtual cores efficiently, your build will require higher speed RAM. This is mainly due to the CPU splitting the RAM over the 16 cores. Higher speed RAM means more memory bandwidth in the long run. Ideally, you would like to use 3200Mhz RAM with a Ryzen chip, simply to get the highest performance results from it. However, considering this is a budget build, I think the Vulcan T-force memory did ok.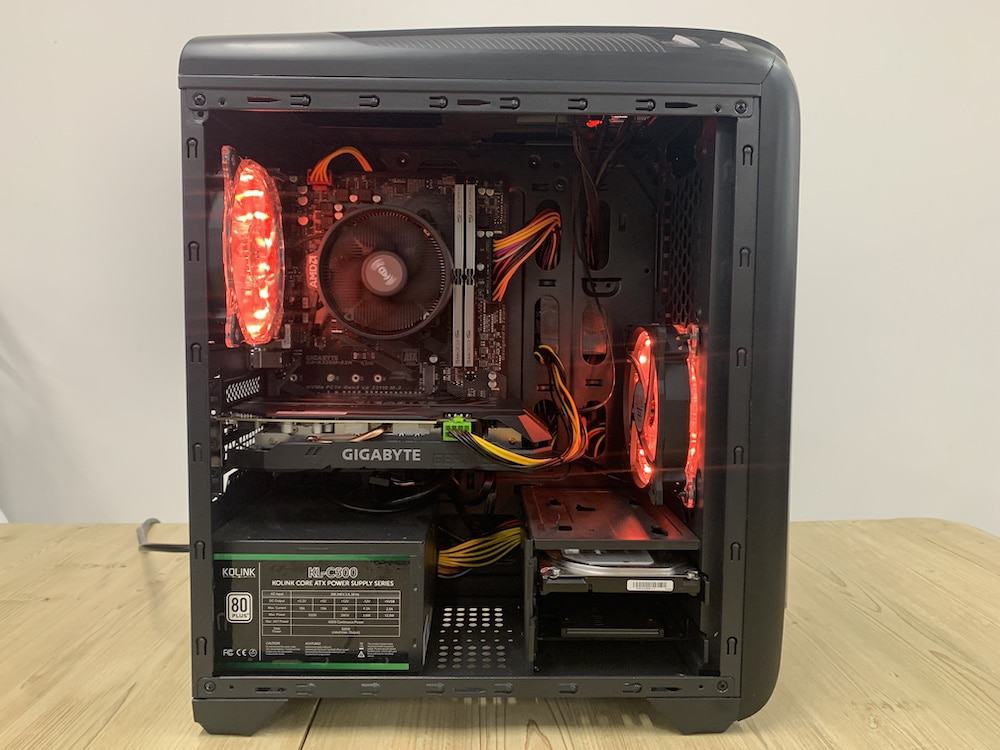 The case had pretty decent cooling, especially when you consider the poor airflow. You can equip the case with extra fans which we would probably recommend if you are pushing this build to its limits.
Overall, from a gaming standpoint, I thought the XVI Essential handled everything I threw at it to a high standard and would certainly consider using this as an everyday gaming build.
Multi-tasking and Media Editing
Moving onto the multi-tasking and media editing performance of this build, the XVI did pretty well. We can once again thank the Ryzen chip for that. Unlike in gaming where the game puts most of the stress onto the GPU, multi-tasking is hugely demanding on the CPU side of things. Having a powerful 2600x puts this build in a very good position when it came to those highly stressful multi-threading tasks.
So, by multi-tasking, we basically mean using multiple programs at the same time. Whether you have multiple windows open at the same time, or are gaming and streaming simultaneously, multi-tasking has a real impact on your computer's performance.
We tested the XVI Essential by performing several stressful software tasks at the same time. To our surprise, the XVI was pretty quick at loading and performing jobs within the chosen software. This is great news for buyers who would look to upgrade. RAM is pretty cheap at the moment, so upgrading to 16GB from 8GB isn't going to be overly expensive and will give you solid performance gains.
We had similar results from a media editing point of view. The GPU handled pretty much everything we could throw at it and the CPU would keep everything ticking over smoothly.
Home Media System
From what we've written above, you probably already know that the XVI would be seriously overkill if you were looking for a home media system and nothing more.
However, the build is on the small side meaning it would be fairly incognito in comparison to other PC cases. The GTX 1660 allows for 4k playback, not gameplay, and is VR ready respectively. However, we wouldn't recommend this build if media playback is your sole purpose.
Features
The XVI comes with quite a few features and benefits, something you don't always get with budget builds. Let's take a look at what features we can expect and how they affect you as a buyer.
VR Ready
Everyone has presumably heard what VR is, it's the 21st century for crying out loud. But for those who haven't, VR is the acronym for Virtual Reality. VR has been in the making for a couple of decades now and has recently seen massive improvements thanks to new, modern technology.
The only problem with VR at this stage, however, is the fact that to run it efficiently requires quite a lot of computational power. This being said, the XVI can handle VR gaming and media playback at moderate levels depending on the graphical output and demand of the game. The fact of the matter is that you can get a taste of what VR has to offer with this build, but wouldn't expect the highest performance levels.
Great Overclocking Headroom
As most will know, Ryzen's CPUs are extremely open to overclocking, the X range especially. The X range, as we'll call them, means unlocked overclocking and CPUs branded with the X have the largest amount of headspace for additional core speeds.
Usually, with budget builds, you won't be able to squeeze any additional performance due to inadequate components. However, this isn't the case here. The 2600x is hugely responsive to overclocking and boost speeds could easily surpass 4.2Ghz under the right conditions.
Small Form Factor Case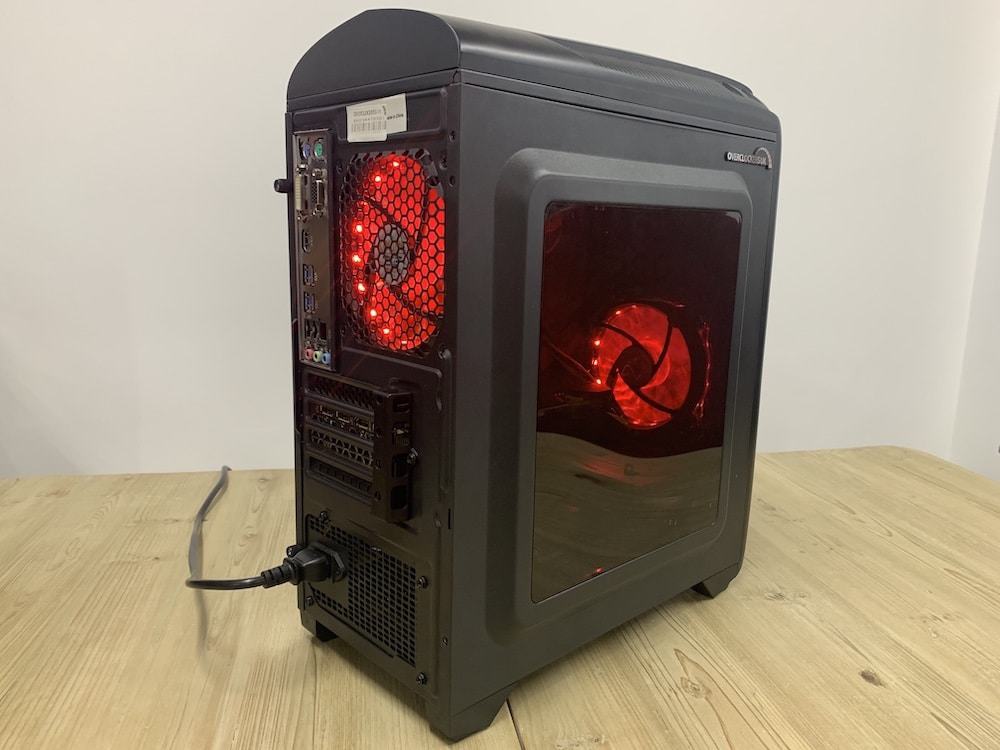 A cool feature on this build is the size of the case. Now don't get me wrong, it's not super small (extra-ultra-mini-itx or whatever you want to call it) but it is on the small side. If you're looking for a gaming build that isn't going to overcrowd your game area, look obsolete and inconspicuous, you really can't go wrong with this case.
Not only is it small, but it offers a viewing window and RGB fans as well. Not hugely impressive on an expensive build, but a nice feature for this cheaper gaming PC.
Areas To Be Improved
There is always room for improvement when referencing a lower end build, and the XVI Essential is no different. Well, it's slightly different, let me explain…
Because the XVI has been equipped with a decent CPU and GPU, 2600x/GTX 1660, you aren't necessarily going to need to upgrade those anytime soon. NOTE: if you are thinking of upgrading those parts, this build probably isn't the one to go for.
However, that doesn't mean other areas of the build won't benefit from tweaks and improvement in certain areas.
Firstly, the RAM is probably most obvious when it comes to improvement needed. Like I said earlier, even though the 8GB of Vulcan T-force RAM does a good job, it isn't the best pairing for the Ryzen chip. Luckily, a RAM upgrade can be relatively cheap so don't worry too much about that.
Secondly, the case. Now, I might have praised the case in certain scenario's before, however, that doesn't mean it can't be upgraded to increase usability and performance. A better case would open up the build increasing airflow and probably boosting aesthetics. For this reason, I'd upgrade that when you can.
You could upgrade more integral parts of the build such as the motherboard, but I feel if that's the plan, then you may as well start with a better base model. The motherboard in this build does its job so we'd leave that as it is.
Final Thoughts
And we finally come to our verdict on the XVI Essential gaming PC.
This is the second PC Overclockers have sent us so far and out of the two, this is definitely the lesser. That being said, the XVI Essential certainly holds a place in the pre-built market. It gives users looking to experience gaming at a high level a cheaper option to do so.
This build handled all the performance scenario's we threw at it efficiently and as you would expect. As far as value for money is concerned, I think it shows decent value. However, with the new Ryzen chips due out, I'm not sure how long that valuation will stay like that.
Ultimately, my feelings towards this build were positive and I'd certainly recommend this for anyone looking to get into gaming.
Let us know what you thought of this build in the comments section below!