Are you thinking of upgrading your CPU to a Ryzen 5 3600? Upgrading or building a new PC from scratch is an exciting process. However, it's not a simple case of buying whatever components you want, you'll need to be sure they're all compatible with each other.
One of the most important component compatibility issues you'll need to be aware of is the CPU and motherboard. You can't just plug your new CPU into any old motherboard, you'll need to make sure it fits and is compatible. AMD CPUs will only work with motherboards built with certain socket types, as will Intel CPUs. This means you may very well have to upgrade your motherboard when you purchase a new CPU.
With an AMD Ryzen 5 3600, you will need a motherboard with an AM4 socket type. If you were to go with a 9th generation Intel chip, you'd need a motherboard with an LGA 1151 socket instead.
With that in mind, we've put together this buyer's guide to help you decide on the best motherboard to go along with your new Ryzen 5 3600 CPU. We'll also take a look at some key areas you'll need to consider while shopping around for a new motherboard.
Let's get started and take a first look at the motherboards we'll be covering.
A High-End Motherboard With PCIe 4.0 Support
A Quality Mid-Range Offering WIth Good Ports Coverage
Best Motherboards For AMD Ryzen 5 3600 Processors: First Look
A High-End Motherboard With PCIe 4.0 Support
A motherboard with a statement design and plenty of power.
RGB lighting and high performance are the highlights here. There are plenty of ports and slots plus PCIe 4.0 support for fast gaming.
A Quality Mid-Range Offering WIth Good Ports Coverage
A great, mid-range, all-rounder with decent gaming performance.
This is a mid-range motherboard that offers fantastic and fast gaming performance without breaking the bank.
Most Expandable Mid-Range Motherboard
A Large Selection Of Ports And Expandibility Options For An Affordable Price
An ideal motherboard for those looking for extra expandability options.
The Gigabyte B450 AORUS Elite comes with two M.2 slots which is perfect for supporting a growing gaming library.
A Very Affordable Motherboard For The AMD Ryzen 5 3600
An affordable motherboard with a rugged industrial design.
The ASUS TUF Gaming X570-Plus is another great all-rounder which suits those looking for a motherboard on a budget.
The Best Motherboards For AMD Ryzen 5 3600 Processors in 2020 & 2021
Most Expandable Mid-Range Motherboard
A High-End Motherboard With PCIe 4.0 Support
If you are looking for a motherboard that makes a statement, then look no further than the ASRock X570 Phantom Gaming X motherboard. This motherboard has made RGB lighting front and center with light-up stripes across the board and flashy logos on the front and sides of the board. This can all be controlled through ASRock's Polychrome SYNC technology.
Beyond its flashy exterior, this motherboard comes with some of the latest technology and slots including PCIe 4.0 x16 support and 8 SATA3 ports. There are three M.2 slots and a range of USB ports to connect all the devices and components you need to complete your gaming PC build.
The motherboard features a metal backplate for extra durability. This allows you to mount heavy coolers without worrying about the motherboard bending.
With powerful performance, you'll need to ensure you have the right cooling in place. This motherboard has an EBR Fan which has a long lifespan of 50,000 hours.
For the audiophiles among us, you'll be pleased to see that this motherboard supports excellent sound quality. With Reality 3D technology, you can enable 5.1/7.1 surround sound which makes it fantastic for immersive gaming and music fans.
The downside to this motherboard is that it comes with a hefty price tag attached so that may put you off.
A Quality Mid-Range Offering WIth Good Ports Coverage
Just one M.2 slot which disables SATA5 and SATA6 ports
Let's start off our list with a good all-rounder. The MSI B450 is a fairly mid-range priced motherboard that offers a lot for your money but is ideal for those looking to avoid spending a fortune.
This motherboard has a rugged, industrial, and military-inspired design, coming from the MSI Arsenal Gaming series. There's some RGB lighting to add a bit of flashiness to it as well.
With a Turbo M.2, 1 PCIe 3.0 x16 slot, six SATA ports, and a good number of high-speed USB slots, this motherboard has great options for expandability. You should have no trouble connecting all your devices with USB ports that offer lightning-fast transfer speeds of up to 10 GB/s. With four DDR4 memory slots supporting up to 128 GB of RAM and a PCIe Gen3 x4 M.2 slot, you'll have no issue running demanding games.
This motherboard offers high performance which makes it well suited to any gaming PC. You should have no issue overclocking if you choose to. With premium-quality audio components, you should be able to turn your gaming sessions into fully immersive experiences.
One issue we found was with the M.2 slot. If you decide to use it for an SSD, it will automatically disable the SATA5 and SATA6 ports. This can leave you scratching your head as to why they're not working so be aware of this potential problem.
Most Expandable Mid-Range Motherboard
A Large Selection Of Ports And Expandibility Options For An Affordable Price
Bandwidth limitations when running two M.2 drives
This ATX size motherboard is a great board that has a decent set of features. It benefits pretty nicely from the AORUS flair and even includes an integrated I/O cover. The style of this motherboard is pretty smart and has a nice set of black and gray colors, with dashes of orange and silver.
This motherboard also comes with two M.2 slots which is a welcome feature if you're looking for added expandability. It's important to remember though that if you decided to utilize both of these slots, you'll run into some bandwidth limitations that you'll need to double-check beforehand.
At the rear of the board, you'll find one HDMI 2.0 port, 1 DVI-D port, four USB 3.0 ports, one USB 3.1 Type-C port, 1 USB 3.1 Type-A port, one RJ-45 port, one optical S/PDIF Out connector and five audio jacks.
At this price point, this motherboard offers a wide variety of features at a fairly low price point. You'll find high-quality Realtek ALC1220-based audio, Intel Gigabit networking, and a great selection of RGB lighting options.
No front USB 3.1 Gen2 port
If you've decided that you'd rather run with the X570 platform for your AMD Ryzen 5 3600, the ASUS TUF Gaming X570-Plus is a great way to start. It is also one of the least expensive X570 options out there and comes with some pretty impressive features.
If looks are important to your build, this is a mainly monochrome styled board which only has a couple of yellow highlights throughout. This motherboard definitely goes for the rugged look and even claims to be made with "military-grade components". There is also a small RGB section on the lower right side of the motherboard that you can customize through Aura Sync.
While this motherboard is fairly affordable, it does compromise on a couple of things. One of the downsides to this motherboard is that there aren't many USB ports on the front. This could limit the number of peripherals you can plugin which could put some people off.
The board has a total of two PCIe 4.0 x16 slots and two PCIe 4.0 x1 slots. These have also both been steel-reinforced to prevent damage when using heavy components. There are also four DIMM slots that support up to 128 GB of memory.
Choosing a motherboard can be difficult for anyone, so we aim to make that decision a lot easier with these motherboard reviews. But how do we choose these motherboards ourselves?
Our process consists of thorough reviews and analysis of a range of different products. Where possible, we prefer to get our hands on the products to test them out ourselves. When that's not possible, we look through countless reviews, specifications, benchmarks, and comparisons to find the best products to recommend.
If you're tired of doing something similar in your own research, you've come to the right place. We will give you an analysis of four different motherboards, any of which could be a great fit for your PC. This should help you narrow down your choice or even help you find the perfect motherboard for your needs.
What Budget Should I Set For An AMD Ryzen 5 3600 Motherboard?
With plenty of motherboards out there to choose from, there's bound to be one within your budget. In general, a B450 motherboard costs between $200 to $400. In some cases, you can find ones for less than that or premium motherboards that run much pricier. Other chipsets for the Ryzen 5 3600 include the X570 motherboards which tend to be a bit pricier than the B450 ones.
Naturally, the price will affect the features you end up getting for your money. Those on the lower end of the pricing scale may have fewer SATA ports or PCIe lanes. Higher-end motherboards will typically have lots of ports and extra features such as RGB lighting to improve the look of your build.
Form Factor
The form factor simply refers to the size of the motherboard as they can come in a range of different standard sizes. If your PC case is on the smaller side, you may not be able to fit the larger ATX motherboards and might need to go for a mini-ITX instead.
It's definitely worth spending a minute checking what size motherboard will fit in your PC case before you hand over your cash. If you get a motherboard which is way too big, you'll have to send it or your case back which is never a fun thing to do.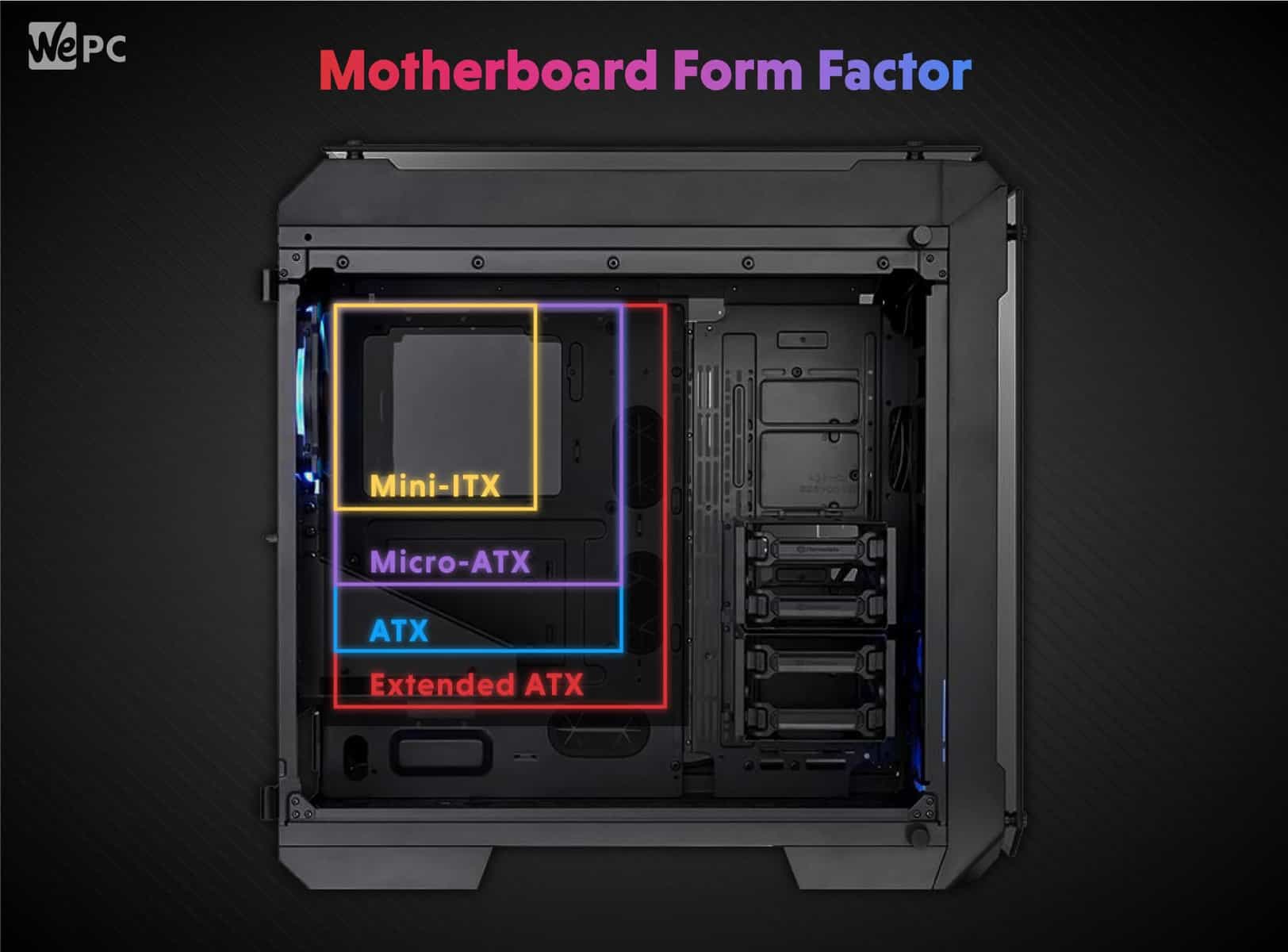 Most motherboards come in the following form factors:
Mini-ITX – 6.7" x 6.7"
Mini-ATX – 5.9" x 5.9"
microATX – 9.6" x 9.6"
ATX – 12" x 9.6"
eATX – 12" x 13"
Socket Type
Perhaps one of the most important factors to consider is the socket type on the motherboard. The socket is what will house the CPU so it needs to fit and be compatible. Different CPUs will require different types of sockets. With an AMD Ryzen 5 3600 CPU, you will need to look for motherboards with an AM4 socket.
With Intel CPUs, you'll find that older generations of CPU have different socket needs to the newer ones. If you're looking at Intel 10th generation CPUs, you'll instead need to focus your search on LGA 1200 sockets. A 9th generation CPU usually needs an LGA 1151 socket instead.
If you end up getting the wrong type of motherboard, you'll have to send it back and start your search all over again.
Chipset
A motherboard chipset is another thing to consider. This will factor in your PC's ability to overclock, how many devices and components you can connect, and the number of PCIe lanes available.
The Ryzen 5 3600 is a Zen 2 processor and is compatible with previous generation chipsets including the B450 and X570. The B450 chipset is generally recommended for Zen 2 processors like this for the best performance and overclocking support.
Ports
If you're planning to plug in plenty of devices, especially if you're a gamer, the number of available ports is important to consider. While shopping around, you'll want to rule out any motherboards which have limited options (unless you typically only use a few ports).
It's generally best to overestimate how many ports you will need as this gives you better options in the future. For now, look at ports for your headphones, keyboard, mouse, microphone, or other USB devices.
Some of the common ports to look for are:
USB Type-C
USB 3 / USB 3.1 Gen1
USB 3.1 Gen2
HDMI
DisplayPort
Thunderbolt 3
Audio Ports
PS/2 Ports
Expandability
Expansion slots are another important thing to look at when shopping around for a new motherboard. Most motherboards will have a few expansion slots for things like a graphics card, sound card, and a couple of M.2 drives for your SSD. If that's all you're looking for, you may not have to worry too much about expansion slots.
However, if you have more specific needs and are looking to run several components or even an extra graphics card, then expansion slots are really important to look out for.
That's all the motherboards we have for you today. We hope you'll find one on the list which sticks out for you but any of the above picks will be great for your new Ryzen 5 3600 processor.
If you think there's another motherboard that should have made the list or would like more information or advice on picking the right motherboard, let us know in the comments below.