Minor Rune of Holding in New World – What Is It & How To Get
Expand your inventory with this important item
Updated: Nov 30, 2021 12:33 pm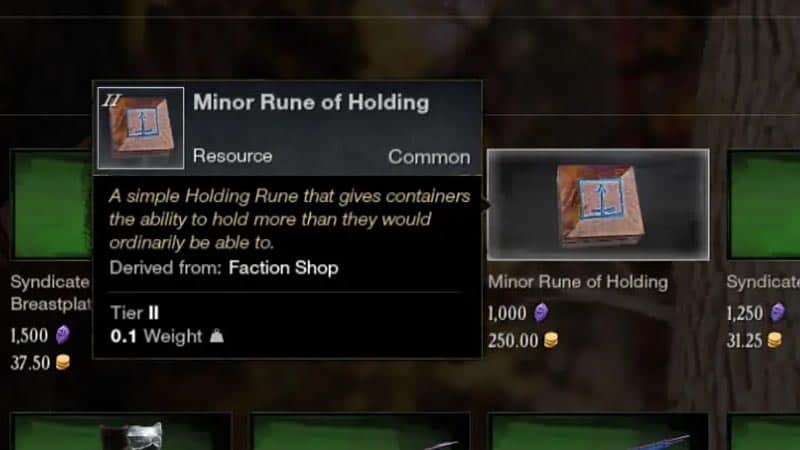 With New World being an absolute behemoth of a game with a vast array of gear to obtain both from loot and via vendors, it can sometimes be tricky to actually locate one specific item.
One such item New World players have been chomping at the bit to get is the Minor Rune of Holding due to what it allows the player to do. To help you out, we'll be detailing what the Minor Rune of Holding in New World actually does as well as how to get it so you too can reap the benefits of this item.
What is the Minor Rune of Holding?
The Minor Rune of Holding is integral for inventory management as it is used to create an Adventurer's Satchel. What an Adventurer's Satchel does is increase your inventory capacity with even the basic Leather tier option bolstering space by between 80-180. If you were to upgrade it to a higher Adventurer's Satchel tier, you'll expand that capacity even further, essential for anyone looking to stock up on loot.
How to get the Minor Rune of Holding
So, you know what the Minor Rune of Holding does in New World but how do you get it? Well, it's actually much more simple than you might think. There's no hoping and praying for an enemy to die so you can pillage its corpse, it's actually available to purchase but there are some prerequisites.
First off, you'll need to be in a faction. Next, you're going to need to have acquired 1000 faction tokens which can be obtained from faction-specific quests. One lower leveled faction quest rewards players approximately 250 tokens so it shouldn't take too long until you're at the 1000 sweet spot. After racking up the tokens, speak to your faction quest giver who should have the Minor Rune of Holding right there for you to purchase.
And there we have it, all there is to know about the Minor Rune of Holding in New World. Go grind those faction quests and get it for yourself you so can expand that all-important inventory space with the Adventurer's Satchel!
---