Apacer announces first PCIe Gen 5 NVMe SSD
I feel the need... the need for speed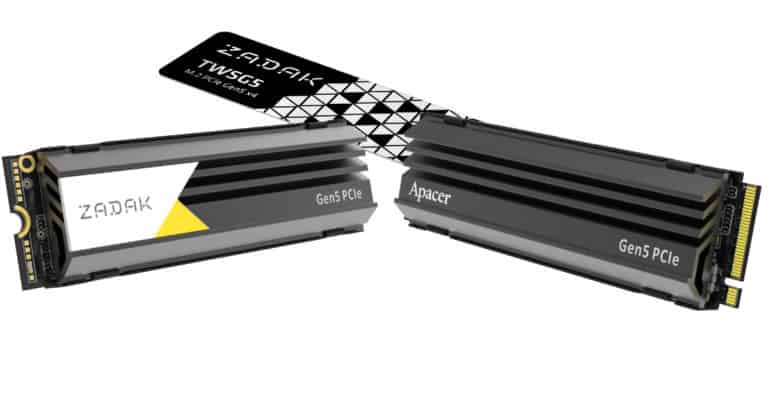 COMPUTEX is in full swing with the main keynotes of Nvidia and AMD having passed and giving us lots of new tech. Now that the booths are open for viewing we get to see everything on offer and Apacer has two new SKUs of PCIe gen 5 NVMe SSDs. Following AMD's announcement on AM5, it will also support PCIe Gen 5 along with Intel's newest generation.
PCIe Gen 5 doubles the available throughput for the storage and add-in devices like GPUs. NVMe's utilize an x4 size whilst graphics cards use the full x16 lane. So upping the generation from 4.0, x16 doubles from 31.508 to 63.015 GB/s, whilst x4 increases from 7.877 to 15.754 GB/s.
Pacer Zadak PCIe Gen 5 x4 NVMe specifications
Pacer is offering two new SKUs of the PCIe Gen 5 SSD. One is the more basic Pacer AS2280F5 M.2 whilst the other is the ZADAK TWSG5. The main difference is in the cooling solution utilized by both the SSDs. Where the AS only has high-quality metal cooling fins and one solution that we are used to seeing. Whereas the TW has the same metal cooling fins or has the option for ultra-thin graphene for cooling instead.
The specifications of the PCIe Gen 5 NVMes are that they use the latest NVMe 2.0 standard. They boast a read and write performance up to 13,000 / 12,000 MB/s coming close to the 16 GB/s max of the slot. It also is backward compatible with PCIe Gen 4 however it will be losing half the performance from the limited bandwidth.
---