Get 12 Resident Evil games for 10x less than RRP with this Humble Bundle
Humble Bundle has done it again.
Updated: Aug 10, 2023 9:29 am
Humble Bundle has done it again, you can get 12 of the major Resident Evil games for 10x less than you would typically be able to. If that's not saving, I don't know what is. It's very simple to claim this saving and if you're a fan of the franchise or want to give it a try, we highly recommend you do.
Resident Evil may be spooky, but these prices aren't.
Get 12 Resident Evil games for a silly low price.
Normally, if you were to attack all of the games in this bundle and buy them all separately, it would cost you around £263.22. But not with this Resident Evil Humble Bundle. Armed with this bundle, you can pay as little as £27.39 for all 12 of these horror masterpieces.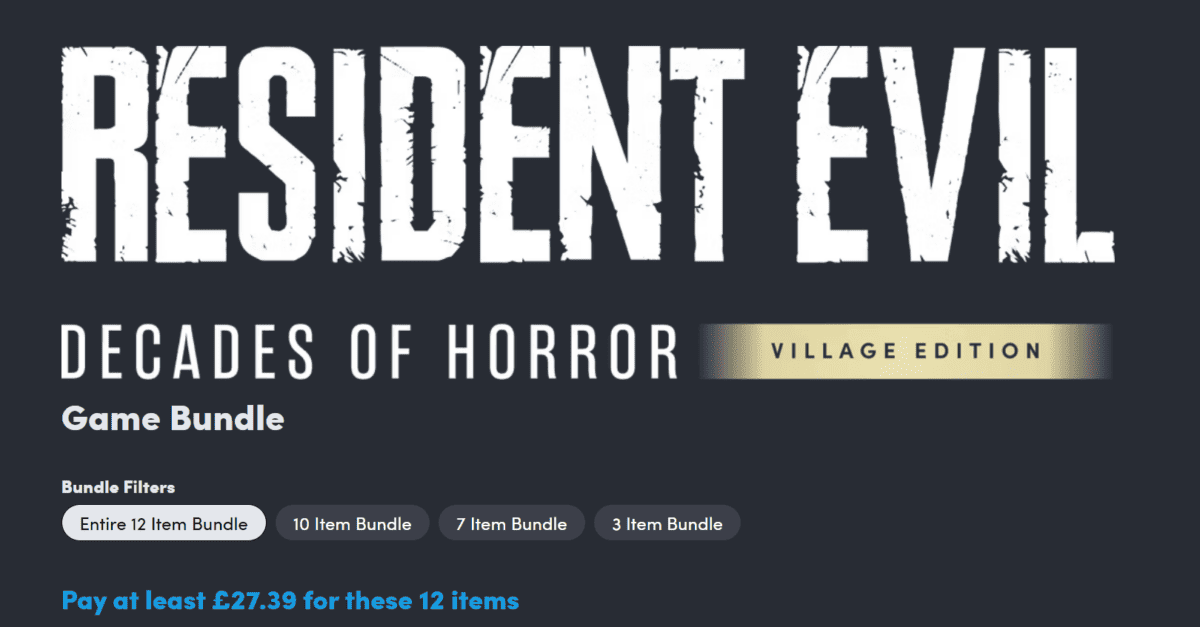 Speaking of, here are the Resident Evil games available in this Humble Bundle:
Resident Evil Village
25% Off Resident Evil Village – Winters Expansion Coupon
Resident Evil 3
Resident Evil 2
Resident Evil 7 Biohazard
Resident Evil 6
Resident Evil 5 Gold Edition
Resident Evil 4 (2005)
Resident Evil 0
Resident Evil: Revelations 2 Deluxe Edition – Includes Resident Evil Revelations 2 – Episode 1: Penal Colony
Resident Evil
Resident Evil Revelations
That's a massive collection of games for just £27. Especially when the RRP of all of these games put together is basically 10x more.
In addition to providing savings to the masses, this bundle has also raised £12,809 for charity as of the time of writing. Exactly the reason we love to support Humble Bundle.
Is this Resident Evil Bundle a good deal?
It's a Humbel Bundle, of course it is! right now, Resident Evil Village is on Steam for £32.99 alone, that's more than the price of this whole bundle. In fact, the lowest Villag ever dropped was £16.49 during the Summer sale, according to SteamDB, and that's still only £10 the price of all 12 of these games including Village!
Yes, this bundle is a very, very good deal.
When does the Resident Evil Humble Bundle offer end?
This fantastic Resident Evil bundle will end on the 24th of August, 2023, according to the bundle's page. This end date gives you a little under 13 days to claim the bundle as of the time of writing this page.
It's not often you get to experience the updated Resident Evil games for so little money, we highly recommend you give this bundle a go.
---