Resident Evil lands in Fortnite – Halloween here we come
Chris and Jill are the latest skins to hit the Battle Royale, as the two gaming mega-franchises link up
Updated: Oct 24, 2021 11:43 am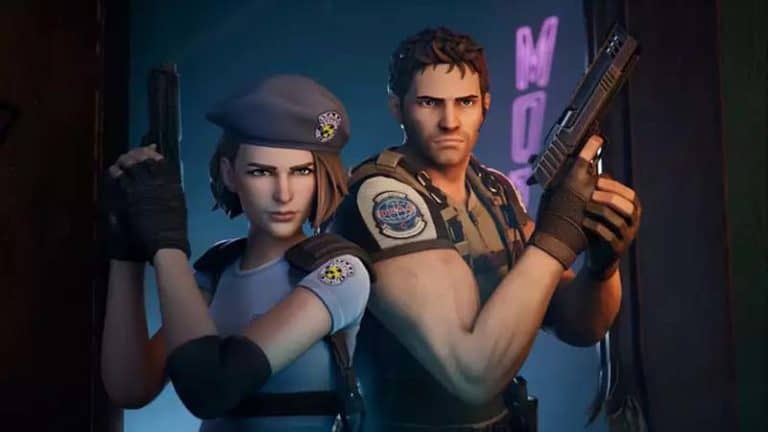 Jill Valentine and Chris Redfield are may have names that make them sound like the happy couple that just moved in next door but if you know your gaming then you also know that this pair of zombie ass-kickers know how to take down the undead – and with Halloween fast approaching, that could come in mighty handy.
Fortnite's Gaming Legends series just gets better and better with every drop and with the arrival of the two Resident Evil megastars, who have been a part of gaming royalty since they first appeared in the original ResEvil game way back in 1996, Fortnite is able to tip a hat of appreciation to one of the original sneaks around a corner and empty your weapon into an enemy's face type of games.
We have of course seen Chris Redfield much more recently than in 1996 with the character appearing in the latest Resident Evil: Village.
Res Evil is of course another Capcom staple and the arcade behemoth has a whole roster of characters that would make great Fortnite skins. We have already seen the Street Fighter collab that brought Chun-Li, Ryu, Cammy, and Guile to the island.
More Capcom giants on the way?
Maybe we will get to see the likes of Mega Man, Rad Spencer, and even Arthur from Ghosts n Goblins at some point in the future. How cool would that be?
But back to Resident Evil folk. The two skins are available to purchase right now with the Chris skin also including an alternative look that more closely matches the look he has in Resident Evil: Village.
Jill on the other hand has an alt skin that is more reminiscent of the look she had in Resident Evil 3. All very cool homages to a truly great video game franchise.
Both will cost you 1,500 V-Bucks so not cheap to get the look, and you can also get hold of the Back Bling as well as the skins by purchasing the Team S.T.A.R.S bundle for 2100 V-Bucks and you also get a bonus loading screen with that one.
Finally, the Team Gear bundle will get you a couple of pickaxes and the Brolly Stroll emote for an extra 1300 V-Bucks.
If you are a fan of Res Evil though, we doubt the price will put you off.
---