The Total War Warhammer 3 map reveal shows off Grand Cathay and Mourn in more detail
Grand Cathay certainly looks amazing in the new Warhammer 3 map reveal
Updated: Dec 15, 2021 10:44 am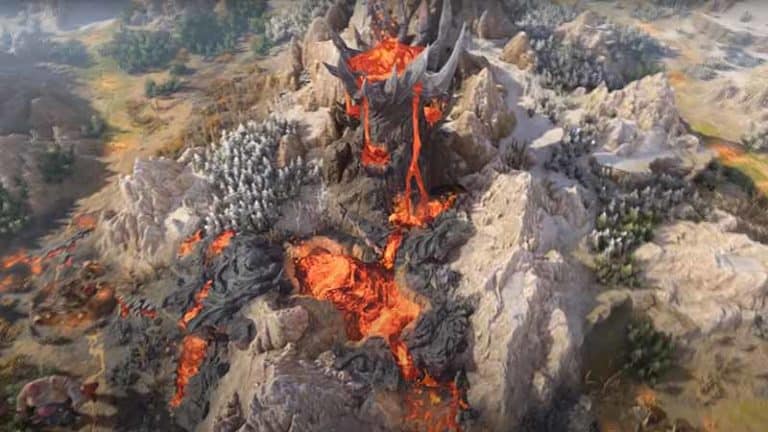 Creative Assembly, the developers behind the hit Total War franchise, has revealed a closer look at the Total War Warhammer 3 campaign map. The new Warhammer 3 trailer takes a closer look at the new factions joining the game and inspecting their map provinces in greater detail.
Total War Warhammer 3 map reveal
The Warhammer 3 map reveal trailer goes through the different areas of the Warhammer map. The trailer starts with a larger showcase on the new Kislev faction. It highlights the winter zones, which look very different from the kingdom we got to attack as part of the Chaos faction under Abadon the Despoiler in the other Warhammer Total War games. There's now mystical snow predators, giant bears, leopards, and a story that the Ice Queen will need to fulfil if she hopes to curb the tide of Chaos. Meanwhile, there's a special profile of the cursed city, which appears to be under siege to a flying Khorn demon.
Further east is the Mountains of Mourn, the location of all the mega creatures, including the new Ogre faction. These beasts of destruction are more chaotic neutral than anything, with the Ogres being valuable citizens in the realms of man and dwarf. However, these mountains are filled with warring tribes, with Ogres that need to appease their ever-hungry god. Don't forget the Maw god is a location on the map. But it wasn't shown in the trailer. There's also a reference to one Ogre leader paying tribute to the god. Perhaps there's more to expect. You will need to unite the tribes before you can head off and survive in a world on the brink of the end times.
Further east is Grand Cathay, the home of the Dragon Siblings. While as far away from the tides of Chaos and Demons in the north, they are under siege from opportunistic Ogres and burrowing Scaven. Morso, in the very east of the city, the floating celestial city hangs over the great walls of Cathay. On the other side is the oncoming demon tide, which Khorne's bloodthirsty brutes, Nurgle's plagued ones, and Tzeentch's minions of madness will soon besiege. It seems like it is survive one threat to face another. If you cannot manage one, then the Cathay empire will collapse from both sides.
---