Will there be PSVR 2 at CES 2023?
We explore the possibility of a new PSVR coming this year
Updated: Jan 6, 2023 10:56 am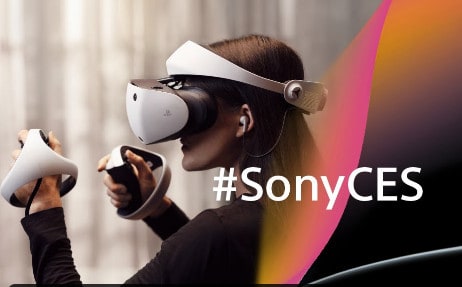 Are you keen to find out whether there will be any info on the PSVR 2 at the 2023 CES? Read on for our guide to any forthcoming announcements on the VR headset.
Sony waited 6 years since their last virtual reality headset before announcing its successor, the PSVR 2, was announced in November 2022. Since then, the hype has been well and truly building, with lots of speculation about how the device will work, and the announcement of several forthcoming compatible games. This is all leading up to February 22, when the headset officially launches.
NOW READ: Vive XR Elite release date
READ NOW: CES 2023 Schedule
In Sony's advertising for CES 2023, a woman is shown using a PSVR 2, which makes it pretty clear the device will feature in any press conference, exhibit or keynote speech from the brand. We're pretty excited about the new information which might be revealed – read on for our guide to the PSVR 2 at CES 2023.
How to watch the PSVR 2 Keynote at CES 2023
Sony's keynote will be taking place at 5:00PM PT / 8:00PM / 1:00 AM GMT. If you weren't lucky enough to get your hands on a ticket to the event itself, you can watch the press conference keynote on the Sony YouTube channel.
The brand will be definitely be presenting some new information on the headset, so definitely get this event locked in your calendar if you don't want to miss anything! Sony Honda Mobility will also feature in the event, as will the latest TVs and home appliances from the brand.
When can I buy the PSVR 2?
The PSVR 2 headset is set to be released on February 22, 2023. Keep your eyes peeled for then – it will be available on the Sony website first and then major online retailers like Amazon and Best Buy.
You will need the PS5 in order to use the headset – bear this in mind when you buy it.
---