Best Prebuilt Gaming PC Under $1000 – Top 5 Desktops 2019
We concluded that the iBUYPOWER Elite Gaming PC is the best-prebuilt gaming computer in the under $1,000 category. This is equipped with a Ryzen 7 2700X and an RTX 2060. It also features 16GB of DDR4 RAM, a 240GB SSD, and a 2TB HDD.
If you want to get the best value for money, this is it. But don't worry if this isn't to your liking since the rest of this list are also strong picks for gaming.
If you still feel unsure about which system to pick, then keep reading. We covered everything you need to know so that you have a clear idea which PC is best for your needs.
Top Pick
iBUYPOWER Elite Gaming PC
The best Pre-built for around $1000
This PC doesn't only feature one of the best AMD chips available but it also has an RTX 2060 packed in too! The GPU should be more than enough to make sure you can run games over 60FPS at 1440p when setting to max and can even handle some in 4K!
Something of note is the 80 Plus certified 500W power supply. While PSUs aren't exactly exciting, they are important and it's nice to see iBUYPOWER supplying their pre-builts with efficient PSU's. Not only is this PC capable of 4k gaming but it will handle VR with ease and streaming!
Runner up
CYBERPOWERPC Gamer Xtreme VR GXiVR8560A
Unbelieveable gaming performance
This prebuilt gaming PC offers some fantastic value for gamers. A lightning fast 9th gen processor, a mid-tier 1660 TI (6GB) VR-ready graphics card, and 16GB of DDR4 RAM. This build also comes with great storage solutions!
With the Intel i7-9700F processor and the GTX 1660 Ti; don't underestimate this pre-built computer. These specs should keep most happy with this gaming rig able to handle anything you chuck at it. A solid gaming computer!
If you want a more affordable prebuilt computer in the $1,000 department, then this allrounder is a great choice. It has components that can easily take down AAA title games with no compromises with its latest hardware. This is a powerful VR build and comes with some great storage solutions too!
The Affordable Pick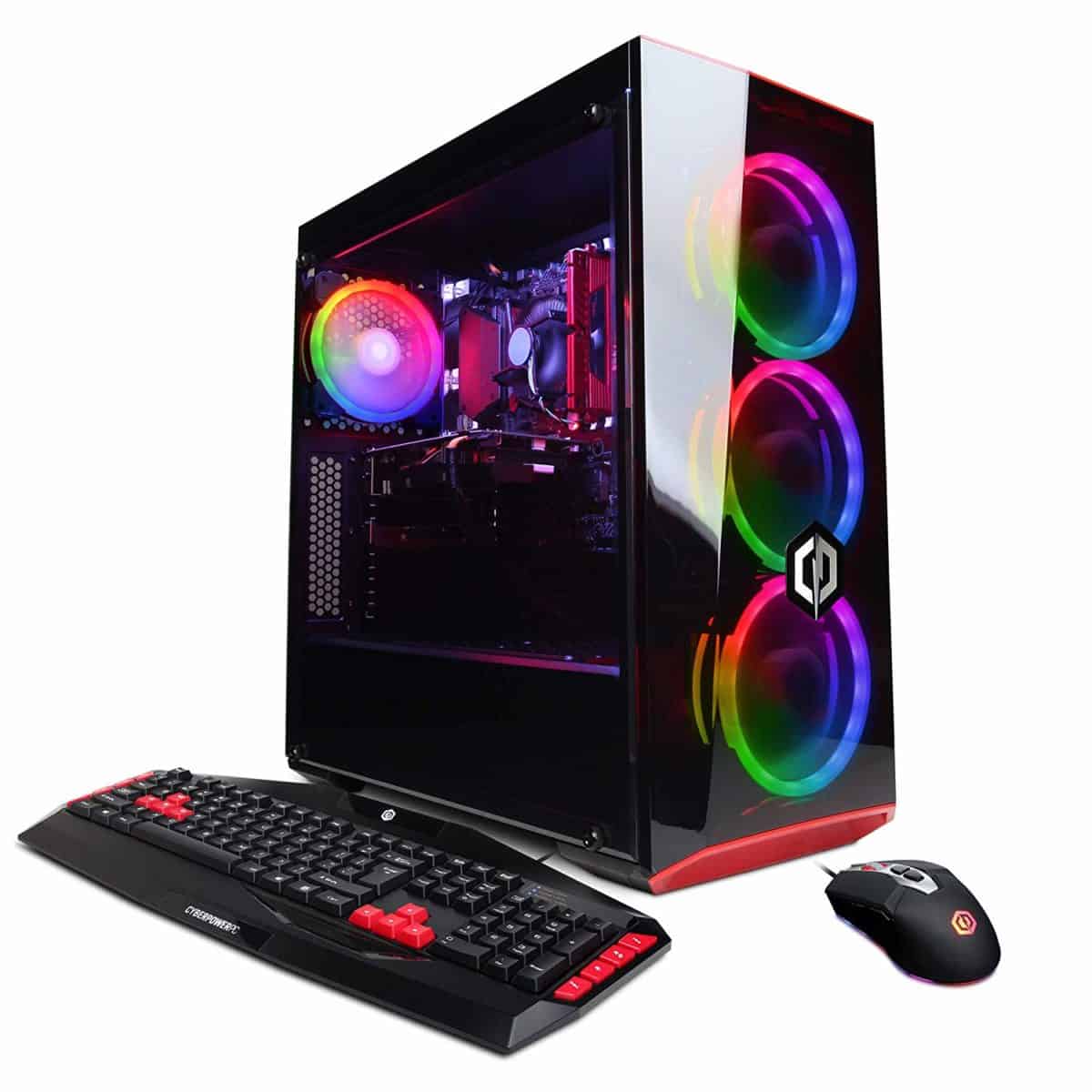 CYBERPOWERPC Gamer Xtreme VR GXiVR8480A2
A decent prebuilt PC that wont break the bank
This prebuilt option comes with an Intel i5-9400F which is still an outstanding chip for gaming performance. Not only does this have awesome processing power but it features an RTX 2060 Super GPU, 16GB of RAM and fantastic storage space. A solid choice for any gamer!
This pre-built is capable of handling AAA-title games in high settings. The only reason this isn't higher up the list is down to its older generation CPU and mid-tier GPU but it is still an incredibly strong performer for gaming. With the included SSD, loading and boot times will also feel snappy. This stylish build will not disappoint and is worth consideration.
Falling well under budget this pick will save you a few extra pennies without compromising on performance. Pairing the Ryzen 5 2600 with an RTX 2060 should be more than enough to give you satisfying results in any game you desire.
How We Choose What to Test
We scoured popular and reputable prebuilt gaming PC manufacturers such as Dell, HP, iBuyPower, CyberPowerPC, and even the latest prebuilt gaming desktop PCs from companies that specialise in upgrades and customizations such as CUK (Computer Upgrade King).
After an extensive search, we came up with a long list of potential candidates, we then: examined the specs, compared them, and came up with the 5 best gaming PCs under $1,000.
Things to Keep in Mind Before Buying a Prebuilt Gaming PC
We know buying a prebuilt gaming PC is the go-to option for many gamers that can't yet build the best gaming PC under $1,000.
But when buying a prebuilt gaming PC, it's important that you choose according to the following criteria to get the best out of the money you're investing in:
Whether it's a prebuilt or a custom-built gaming computer, the graphics card is the most important component. It's the powerhouse of any gaming computer.
This is what renders the image in real-time and most strongly influences your graphical quality. In fact, a computer with an average graphics card like a GTX 1660 paired with a slower i5 processor performs can produce some brilliant results.
Of course, the performance also depends on other factors such as how CPU/GPU intensive the game in question is, how well-optimised it is, however, most games tend to be more GPU intensive than CPU intensive.
As a rule of thumb: Higher quality graphics cards are better for gaming. As such, we went with prebuilt computers with at least a GTX 1660 TI graphics card in this roundup to justify the price you'll be paying.
If you wish to game at 1440p and higher, then every pick in this list should be more than capable.
Processors matter in gaming, too. But they don't push frames as much as graphics cards do since they focus on processing tasks in general rather than merely rendering images really fast.
On the list, you'll find several different processors. We've listed them below with their respective core and thread count:
Processor
| Processor (CPU) | Core/Thread Count | Base/Max Clock Speed |
| --- | --- | --- |
| Ryzen 7 2700X | 8 cores/16 threads | 3.7GHz/4.3GHz |
| Intel i7-9700K | 8 cores/8 threads | 3.6GHz/4.9GHz |
| Intel i5-9400F | 6 cores/6 threads | 2.9GHz/4.1GHz |
| Intel i7-8700K | 6 cores/12 threads | 3.7GHz/4.7GHz |
Since all the processors on the list are more than capable of high FPS on most AAA games at high resolutions, we didn't really focus on this department.
If you are considering streaming then the first two picks are solid choices however if not don't worry every CPU in this list has a very good price to performance.
An SSD + HDD combo isn't necessary at this price point, but it is somewhat common. And of course, it's pretty nice to have an SSD.
Unless you just fall in love with a build that doesn't have both, you should definitely stick with an SSD + HDD combination to get the best of both worlds. SSDs are significantly faster than HDDs and offer the biggest performance improvement per dollar compared to any other hardware upgrade. But the sheer bulk storage space of HDDs make them extremely useful in their own right.
Other Features and Freebies
Prebuilt desktop computers in this price range should have at least a keyboard and mouse freebie. But seeing as how you can spend this much on a prebuilt computer, chances are you're likely to have one of the best keyboards in 2019 already.
But even so, it still is worth, especially if you're pushing your budget to the limit.
Unlike our best prebuilt gaming PC under $800 and our $500 prebuilt article, we didn't test games at 1080p/ultra settings.
Let's face it: a computer that costs $1,000 should be able to handle these presets without breaking a sweat. It's time to up your expectations! We're testing these PCs at 2K (1440p) and even 4K resolutions.
If you don't have a 1440p resolution monitor, then you should eventually invest in a 2K monitor, or get one of the best gaming monitors of 2019 that can handle 2K or 4K resolution. Well, assuming you want to get the most out of these prebuilt PCs, which I assume you do.
On average, these 5 prebuilt computers can handle the following games in both 1440p and 2160p resolutions:
PlayerUnknown's Battlegrounds
Monster Hunter: World - MHW
Grand Theft Auto V

Team Fortress 2
With the right preset, you can experience over 60FPS on all of these titles. Ideally, you'd want to tone the graphics down to high but it still boils down to personal preference as competitive players would prefer a lower preset over fine-tuned graphics output.
Below are the 5 best gaming desktops under $1,000.
The 5 Best Prebuilt Gaming PC Under $1,000
Product
Details

iBUYPOWER Elite Gaming PC

cpu: Ryzen 7 2700X
gpu: RTX 2060
ram: 16GB
storage space: 240GB SSD + 2TB HDD

Check Current Price

CYBERPOWERPC Gamer Xtreme VR GXiVR8560A

cpu: Intel i7-9700F 3.0GHz
gpu: NVIDIA GeForce GTX 1660 Ti 6GB
ram: 16GB DDR4

Check Current Price

CYBERPOWERPC Gamer Xtreme VR

cpu: i5-9400F
gpu: RTX 2060
ram: 8GB DDR4
storage space: 120GB SSD + 1TB HDD

Check Current Price

CYBERPOWERPC Gamer Xtreme VR GXiVR8480A2

cpu: Intel Core i5-9400F
gpu: NVIDIA GeForce RTX 2060 Super
ram: 8GB DDR4

Check Current Price

SkyTech Shiva Gaming Computer

cpu: AMD Ryzen 5 2600
gpu: NVIDIA GeForce RTX 2060
ram: 16GB DDR4

Check Current Price
#1
iBUYPOWER Elite Gaming PC
PROS
High Quality AMD Processor
RTX GPU
Great storage
Tempered glass + RGB chassis
CONS
Case is a bit plain
Included peripherals are low quality
The iBUYPOWER Elite Gaming PC is a strong prebuilt computer so say the least. With this build not only are you getting a strong multitasking CPU in the Ryzen 7 2700X but its paired with the new RTX 2060! This build will demolish AAA games and produce some great FPS at high graphics too. This prebuilt option will make light work of your favourite competitive games and will handle VR games with ease.
Like the other pre-built computers in this price bracket, this comes with windows 10 installed and includes WiFi. The RGB inside this case can be controlled remotely and it features a tempered glass side panel so you can get the most out of those flashy lights!
This pre-built gaming PC would be perfect for any gamer but thanks to the powerful Ryzen 7 chip it's ideal for any streamers or content creators as it will multitask flawlessly. The processing power is matched with the new RTX card which future proofs this system by giving you the power of RTX and a VR capable system!
Looking at the connectivity department, you have:
6 x USB ports (2x USB 2.0 ports, 4x USB 3.0 ports)
1 x DisplayPort
1 x HDMI
1 x DVI
This pre-built PC also comes with a mouse and keyboard. It is worth noting that you'll probably want to check out some alternative keyboards and mice as these are of low quality but free!
#2
CYBERPOWERPC Gamer Xtreme VR GXiVR8560A
TECH SPECS
CPU

Intel i7-9700F 3.0GHz

GPU

NVIDIA GeForce GTX 1660 Ti 6GB

RAM

16GB DDR4

Storage

120GB SSD, 1TB HDD Hybrid Storage
PROS
Fantastic CPU for gaming
Powerful graphic performance
120GB SSD for super quick load times
Includes gaming peripherals
The CYBERPOWERPC Gamer Xtreme has a whole bunch of high-quality hardware, such as the 9700F Intel chip, 16GB DDR4 RAM and a GTX 1660 Ti. Aesthetically speaking, the Xtreme really pleased our team, it comes with an RGB fan setup which wouldn't look out of place at a rave. The case is complete with a tempered glass case which gives consumers a front-row seat to the light show.
The main talking point to this rig is, of course, the CPU/GPU partnership. The CPU is Intel's 9700F which we've touched upon in the other builds, but in short, it's one of the best price/performance CPU's money can buy. The powerful chip is combined with the 1660 Ti to form an almighty gaming alliance.
16GB DDR4 RAM accelerates this build, more than enough to accommodate modern-day games which don't require much more. Furthermore, this build comes with 1TB of hard drive storage. We also see an SSD in this build which will house your operating system, and maybe one or two of your favourite games. It also comes with a customary keyboard and mouse to get your gaming right off the bat. However, we'd recommend checking out our best keyboard and mice pages if you want to get the edge over your opposition.
A really impressive pre-build for the price tag and one that will last you years into the future.
#3
CYBERPOWERPC Gamer Xtreme VR
PROS
Strong CPU power
New RTX graphics card
Good storage
VR ready
CONS
Included mouse and keyboard is average
The CyberPowerPC Gamer Xtreme VR rig is very well priced for a prebuilt computer and is packed with some features to get gamers excited! This build is optimised for VR and features the new RTX 2060 which is a 6gb card which will not disappoint from a graphical standpoint. The build also features a 9th gen CPU which is not the most powerful but still offers a good price to performance ratio and will be more than enough to see to your tasks.
The build features built-in WiFi and comes in a case that has a tempered glass panel so you can see inside. The case is sleek and offers good airflow to the system meaning your temperatures should remain stable even when the components are under stress.
The processing and graphical power are brilliant for the price but they don't stop there. The build features a 120GB M.2 which will be great for storing your favourite games as they should run better and they will certainly load a lot quicker! Not only does this build feature an SSD but it also comes with a 1TB HDD to store all your media files or anything else on.
Looking at the connectivity department, you have:
7 x USB ports (2x USB 2.0 ports, 5x USB 3.1 ports)
2 x DisplayPort
1 x HDMI.
It also comes with a keyboard and mouse. It is worth noting that you'll probably want to check out some alternative keyboards and mice as these are of low quality but free!
#4
CYBERPOWERPC Gamer Xtreme VR GXiVR8480A2
PROS
Powerful new gen AMD CPU
Great graphical performance
Mouse and keyboard included
The ever so stylish looking Gamer Master from CYBERPOWERPC brings some powerful graphics to the table with this pre-build.
This gaming rig features a decent i5-9400f that runs at 2.9GHz and is more than enough for this kind of PC. To go along with the sturdy i5 we see a highly rated RTX 2060 Super. This 8GB GPU will run any game you desire in max settings without breaking a sweat.
The case is nice-looking and comes with an RGB fan which gives the overall build a premium feel. The case also features a PSU shroud to hide away the cables and keep your viewing window clean.
Aesthetics aside however, this PC is a solid gaming rig and has some impressive graphical power for the price.
#5
SkyTech Shiva Gaming Computer
PROS
Powerful CPU/GPU configuration
Great looking case
Mouse and keyboard included
3 x RGB fans included
CONS
No HDD/ bigger storage solution
SkyTech brings the Shiva gaming pc into the mix and it features some decent internals to get you off to a flying start in gaming.
At this PCs heart, we see the Ryzen 2600 which brings speeds of 3,4 GHz processing power and the possibility to overclock it to 3.9GHz, that is a lot of power for the price. Alongside this workstation optimized CPU sits an RTX 2010 bringing you raytracing and high-quality graphical detail.
This rig is primed for gaming so it is of no surprise to see 16GB of DDR4 RAM included which will last you some time seeing as it's probably a perfect amount. To get the most out of your gaming PC you need an SSD for your operating system and games to run smoothly and open quickly, well here we see a 500GB SSD. Unfortunately, there is no HDD to backup that fast storage solution but there is enough here to get you started.
The case is a looker in this build which is quite common from  InWin. We see a large uninterrupted window on the side which allows you to peer into the upside-down middle. That's right its flipped in this case, meaning your PSU sits at the top. The most aesthetically pleasing thing about this build is the fact you can mount the RGB case fans on the back panel so you see the full lighting show through the window without losing airflow.
Overall a great PC to get your gaming off to a bang!
Which One is the Best for Your Needs?
With all of that being laid out, chances are you already have a pick on your mind but if you're still unsure, here's a quick summary:
While we obviously have Our Top Pick, there is a surprisingly small difference between the PCs on this list. Some have slightly better GPUs or some extra RAM that set them apart. As such, it is largely left up to you as to what matters most.

If you're having problems choosing from the options on this list, or there is another option you have found and are interested in, then let us know down in the comments and we'll gladly help you out.