Xbox One S Vs Xbox One X (Price, Performance & Features)
Updated: Jul 25, 2022 3:31 pm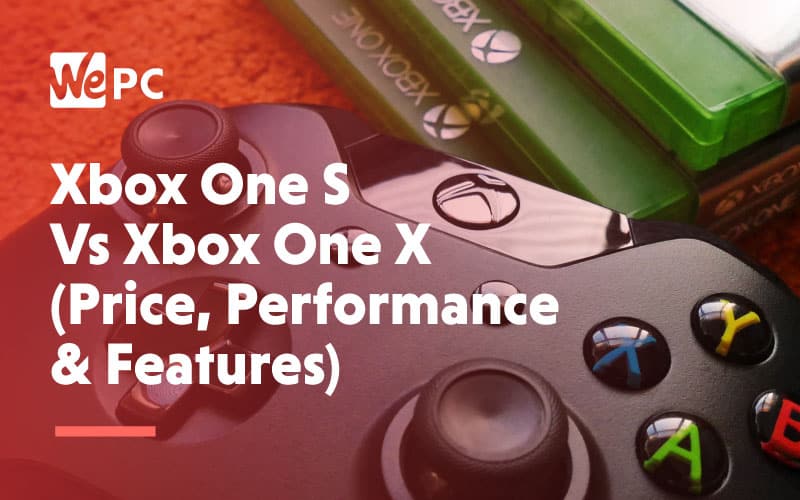 Three Xbox One iterations to choose from? Why Do It To Us Microsoft!?
I remember a time when choosing which console to buy came down to a few simple factors… Did we like the brand, did it have the games I wanted to play and was the console considered cool. Those were simpler (and arguably better) times.
Nowadays choosing a console is like deciding which hotel to check into for your annual trip to Benidorm. There's a load of different options that all have a specific set of features and benefits to pick your teeth over. Life for the avid console gamer has become much more difficult.
Analogies aside though, the whole console choice issue – depending on how you look at it – has arisen thanks to Microsoft releasing a new console on an almost yearly basis… or so it would seem. The Xbox One has evolved into something much more refined over the years and we now have a whopping 3 models to choose from!
As most will know, the Xbox One X is the latest version of the ever-popular console by Microsoft and comes to shelves boasting an impressive repertoire of features & benefits. One of the big questions that everyone seems to be asking, however, is whether or not the Xbox One X is worth purchasing over Xbox One S?
Well, we're here to provide all the information you'll need to make the best and most informed decision on which one to go for!
Specifications
Specifications are ultimately one of the most important areas of any PC or console gaming machine, so before we go any further, I think we should compare the spec's of all 3 Xbox One iterations to see exactly where they stand:
| | Xbox One | Xbox One S | Xbox One X |
| --- | --- | --- | --- |
| CPU | 8 core, AMD custom CPU @ 1.75GHz | 8 core, AMD custom CPU @ 1.75GHz | 8 core x86 CPU @ 2.3GHz |
| GPU | AMD GCN GPU @ 853Mhz | AMD GCN GPU @ 914Mhz | AMD custom GPU @ 1,172MHz |
| Memory | 8GB DDR3, 32MB ESRAM | 8GB DDR3, 32MB ESRAM | 12GB GDDR5 |
| Weight | 7.8 lbs | 6.4 lbs | 8.4 lbs |
| Memory bus | 256-bit | 256-bit | 384-bit |
| Memory bandwidth | 68GB/s, 204GB/s | 68GB/s, 219GB/s | 326GB/s |
| Storage | 1TB/500GB 2.5 inch HDD | 1TB/500GB 2.5 inch HDD | 1TB 2.5 inch HDD |
| AV Output | HDMI 1.4 in/out, 1080p support | HDMI 1.4 in/out, 4K, and 1080p support; Optical output; 4K video upscaling; HDR support | HDMI 1.4 in/out, 4K, and 1080p support; Optical output; native 4K playback; HDR support |
| Communication | Ethernet, IEEE 802.11n wireless with Wi-Fi connect | Ethernet, IEEE 802.11n wireless with Wi-Fi connect | Ethernet, IEEE 802.11n wireless with Wi-Fi connect |
| Controller | Xbox One controller | Updated Xbox One controller | Updated Xbox One controller |
| Optical drive | Blu-ray | 4K UHD Blu-ray | 4K UHD Blu-ray |
| 4K Support | No | Yes, limited | Yes, native |
| Availability | Discontinued | Available Now | Available Now |
Hardware Differences
"It no secret that the Xbox One X is part of the Xbox One family… I mean, it's in the name. What it does mean though is the differences between itself and the Xbox One S are primarily internal hardware improvements. Great news for Xbox One design fans who want a bolstered performance from their console.
This being said, Microsoft has taken steps to try and improve on the architectural design of the Xbox One X. The changes may be subtle, but the overall look of the X has a sleeker, more stylish appearance over it's predecessor. Microsoft has gone for a mineral type grey design, fully removing the textured surface we were familiar with (in both the Xbox One and S) and has replaced it with a smooth glassier type finish. We think it looks utterly superb.
But let's not dwell on looks too much, we were eager to learn about what's under the hood of the Xbox One X and see how it compares with its predecessors.
In a nutshell, you're looking at faster CPU speeds and a new, fully custom AMD GPU clocked at 1.17Ghz. More internal memory over both the One and S, we now have a whopping 12GB of GDDR5 RAM and a higher memory bus to match. The Xbox One X comes with a standard 1TB hard drive, multiple output sources and weigh's a shade over 8lbs. All worthy improvements over the earlier version of this console, however, we've forgotten to mention one of the biggest improvements the Xbox One X comes equipped with… Native 4k! We'll touch upon that in more detail later though. For now, let's go into a little more detail on that great "new" design.
Design
As we mentioned earlier, the design changes from the Xbox One S to the newer Xbox One X are subtle and petite. Ultimately they do make a difference though, so let's discuss the differences in a little more detail.
Firstly, the colour has changed from white to a, quite pleasant, grey, and they've got rid of the textured hole'y look thanks to a new internal fan cooling setup. The top of the Xbox One X is smooth and sleek and adds a certain level of luxury to the new design. In the Xbox One S, the fan was situated in such a position which meant the roof, as we'll call it, had to be open to allow a decent amount of airflow. However, since then, Microsoft has developed a new way of cooling the console meaning the fan can be situated in the back.
Developers came up with a high-tech vapour chamber within the console which aids in cooling and allows the fan to be positioned in a more practical position. The older Xbox One and S models didn't have this luxury and would easily overheat if you were to put items on top of your console. Not ideal. Luckily, this is no longer a problem.
Both Xbox One S & X have their power supply's installed internally. Yes, that means no more hefty PSU brick hanging around the cable. They can be stored both vertically and horizontally depending on personal preference and have identical Input and output sources.
It feels to me like Microsoft has spent much less time worrying about aesthetics and spent more time focusing on the real internal problems, which for me, is a big plus.
Graphics
We all understand the importance of aesthetics, especially in a market now covered in glossy, attractive looking products. For me though, the true draw of a console or gaming rig is what's on the inside, as ultimately, that will have the biggest impact on the overall gaming experience.
Now, everyone (probably) knows what 4k and HDR are, and how they impact your immersive gaming experience, so understanding how each of the consoles perform in these areas is pretty critical in my eyes. Let's take a look at the Xbox One S first.
When the S was released, promotional marketing suggested that it had the ability to perform 4k games and video output, which technically it can do. However, let's try and get more technical on the matter.
There are different forms of 4k which in turn have differing levels of performance. So, what does the S offer? Well, the S has what we like to call Upscaling 4k, which basically means it can accommodate your 4k video and game data, but in such a way that requires pixel stretching to do so. The S actually outputs a maximum of 1080p, but to achieve 4K, it must then stretch each pixel in order to fill the screen. This obviously reduces the overall image quality and sharpness of your on-screen display.
Now, the Xbox One X, with its fancy new hardware components, has the ability to display 4k natively which means no upscaling is required and you get to experience TRUE 4k visuals. Good right? Well, we think so anyway. If you've never experienced true 4k then you really are missing out. The immersion that you can achieve is much greater than that of a 1080p console. Especially when you pair it with the high dynamic range that comes with both the S & X.
HDR for those that aren't aware, is a much wider field of colour which can display darker darks and brighter whites. Both the S & X have access to an HDR colour gamut meaning your image will naturally look more realistic.
We have great articles on both HDR and 4k which are worth a look if you're not up to speed on those features.
Resolution & Frame Rates
As we've just discussed, both the S and the X have the ability to perform 4k video and game output but both at varying levels of performance. Obviously, the higher the resolution, the better the picture quality. It's that simple. However, it's worth mentioning that you will still require an HDR ready and 4k monitor or TV to view these images in their fullest. It would be extremely redundant to get the Xbox One X and play it on a 17″ 720p monitor. But I'm sure you know that, right?
Frame rates are again a major factor in how you experience your games and an area that, 9 times out of 10, has a direct correlation with the resolution. Why you ask? Because 4k takes much more computing power to run than say 1080p. Well, what kind of frame rates can we expect from these consoles?
The old Xbox One and One S would perform games at 30 frames-per-second which, to the naked eye, would be seamlessly smooth. This being said most games played on higher end PC builds can push 200frames and above. Historically, there have been some FPS issues in both Xbox One & One S where people have experienced 'lag' or jittering because games simply aren't running at a high enough FPS.
With the Xbox One X, this shouldn't be a problem. Microsoft has been quoted saying the X can perform 4k video output and gameplay at 60FPS regardless of the game title and console strain. This is great news for new age TV's and monitors as most will be running at 60hz. If that means nothing to you, go read our great article on how FPS and refresh rates affect each other.
HDR Support
High Dynamic Range, it's a great feature of any games console, TV, gaming monitor or PC. In a nutshell, it allows your device to display a wider range of colour by using a different colour gamut. This, in turn, helps create a much more realistic, lifelike image on your display.
Bright light becomes brighter and more accurate whereas dark areas become darker and more realistic. If you're looking to achieve the ultimate gaming experience and true immersion we'd highly recommend opting for an HDR enabled device. The Xbox One, unfortunately, doesn't have this facility. Both the Xbox One S and X do though which is great news for anyone looking to upgrade.
Worth touching on is the potential to use your new Xbox as a home theatre system. Obviously, you would have to have a pretty decent TV or monitor to display the images on, but if you do, both Xbox One S & X can make great home entertainment units. Especially now that Netflix and Youtube can be streamed in 4K direct through the app.
Compatability
One of the best features of the new Xbox One range is how they're all backward compatible with each other. We're referring to games of course. All your Xbox One games will be playable on the latest Xbox One X and vice versa. If you're a 360 user, you can also get access to your games library via Xbox One models and play some specific game titles. Great news for those still playing Gears Of War!
Games & Controller
Making use of the Xbox One X's phenomenal features is now down to the Microsoft game developers. It would be pointless buying an all singing all dancing console without any games to play in true 4k and full HDR wouldn't it?
This being said, consumers do have access to a fairly decent list of games that make use of both 4K and HDR. You might just have to do a little bit of research beforehand to be sure your new game has this support.
To quickly touch on the controller as well, if you aren't aware, the Xbox One controller has been revamped for both the S & X models of the console. Improvements have been made in areas such as Bluetooth and the ergonomic design, 2 features I'm right behind. The Bluetooth makes life a hell of a lot easier when you're looking to link up your controller with Steam or your PC.
Price & Availability
Ok, so let's get into how much the console's cost and what their availability is like in today's market. Well, firstly let's start with the Xbox One X. You can pick the console up currently for around $370.00 (USD) from the likes of Amazon. It's worth mentioning that this is a considerable jump up from the likes of the Xbox 360/One
This being said, the Xbox One S is currently retailing for around $220.00 (USD) from similar marketplaces. So I suppose the question is whether or not the X is worth opting for over the S. That all boils down to how keen you are on experiencing true 4K video playback? For me, it's a feature that makes all the difference in your gaming experience.
My honest advice would be the following: If you have a TV or monitor that is both 4K and HDR ready, and you're looking to achieve the maximum level of immersion whilst gaming, then save up and go for the Xbox One X.
Even though the S can produce a form of 4K, it's nothing on what the X can do. Furthermore, the S is much less powerful and won't be able to push the frames the X can in higher CPU/GPU demanding scenarios.
If you're looking for the best Xbox money can buy, get the Xbox One X.
FAQs
Does Xbox One S take discs?
The Xbox One S is a completely digital console. Given this, you are not able to play any games using discs at all. This also means that you will not be able to use the console to watch DVD's with either.
While many people are put off by this console not having a disc drive, this is not necessarily a bad thing. To begin with, as you can only download games to the device it costs significantly less to purchase than the standard Xbox One series. This is fantastic if you are on a budget.
However, as all the games will need to be purchased digitally, you are not able to take advantage of physical games that are on offer. Not having physical discs does take away the potential of the discs becoming damaged over time.
In addition to this, the all-digital Xbox's do weigh less and are smaller because they do not feature a disc drive.
Does Xbox One S need 4K TV?
If you are looking to purchase the Xbox One S, you may have noticed that it is capable of 4K gameplay. While it does support many 4K features, this does not mean that you have to have a 4K TV or monitor. It just means that it can be played using a 4K resolution.
You can still use a 1080p resolution with the Xbox One S. The majority of the Xbox One S features run using a 1080p resolution, which is the optimum for gaming.
If you are looking to game fully in 4K, in regard to texture, the Xbox One S does not support this, only the Xbox One X does. Although you can use a 4K TV with the Xbox One S, you do not need to upgrade your existing TV at all.
Can Xbox One S play 360 games?
Yes, the Xbox One S is compatible with Xbox 360 games. However, it is worth taking into consideration that not every Xbox 360 game is backward compatible. Some backward-compatible games include – Assassin's Creed, Battlefield, Call of Duty, Fallout 3, and Halo.
If you own some backward compatible games in disc format, unfortunately, you will be unable to play these on the Xbox One S. This is because the Xbox One S is completely digital and does not feature a disk drive. This may be disappointing if you own many older games.
However, if these games have been downloaded from the Xbox store, or if you have previously purchased them, they can be reinstalled and played on your Xbox One S. This is a great feature that many Xbox users are glad to have.
Can Xbox One S be jailbroken?
If you are unfamiliar with what jailbreaking is, it involves placing third-party software on to a console. This software is unauthorized, and it is actually illegal to carry out jailbreaking on a console. It is classed as illegal under the 1998 Digital Millennium Act.
When it comes to whether or not a console can be jailbroken, the question should be should you do this, rather than whether it can be done. When it comes to security Microsoft are pretty hot on this, and it is very difficult for users to jailbreak and hack an Xbox One S.
If you are using a QHD display, you will be happy to learn that the Xbox One S can support the use of a 1440p resolution. While the majority of games still tend to use a 1080p, if you are looking to use a 1400p resolution, this is possible.
When Microsoft released this information back in 2018, many people within the gaming community were shocked that this was going to be added to the newest next-gen consoles.
Given that the Xbox One S can support 1080p, 1440p, and 4K resolutions this allows it to be accessible to more gamers. It means that 1440p monitors can be used and that gamers will not need to worry about changing their monitors.
The Xbox One S can be used at 1440p with a 120 Hz refresh rate, which was appealing to many gamers. This provides a great picture.
---