CS:GO Pro settings and gear
This is what the best CS:GO pros are using
Updated: Nov 10, 2022 11:43 am
When it comes to esports, there remains one undisputed king of competition, the parochial Counter-Strike: Global Offensive. Since its beginnings as a mod for Half-Life, the game has experienced rapid growth into the internationally competitive esports game enterprise that attracts millions of viewers every year while the championships have prize pools that regularly exceed $1m.
As CS:GO currently rules the roost in terms of esports reputation and notoriety, it's no wonder that people are curious about what gear and setting the pros are using. We've decided to have a look at a few of the best players in the game and we've done the homework to find out about their setup. We'll also get into some other aspects of CS;GO pro settings too, for example, CS:GO pro sensitivity and the ever-confusing concept of eDPI.
CS:GO Pro sensitivity
CS:GO pro sensitivity is a little bit of a confusing concept to get into as what people mean by sensitivity is how the mouse reacts, which is a result of a few different things. In order to communicate this feeling eDPI is used, which allows you to compare the mouse feeling, irrespective of hardware, peripherals, or PC specs. Let's have a look at the equation to work it out.
What is eDPI?
eDPI is the best way to understand another player's mouse behavior. It comprises both the in-game sensitivity and DPI, which combine into eDPI, also known as effective DPI. The equation for working this out is as follows:
In-game sensitivity x mouse DPI = eDPI.
For example, if you're in-gamer sensitivity is 0.90 and the DPI of the mouse is set to 1200, this would result in an eDPI of 1080. Using eDPI will allow you to replicate a CS:GO Pro's in-game experience, but probably not to the same levels of success, which is unfortunate.
Given the prestige of the CS:GO competitive scene, it's no surprise that you're curious about what the pros are using. We were also curious so we've done some research on the best of the best CS:GO players to see exactly what gear they use and what setting they play with. We'll start with perhaps the most famous of the pros out there, s1mple.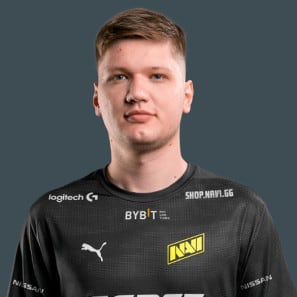 Logitech G Pro X Superlight (Magenta)
S1mple was introduced to Counter-strike by his older brother at the tender age of four. Since then he has grown up to be one of the best players in Counter-strike history, known for primarily being an AWPer, he has continued to impress and has reportedly amassed earnings that total over $1.5m. not bad for someone who isn't even 25 years old yet.
Known as one of the most deadly AWPers out there, s1mple is renowned for both his earnings and the number of MVP awards he's won over his long career in CS:GO. He's additionally notorious for the famous 2v1 falling no scope clutch he pulled off against Fnatic at ESL in 2016.
Next, we move on to the big man with the big plays, Boombl4. He's known as one of the best riflers out there and has amassed winnings that total a little more than $1m. He's often positioned as entry fragger so his stats might not look as impressive as s1mple's on the surface, but he's just as vital to NaVi.
Boombl4 had his beginnings playing for Elements Pro Gaming, he swiftly moved over to QBF. From there he managed to make it to the top 8 in the Boston Majors. He then moved to his current team, NaVi in 2019. As captain and entry fragger, he lead the team to the championship title in the PGL Majors of Stockholm in 2021.
Moving away from Eastern Europe for a moment, we have kennyS, famed Frenchman and AWPer for G2 esports. Sharing a similar origin story to s1mple, he was introduced to Counter-Strike at age 6 by his brother. Despite being 10 years his junior, within a couple of years, he would regularly outplay his brother.
At age 11 they decided to enter a local tournament and of course, wiped the floor with their opponents. This paved the way for kennyS to begin his illustrious CS career, going from VeryGames, to Titan, to EnvyUs, and, eventually landing in his current team, G2 esports.
Related esports pro settings and gear pages
Counter-strike not your game? We've covered other games that are big in the world of esports, have a look below:
CS:GO pro settings and gear: Final word
When it comes to professional CS:GO players, you might have noticed a lot of Logitech mice, keyboards, and headsets. This is a combination of sponsorships, individual player preferences, and the undeniable quality of Logitech peripherals. So if you want to maximize your in-game CS:GO performance, having quality gear is absolutely key. However, it's not going to turn you into s1mple overnight, that takes years of practice and thousands of hours in-game, so it's up to you if you want to invest the time to become the best. If you do become the best, tell em WePC sent you.
---