Dune: Spice Wars Nvidia game ready driver
Some driver updates and new features from this update
Updated: Apr 28, 2022 11:44 am
Keen on playing the new Dune: Spice Wars game? Be sure to download Nvidia's latest 512.59 game ready driver. Along with the preparation for the game, there are updates and launches of other games. As well as new features, rewards, and Nvidia's explanation of how they prepare these drivers.
Dune: Spice Wars is based on the Dune novel by Frank Herbert and is a real-time strategy game around the valuable spice resource. Following the success of the 2021 film, it is likely a highly anticipated addition to the Dune universe. Along with the Dune game ready driver, there is also:
Chernobylite ray tracing upgrade – with support for DLSS now the game gets the addition of ray tracing. Adding more player experiences to the survival horror game.
JX3 Online DLSS update – the online martial arts MMORPG from 2009 is aiming to improve the experience for its Chinese fanbase.
Vampire: The Masquerade Bloodhunt early access launch – the free-to-play game is launching and Nvidia is bringing a driver to make that transition smoother for its graphics card users.
How Nvidia game ready drivers are made
Alongside, the updates Nvidia has released a video on the process of creating these drivers ready for when a game is released. It shows the background of how it works alongside developers to ensure gamers have the smoothest experience while enjoying these new games. It informs us that even though developers may stop work on the release version of a game when it has gone gold, Nvidia keeps working on its side.
It works on stability, latency, and performance to ensure the best experience for the user. Nvidia boasts that in the past seven years they have launched over 150 of these drivers for day zero support for 400 games. Whilst also mentioning the hundreds of developers and engineers working together on these. And that they do thousands of hours of testing each day for these so that your best graphics card doesn't disappoint.
Support for new validated G-Sync compatible displays
There are three new G-Sync compatible displays to vary your refresh rate. Enabling a smoother more enjoyable experience for the user. They are:
ASUS ROG XG259CM
Galaxy VI-01
Samsung G95NA
New games supported by GeForce Experience optimal settings
For an easier time setting up your new game, GeForce supports one-click optimization. It adjusts the settings to best suit your hardware and ensures the best experience. A useful feature if you're not sure what each of those finicky details is about. The added support is for:
Death Stranding: Director's Cut
Elex II
Ghostwire: Tokyo
GRID Legends
LEGO Star Wars: The Skywalker Saga
Martha Is Dead
The Planet Crafter
Tiny Tina's Wonderlands
New feature: Reflex stats
Nvidia reflex is a software option in games that allows for the bypass of the render queue to enhance communication between CPU and GPU. Lowering latency of your frames and devices. So now in the games Bright Memory Infinite, Fortnite, Rust, and Valorant you can use Reflex stats. So if you open the GeForce overlay in-game (ALT+R) it will display a measurement of latency and end-to-end delay. THat's if you're using a compatible Reflex mouse and monitor.
Genshin Impact GeForce reward
Lastly, alongside the driver update, Nvidia has teamed up with the developer miHoYo to offer its Genshin Impact fanbase a reward bundle. So in celebration of the new Zephyr of the Violet Garden update, you can claim the bundle on this page. You can grab yourself 20,000 Mora, four Mystic Enhancement Ores, and two Hero's Wits.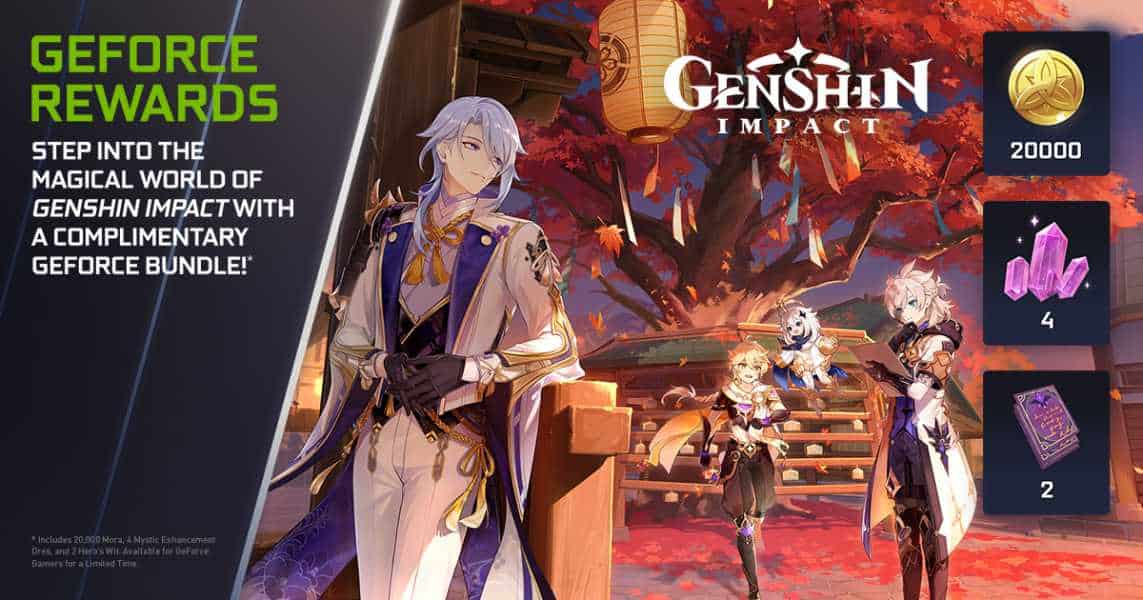 ---