Nvidia's freshly-launched A100 Ampere Tensor Core GPU is now the fastest GPU ever recorded, or at least, the card produced the best results in the OctaneBench bench-marking tool ever.
The A100 features a 7nm GA100 GPU, 54 billion transistors, 108 SMs, 6912 CUDA cores, an effective memory clock speed of 2340 MHz, 1555 GB/s bandwidth, a 5120-bit memory bus, and 40 GB HBM2e memory. Here's the official description from Nvidia:
'The NVIDIA A100 Tensor Core GPU delivers unprecedented acceleration at every scale for AI, data analytics, and high-performance computing (HPC) to tackle the world's toughest computing challenges. As the engine of the NVIDIA data center platform, A100 can efficiently scale to thousands of GPUs or, with NVIDIA Multi-Instance GPU (MIG) technology, be partitioned into seven GPU instances to accelerate workloads of all sizes. And third-generation Tensor Cores accelerate every precision for diverse workloads, speeding time to insight and time to market.'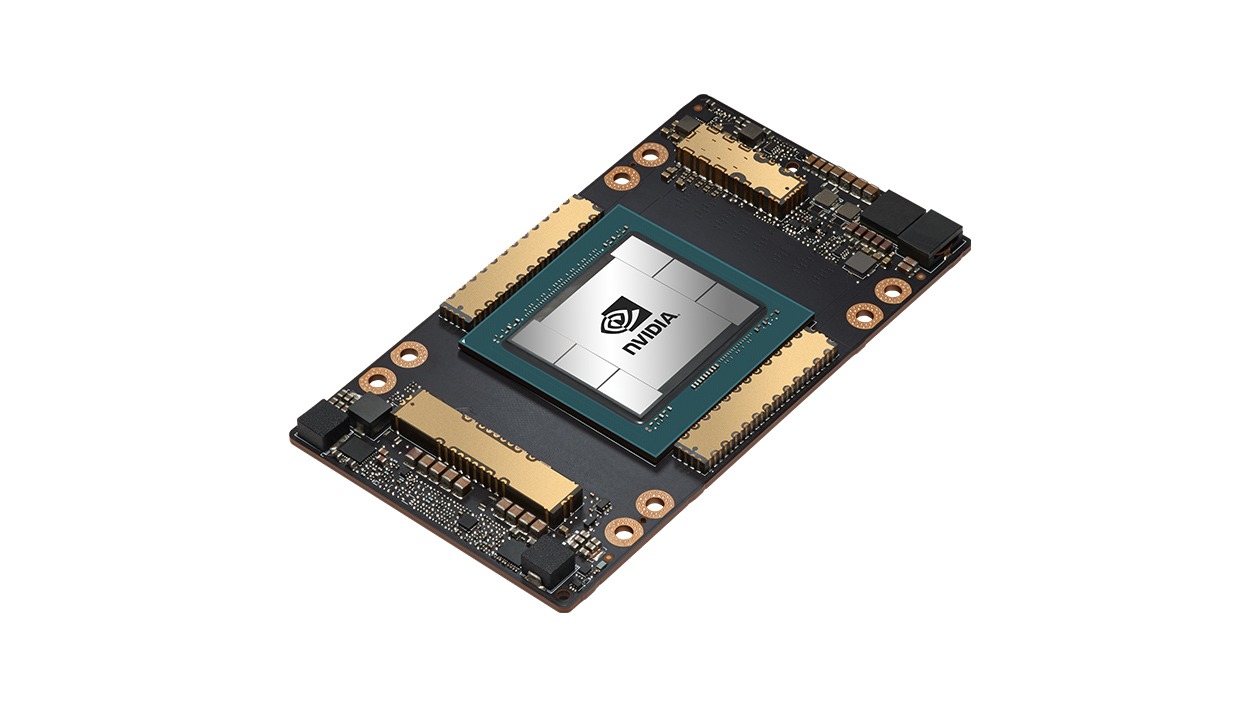 Although the A100 launched back in May, we've yet to see any proper benchmarks that reveal the GPU's true potential. Today, Jules Urbach, the CEO of cloud graphics firm OTOY, took to Twitter to share the OctaneBench benchmark results, which put Nvidia's A100 through its paces.
"A record-breaking week - The @NVIDIA A100 has now become the fastest GPU ever recorded on #OctaneBench: 446 OB4* #Ampere appears to be ~43% faster than #Turing in #OctaneRender - even w/ #RTX off! (*standard Linux OB4 benchmark, RTX off, recompiled for CUDA11, ref. 980=102 OB) "
https://twitter.com/JulesUrbach/status/1286448029600374784
OctaneBench, developed by OTOY, uses the companies OctaneRender software to provide what it calls 'a level playing field by making sure that everybody uses the same version and the same scenes and settings.' OctaneRender is specifically designed for Nvidia GPUs thanks in part to its utilization of CUDA technology and ray-tracing tech to push a GPU to its limits.
According to an image shared by Urbach, the A100 recorded a total score of 446.03, determined by compiling the results from twelve separate tests. Urbach states the results place the A100 at 43% faster than existing Turing cards, although they stopped short of specifying which Turing GPUs, implying it tops even the best scoring chips from Nvidia's previous line-up.
Whilst this GPU is not intended for typical consumers, it does perhaps give us a glimpse of what we can expect from future high-performance GPUs from Nvidia. For our top-rated GPUs available today, check out our guide of best GPUs for gaming.