What to expect from Samsung at CES 2023
Find out what Samsung have in store for us at CES 2023
Updated: Jan 4, 2023 3:48 pm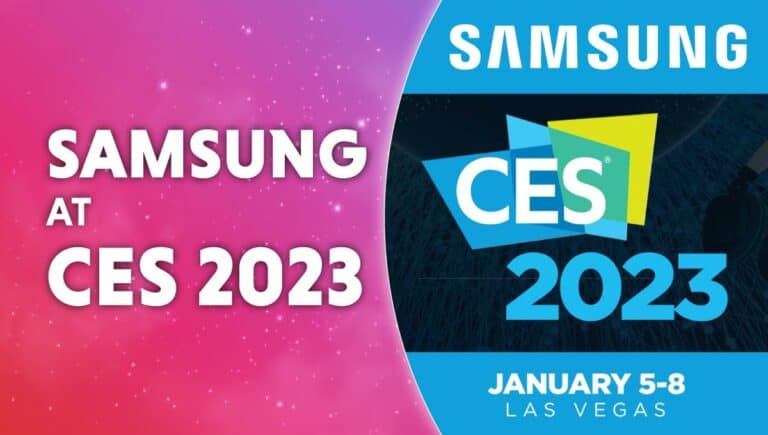 If you want to know what to expect from Samsung at CES 2023 then you're on the right track. On this page, we'll break down everything we know so far about what Samsung have in store at CES 2023.
CES is probably the biggest tech consumer event on the calendar and the biggest companies use it to show off their newest innovations. This year is no different and we've already seen some spectacular tech being previewed.
Samsung always pull out all the stops for CES and this year is no different. We have already seen previews for kitchen tech, TVs, monitors, and laptops.
Let's take a closer look at what Samsung have to offer at CES 2023.
New from Samsung at CES 2023
Samsung are well known for their quality gaming monitors at this point and the announcement of the curved ultrawide Odyssey OLED G9 and Odyssey Neo G9 looks as though it will keep their streak alive. These latest monitors feature OLED and quantum mini LED technology respectively. The Odyssey Neo G9 is notably the world's first Dual UHD Gaming Monitor and both boast a lightning-fast 240hz refresh rate. This makes them perfect options for the modern gamer.
For creators, the ViewFinity S9 is also an exciting prospect. Its stunning 5K 27-inch screen makes it the perfect option for photographers and graphic designers.
TVs are always at the forefront of Samsung's agenda and the innovations they're showing off at CES 2023 prove that this is the case. With advancements coming in Samsung's Neo QLED, QD-OLED, MICRO LED, and Samsung OLED it's clear they're pulling out all the stops to compete with their closest competitors such as Sony and LG. The focus seems to be on all new AI capabilities, allowing your TV to make micro-adjustments on the fly. This technology is also being integrated with Samsung's soundbars so that combining their TVs with their soundbars in 2023 will create the ultimate immersive experience.
One of the most exciting and truly innovative things Samsung are showing off is their Flex Hybrid technology. This impressive concept from Samsung combines both foldable and slidable capabilities to bring you a device with a greatly variable display size. Also on the cards are large-screen slidables which Samsung are eyeing up as the future of their laptops.
Samsung have also made big steps into the world of technology in the home in recent years. This year at CES Samsung are showing off their latest kitchen-based tech and it's blooming impressive. Chief among their latest offerings are new fridge designs and an AI-assisted oven. These new products are sure to have the culinary-minded cooking up some big plans for their own kitchens.
---