Last Updated:
If you are looking to take your gameplay to the next level, you are likely considering a GPU from Nvidia's GeForce RTX range. These graphics cards are some of the best on the current market and certainly worth considering.
To help you with your decision, we have pitted the 2060 Super and the 2070 Super against each other to find out which is the better high-end GPU overall.
We have taken a close look at specifications such as architecture, VRAM. and cooling systems. In addition to this, we have benchmarked both GPUs to see how they perform in-game, focusing specifically on fps.
Nvidia Background
When looking at Nvidia as a company, they are a fairly new entry to the gaming world in comparison to other more established companies such as AMD.
However, they shook the gaming world when they entered with their first GPU in 1997. Since then, Nvidia has grown significantly in the products that they create and their popularity too.
They are well known for producing the best high-end graphics cards and other companies have struggled to rival them. Nvidia is consistently releasing next-gen compatible GPUs with the best specs on the market.
When looking at Nvidia's graphics cards, it is not about whether or not you should purchase one, it is which one you should choose.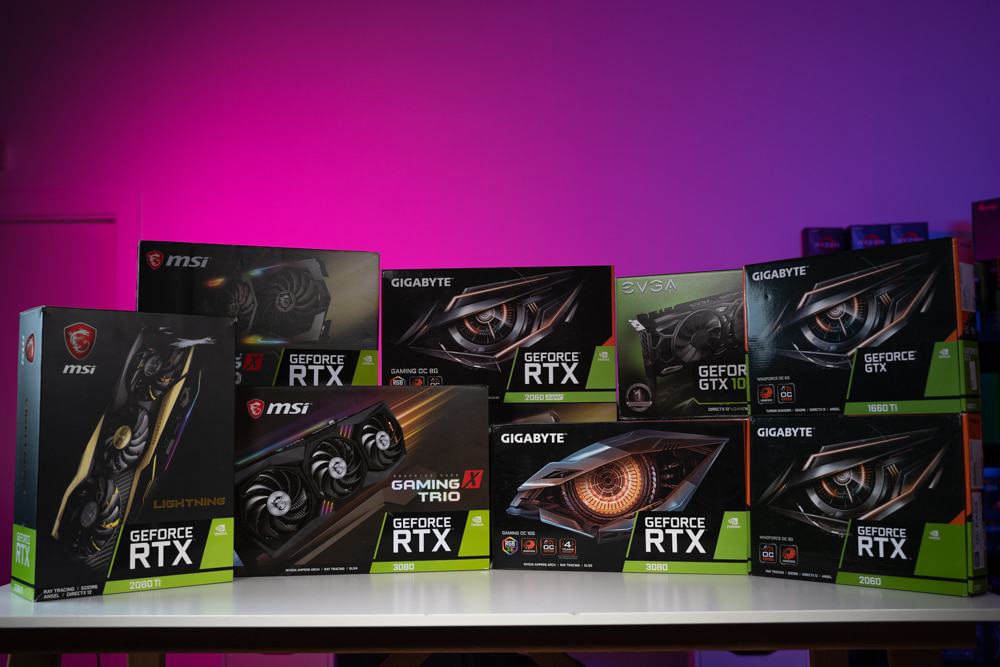 Architecture
The architecture of a GPU is one of the factors that determine how successful your overall gameplay will be. The better architecture a GPU has, the better your gaming experience will be.
Both GPUs use Nvidia Turing architecture. It is currently the best on the market and provides a 6x faster performance when compared to Nvidia's older graphics cards. The powerful DLSS 2.0 AI-Enhanced graphics provide a great gaming experience.
The tensor cores used in these GPUs are some of the best advancements in technological history, and they significantly accelerate and increase gaming performance.
The GPUs use concurrent processing and next-gen shading. They also feature DirectX 12, which will future-proof your build. The Nvidia G-Sync technology allows for tear-free gameplay, and the GPUs both support VR.
Let's take a closer look at the engine specs:
2060 Super:
Cores – 2176
Boost Clock – 1650MHz
Base Clock – 1470Hz
2070 Super:
Cores – 2560
Boost Clock – 1770MHz
Base Clock – 1605MHz
The 2070 Super does seem like the better option overall. However, the benchmarking results are equally important, so we will not choose which is better yet.
Cooling
The cooling system of a GPU is an essential aspect to consider. When you are gaming for long periods, your GPU will naturally generate heat. This heat needs to be removed and the GPU should have a good cooling system to allow for this.
Both the 2060 and 2070 Super have a sufficient cooling system. These GPUs both have the same cooling system and feature IceStorm 2.0 cooling, they feature two fans for maximum cooling and have active fan control.
The fan system included will help to keep the GPUs significantly cool. It is worth noting that when you overclock a GPU more heat will be produced. This heat should not go above the maximum GPU temperature.
Here are the temperature specifications for each GPU:
2060 Super:
Maximum GPU Temperature – 89℃
Graphics Card Power – 175W
Recommended Power System – 550W
2070 Super:
Maximum GPU Temperature – 88℃
Graphics Card Power – 215W
Recommended Power System – 650W
While there is little difference between the max temperatures, the 2070 Super consumes far more power than the 2060 Super and requires a more powerful power system.
Dimensions
You should always ensure that the GPU will fit in your build before purchasing. In addition to this, you will want to ensure that it has the correct slots to match your motherboard.
Here are the dimensions for the graphics cards:
2060 Super:
Height: 4.435"
Length: 9.0"
Width: 2-slot
2070 Super:
Height: 4.556"
Length: 10.5"
Width: 2-slot
These are both a reasonable size and may not be suitable for smaller builds. They both feature a 2-Slot width which is common.
In addition to the dimensions, you should take into account the interface. Both graphics cards have PCIe 3.0 x 16. While this is common, it is slowly being replaced with PCIe 4.0. Surprisingly, these GPUs were not equipped with PCIe 4.0 to increase futureproofing.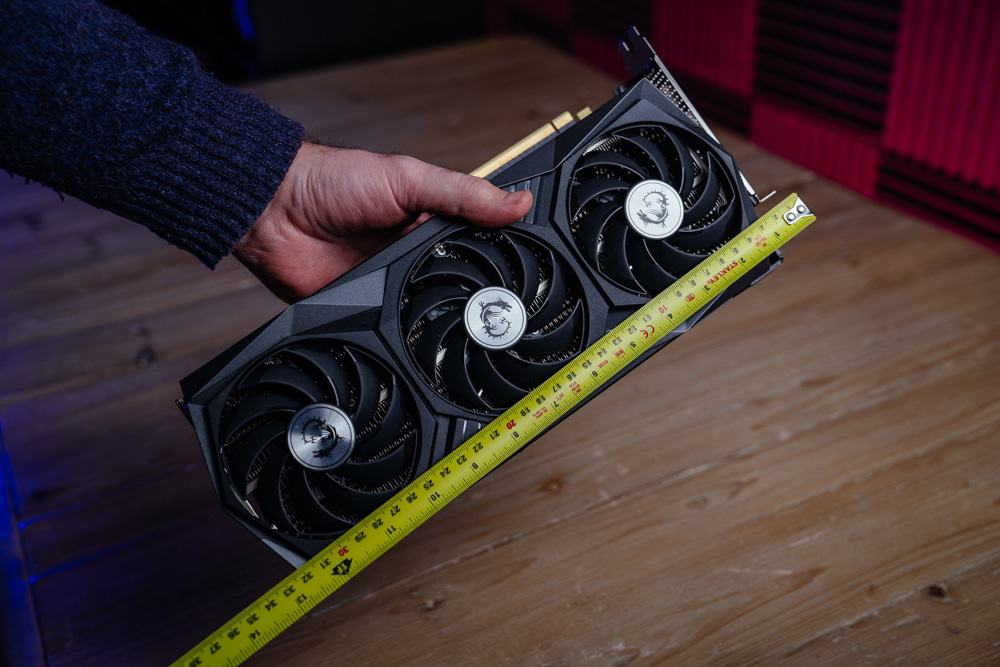 Resolution/FPS
The maximum digital resolution for both GPUs is 7660 x 4320. This is the equivalent to an 8K resolution. When taking into consideration that the majority of gamers use a 1080p resolution, this spec is more than enough. This allows you to play games in 4K with ease and will future proof your build.
To properly test the fps of these GPUs we benchmarked them in several different ways. Let's take a look at the overall effective speed. It may not be surprising to learn that the 2070 Super had an Effective 3D Speed of 199% in comparison to the 2060 Super's 99.1%. Overall the effective speed of the 2070 Super was 20% faster.
When looking at the average score, the 2070 again fared 20% better. However, when looking at the MRender there was very little difference. The 2070 Super has 184 fps, in comparison to the 2060 Super which has 175 fps. The reflection handling is where the main difference lay, with the 2070 Super having 158fps in comparison to 117 fps for the 2060 Super.
The 2070 Super unsurprisingly performed better when overclocked. While the lighting was 135 fps for the 2060 Super, it was 166 fps for the 2070 Super. When looking at overclocked MRender, both GPUs performed well. The 2060 Super had 189 fps, and the 2070 Super had 203 fps.
When we benchmarked a handful of different games, there were only minor differences in the performance. While again the 2070 Super performed better, this was only by 12%. When looking at GTAV the 2070 Super has 122 fps, and the 2060 Super has 110 fps. The majority of gamers would not notice this slight increase.
Ray tracing?
Ray tracing is a fantastic new addition to the gaming world. It is currently only available with Nvidia GPUs, specifically the RTX models. These models feature the ray tracing technology that significantly helps to improve shading within the game.
If you play games such as Call of Duty or AAA games, you will benefit from the use of ray tracing in-game. What is great about these ray tracing abilities is that they do not cause the gameplay to slow in any way.
VRAM
The final specification that you should take into consideration is VRAM. VRAM is responsible for storing the frame buffer. Therefore, it needs to have a good memory to run games successfully.
For gaming, the GPU you choose should have 8GB of VRAM to run games at a 1080p resolution with no issues. If you are playing games at 4K, you will require a higher VRAM.
The memory configuration for both GPUs is 8GB GDDR6. These specifications are more than capable of running gameplay with no issues. GDDR6 is currently the highest spec available as GDDR7 is yet to be released. This will future-proof your build for a good few years.
The memory speed for both GPUs is 14Gbps, this is particularly fast and will allow games to load and run seamlessly. As the VRAM is the same for both graphics cards, it will make little difference which you decide to purchase.
Conclusion
While the 2070 Super is the better graphics card overall, there are only minimal differences between the two. If you already own the 2060 Super, there would be little need to upgrade.
However, if you have an older GPU, the increase in the specifications of either GPU will be significant. They are both great for futureproofing and have impressive specifications.
The 2070 Super is better when looking at gameplay and the overall fps, but only marginally. When deciding between the two, you should take into consideration whether or not the slight increase in gameplay is worth the price increase.