Razer Audio Mixer: Hands on review
Razer enters the Audio Mixer market
Updated: Jul 26, 2022 10:47 am
We're all familiar with Razer, right? Big green branding, snakes with a higher than average number of heads, letters from the CEO in the box? Here at WePC, we've covered their stuff so extensively that almost everyone who works here has a Razer product of some description on their desk on a permanent basis.
This means we tend to keep a keen eye out for any of their new stuff, however, we have become a little bored of new revisions to their mice, keyboard, and headset lineups. This meant we were pretty keen when they announced that they were going to be making an audio mixer specifically for streaming. Unfortunately, it took us a while to get on in-house, but we've been playing with it for a few days and have some thoughts.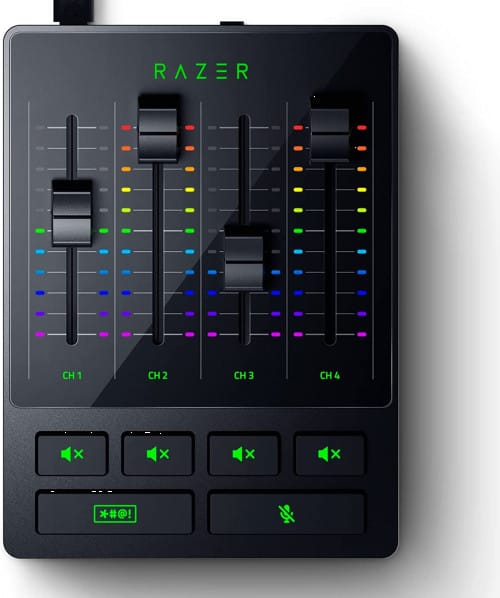 Hybrid XLR and 6.35mm port, 3.5mm Line In port, 3.5mm Line Out port, 3.5mm Headphone Out port. 3.5mm Microphone In port
1 x USB-C, 1 x Optical Audio Cable
155 mm x 115 mm x 55.3 mm
Flexible input options

Vibrant and useful RGB lighting

Censor button is a nice touch
Cannot be used to control wireless headsets
Razer audio mixer specs
Hybrid XLR and 6.35mm port, 3.5mm Line In port, 3.5mm Line Out port, 3.5mm Headphone Out port. 3.5mm Microphone In port
1 x USB-C, 1 x Optical Audio Cable
155 mm x 115 mm x 55.3 mm
Unboxing & setup
We've mentioned before that the unboxing experience of Razer products usually scales with the price of the product in question. However, the Razer Audio Mixer appears to be the exception to that baseless rule we made up. There is no high-density foam or magnetic clasps to be found here. Instead, the safety of the ~$250 mixer is entrusted to a soft-touch padded drawstring bag. Ours arrived in mint condition but we would have liked to see more extensive packaging here.
Box contents
Razer Audio Mixer
USB Type-C to Type-A cable
2x ground lop isolators
Quick start guide
Setup for the razer audio mixer begins simply, then takes a swift left turn when you remember that setting up a streaming device with a tonne of inputs/outputs is a particularly complex and sometimes loathsome experience. However, between the software, the paperwork, and the manuals for the devices you're going to be using with the Razer Audio Mixer, you'll be able to manage it with relative ease.
Design
We absolutely love the look of the Razer Audio mixer here at WePC. With the rounded corners, ergonomically-angled top controls, and RGB lighting it certainly looks the part. This puts it head and shoulders above other audio mixers as they are purely utilitarian in design, with no thought given to the overall look of your streaming setup.
We like RGB lighting here at WePC, It looks cool and provides ample opportunities for customization. The Razer Audio mixer might be the first time Razer's implementation of RGB lighting has actually resulted in a tangible increase in user experience. The lights do a great job at indicating exactly where things are, whether you're muted or not etc.
The buttons are worth mentioning here too as they've been designed with a pleasant rubberized finish and are almost entirely silent This is ideal for streaming purposes as rapidly spamming them won't irritate the audience or prevent them from hearing something more pertinent. Overall, this is one of the cleverest designs we've seen from Razer.
Build quality
Razer's history of build quality has been categorized as 'pretty good'. Their mice and keyboards usually stand up to some rough treatment, and their headsets aren't so bad either. However, given our relative inexperience with their streaming devices, we aren't super sure of the overall quality. Despite this, we are very impressed with the Razer Audio Mixer as it feels solid and planted, and all the switches, sliders, and buttons feel great.
Aside from the solid powder-coated aluminum housing, our favorite aspect is the construction of the faders. They have a decent level of resistance to their movement which both feels great and allows you to be precise with the positioning, even at a rapid pace. The aforementioned lighting helps reassure you of the exact level of the faders, and it call comes together feeling fantastic.
Taking a closer look at the fader switches we see that the vertical slots they run along have a small layer of silicon or other similar material beneath the surface of the mixer. This material is vertically bisected to allow free movement of the switches, but prevent errant crumbs from falling in and getting pulverized to dust at the next movement of a fader.
The only aspect of the build quality we don't like is the plastic plate on the bottom of the mixer. The sides are made from sturdy metal, so the plastic base feels comparatively cheap. Additionally, replacing this with a metal plate would add some weight to the bottom of the device, further increasing its stability. Given the ~$250 price of the thing, one more sheet of metal isn't too much to ask.
Performance & software
Given the customizable and addressable necessities of an audio mixer, we've lumped the performance and software categories together as they go hand in hand. We are pleased to report that it performs great and the software is mostly intuitive and streamlined. It's not the most comprehensive system, however, so hardcore streamers that switch between console and PC or have multiple mics will find the Razer Audio Mixer a little under-specced.
Once you've installed Razer Synapse, your first port of call will be the 'Customize' tab. Here you'll find a brief blurb outlining the changes you'll need to make in Windows audio settings, before making any changes in Synapse. It's worth noting here that if you're on Windows 11 and you have not activated it, you will be unable to change any of the Windows audio settings, so get that licence key ASAP.
After you've changed the Windows settings you'll be good to go ahead and bind the faders and buttons with reckless abandon. There are four faders that can be individually assigned to any of the following: Mic, chat, music, game, optical, line-in, or system. The four corresponding mute buttons can also be re-assigned but without quite as many options. Overall, it's a decently customizable piece of kit, but those of you who are familiar with streaming will probably spend more time in OBS or whichever streaming suit you use than Razer Syanpase so you can fine-tune your settings.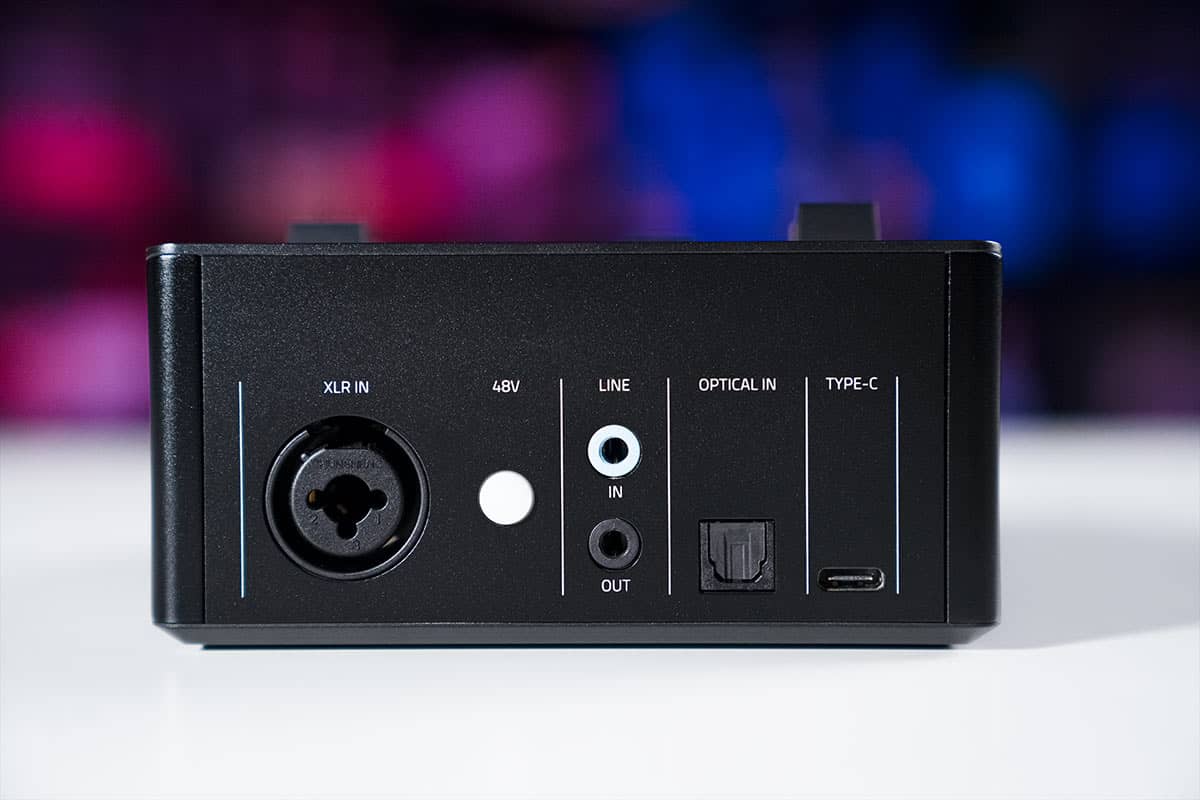 It's worth taking a look at the available inputs here as this directly correlates to how many devices and signals the Razer Audio Mixer is capable of handling. Here we find an XLR/6.35mm input which is ideal for either a professional-grade streaming microphone or an electric guitar, however, these are mutually exclusive so choose accordingly. After this, we find a 3.5mm line in and line out, which will be where your headset/headphones go in. Unfortunately, this mixer doesn't have the capability to control a wireless headset so you'll have to go old-school if you go with the Razer Audio Mixer. After this, we find the Optical in port which will most likely be used for a PS5 or Xbox Series X/S, and the USB Type-C power port.
Final verdict
Razer has created a functional, well-built, and good-looking Audio Mixer that will be able to handle the needs of a beginner to mid-level streamer with ease. While the design is smart and Razer's Synapse software is decent enough for customizability and control, professional streamers might find it lacking a wider variety of inputs and will be saddened by the lack of motorized faders. That last part is a big deal for those of you who rely on fader presets.
Razer audio mixer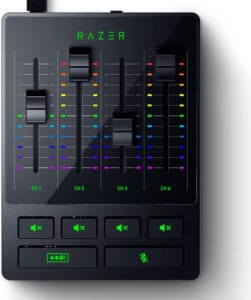 Analog connectivity
Hybrid XLR and 6.35mm port, 3.5mm Line In port, 3.5mm Line Out port, 3.5mm Headphone Out port. 3.5mm Microphone In port
Digital connectivity
1 x USB-C, 1 x Optical Audio Cable
Dimensions
155 mm x 115 mm x 55.3 mm
---