Razer streaming hardware launches, including an RGB key light: Pricing, news, and more
Now that's what I call RGB
Updated: Mar 11, 2022 10:41 am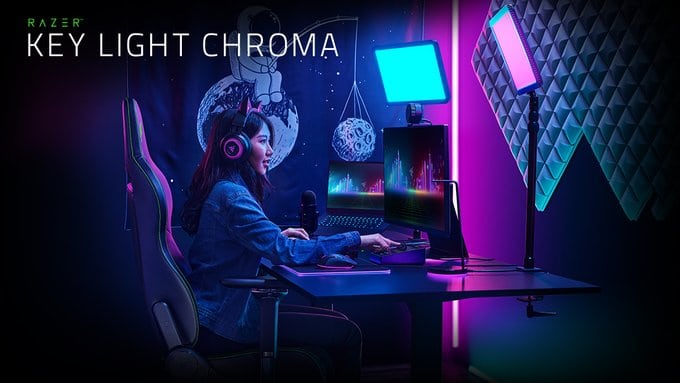 Razer streaming hardware has been a thing for a while, but now they've upped the ante with some new products, including an RGB key light. These products are aimed squarely at streamers and seek to help increase the quality and customization of streaming. Razer appears to be on a roll with new hardware announced, this comes just a few days after the launch of their Razer Huntsman Mini Analog. Razer started out as a somewhat humble peripheral manufacturer, generally sticking to gaming mice and keyboards in the early days. Over the last decade, they've slowly expanded their reach to include laptops, chairs, and yes, streaming products.
Razer streaming hardware announcement
Razer's new round of streaming focussed hardware includes a strikingly vivid RGB-enabled key light, a lavalier-style version of the Seiren streaming mic, and a comprehensive audio mixer too.
The Razer Key Light Chroma is the real star of the show here, and possibly the most RGB we've seen in one product, ever. But that's not all, it purports a very impressive list of specs, including a peak brightness of 2800 lumens, adjustable desk clamp, and a color temperature range of 3000 – 7000K. And of course, 16.8m colors for that essential RGB goodness.
The next new product in Razer's lineup is the creatively-named Razer Audio Mixer. This streamlines the mixing process by allowing hands-on physical control, instead of messing around with vague sliders and options in Synapse 3. As with the Key Light Chroma, the Audio Mixer features some surprisingly good specs. A full-size XLR port is a star here, allowing for the connection of professional-level audio devices. Alongside this is a plethora of ports including multiple 3.5mm and an old school 6.35mm. It would appear that you won't be short of connectivity for your streams here.
Last up is the Razer Seiren Bluetooth mic. Clipping to your lapel like a classic lavalier mic, it wirelessly connects to your mobile device to provide increased audio clarity when streaming on the move. This is particularly advantageous for vloggers or 24/7 streamers. It features active noise suppression and complete control from the Razer streaming app too.
Razer streaming hardware pricing
As with any new release, the prices are high, but with Razer's reputation for quality peripherals and high-performance products, it might be worth the price. The Key Light Chroma retails for $299, the Audio Mixer is $249, and the Seiren BT is $99. You can find additional information on the new products over on Razer's website.
---