Epic Games' Fortnite is by far one of the most popular battle royale games out there. Thanks to its addictive game style and arcade aesthetic, Fortnite has become a huge hit amongst younger and older audiences alike – with a huge competitive esports scene that rivals the likes of CS:GO and DOTA 2 to boot.
For budding gamers who want to get a piece of the increasingly lucrative esport+s pie, getting Fortnite running at optimal levels is absolutely essential. This is a game where every frame counts. Boosting your FPS in Fortnite could literally be the difference between winning and losing.
For that reason, we've decided to create this tips guide on how to make Fortnite run better on PC. We will cover the quickest, easiest, and most effective ways of boosting your in-game FPS to help take your play to the next level.
So, all being said, let's waste no further time and get straight into it!
How To Make Fortnite Run Better: In Short
This is the condensed version of this article. Below are the tips which will help improve your in-game FPS. Each tip will be explored in more detail further down the list, giving simple step-by-step instructions on how to carry out that adjustment.
Adjust In-game Settings
Change Windows Settings
Updated Drivers
Check For CPU/RAM Demanding Applications
Clean Your System
Upgrade Hardware
Fundamentally, these are the quickest and best ways of making Fortnite run better. However, if none of these work, maybe it's time to upgrade your hardware. We've compiled some data on different GPUs and what FPS they should provide over different graphics settings. That way you can select the best fit for your specific needs.
Fortnite PC Requirements
Before we get into the smaller adjustments you can make to increase in-game performance, let's first take a quick look at the physical requirements you need to run this game.
They are as follows:
Fortnite: Minimum Requirements
CPU: Core i3 2.4GHz
RAM: 4GB RAM
HDD: 16GB Free Space
GPU: Intel HD 4000 (integrated graphics)
OS: Windows 7, 8, or Windows 10 64-bit
DirectX: Version 11 or better
Fortnite: Recommended Requirements
CPU: Core i5 2.8GHz
RAM: 8GB RAM
HDD: 16GB Free Space
GPU: Nvidia GeForce GTX 660 / AMD Radeon HD 7870 or equivalent video card with dedicated memory of 2GB or higher VRAM.
OS: Windows 7, 8.1, or Windows 10 64-bit
DirectX: Version 11 or better
As you can see, Fortnite isn't the most demanding game out there. It has been well optimized to run on lesser PCs, meaning getting the extra FPS required shouldn't be too hard. With that in mind, let's take a look at the first tip.
Method #1: Adjust In-game Settings
The first and most effective way of getting better FPS in Fortnite comes by changing the in-game settings. This can mean anything from lowering the textures to simply changing the resolution. We recommend starting off with the absolute lowest settings the game has to offer, then working your way up until your system starts to lag.
Start by loading Fortnite and clicking on the burger menu in the top right corner
Inside the main menu, you will see a "Settings" tab, select it to open up the graphics settings
Inside you will have an array of graphical options to change. As mentioned above, we recommend starting from the lowest and working your way up. See image below: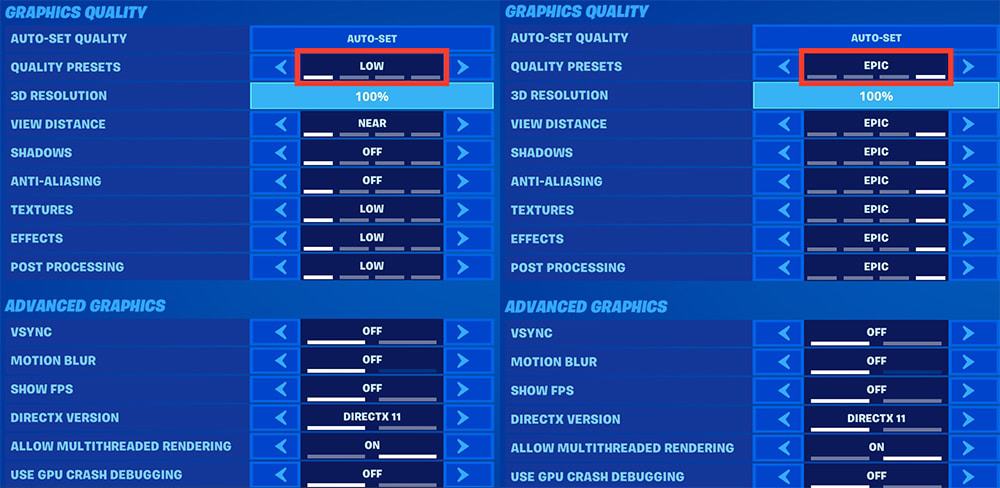 If you want to learn about graphical settings and how they affect your in-game performance, why not check out these comprehensive guides
Method #2: Change Windows Settings
For people who are already operating on the lowest settings, try adjusting these Windows settings to help boost in-game performance.
Tip 1: Activate Game Mode
This one is pretty straight forward, simply type "Game Mode" into Windows search at the bottom left of your desktop:
Select "Game Mode Settings" from the popup menu:
You will now see a button to activate Game Mode. Select "On" and your Windows will optimize itself for gaming performance.
Tip 2: Alter Power Settings
You can do further tweaks to your Windows by changing the power settings to high performance.
Start by typing "Power Settings" into the Windows search bar:
Then select "Power & Sleep Settings" from the popup menu:
Underneath "Related Settings", select "Additional Power Settings":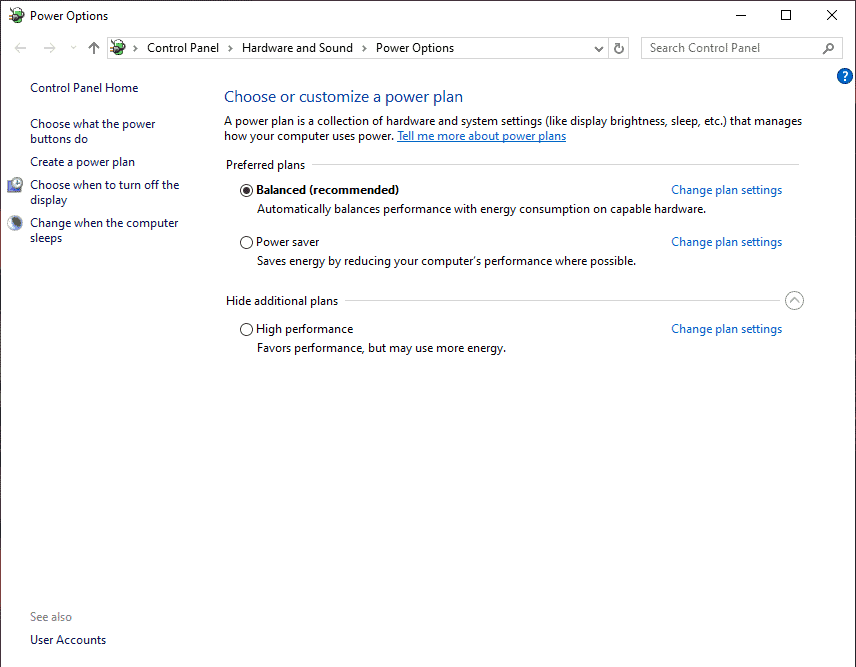 Inside this tab, you will see a number of different plans that have unique characteristics. For gaming, we recommend selecting the "High Performance" plan:
Tip 3: Update Drivers
For the longest time, I thought updating drivers was a complete waste of time – a theory that has been proven incorrect countless times over since.
Luckily, updating your system drivers is a pretty simple task. And even though it won't necessarily boost your in-game FPS much (if at all), it could have a major impact on how smoothly it runs.
One of the easiest ways of updating your drivers is by installing a useful tool called Driver Easy. This will scan your system and recognize the components it comes equipped with. After this, it will automatically scan the web to find the most up-to-date drivers.
Start by downloading and installing Driver Easy
Once installed, run the drive application and click the "Scan Now" button
Driver Easy will now scan your computer for all outdated and available drivers
Once the scan is complete, Driver Easy will display all available driver updates. Simply select the drivers you wish to update and Driver Easy does the rest
BE AWARE: Unfortunately, you are limited to ten drive updates using the free version of this app. However, for the purpose of this tutorial, you may only have to use this feature once anyway. If you want to upgrade to the Driver Easy Pro, however, it's relatively straight forward to do.
Tip 4: Check for CPU/RAM demanding applications
A lot of modern games now depend more heavily on the GPU over the CPU. Having said that, gaming is still heavily impacted by background applications that sap your CPU and RAM whilst you're gaming. Especially if you're running on an old CPU that has not been designed with hyperthreaded technology.
Once again though, the process of shutting down these applications is very quick and easy.
Open up Task Manager. You can do this by entering "taskmgr" into the Run dialog box, or via "ctrl+alt+del"
Inside Task Manager, select the "Processes" tab. Inside you will be able to see every running application on your system. Next to each application, you'll be able to see how much of your CPU, RAM, Disk, and Network it is using. Find the most demanding apps and simply end them by right-clicking the app, and selecting "End Task" from the pop-up menu
Tip 5: Upgrade Your Hardware
If all of the above has zero effect on your in-game FPS, the next logical step is to simply upgrade your PC. Luckily, you can buy a completely new PC for $300-$500 that will be more than powerful enough to run Fortnite.
If buying a new computer is too expensive, start by upgrading your graphics card to something a little more powerful. An RX 550 (a relatively cheap GPU) should get you a comfortable 70-90 FPS in low settings. Having said that, the upgrade that showcases the best value for money would be to upgrade your CPU to a Ryzen APU. Obviously this won't work for everyone, as they may not be equipped for an AMD build.
Below we've compiled some Fornite FPS data using different GPUs from different price points:
Final Thoughts
So, there you have it, our comprehensive guide on how to make Fornite run better on PC. It's worth mentioning that a lot of these methods will also work with laptop users as well. Console users, however, will not find any help in this thread.
If you've had success making Fortnite run better with a method we've not showcased, why not help out the Community by leaving a comment below!