2019 has been an incredible year for gaming, especially PC gaming. We've had great new games releasing throughout the year, and it's been difficult to fit them all in – even for us. But, I spoke to the WePC team, and we all voted on what our top PC games 2019 were. So, without further ado, let's dive into our top picks for the best PC games of 2019.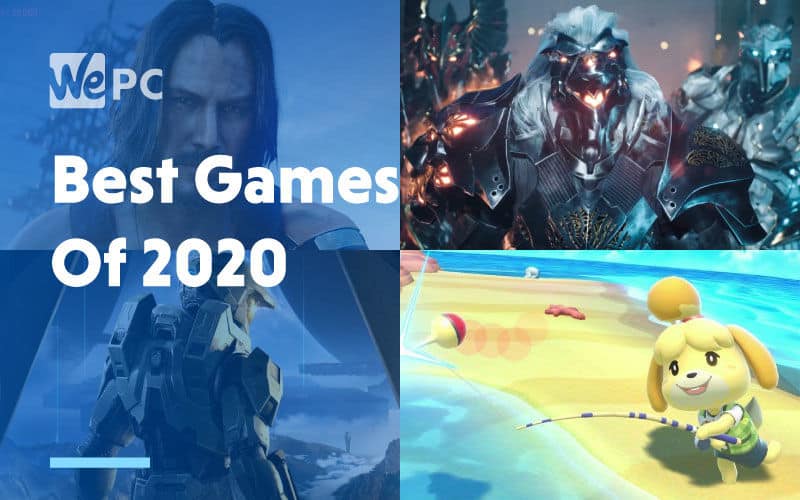 The Best Games Of 2020: 10 Games We're Looking Forward To The Most
Take a look at our top picks for the best games of 2020 across PC, Playstation, Xbox, and Nintendo Switch. Did your favorites make the list? Click below to find out!
1. The Outer Worlds
One game release that surprised us all this year was The Outer Worlds. Released on PC, Xbox, and PS4 (and coming to the Switch next year), we knew this game was going to be big, but, we never expected it to be this big. A fun-filled RPG that is reminiscent of cult-classic TV show Firefly mixed with all the best elements of a Fallout game, this was our stand-out hit of 2019.
2. Untitled Goose Game
We couldn't talk about 2019 without mentioning Untitled Goose Game. This indie game that literally sees you playing a goose that steals stuff, was an interesting hit. It's zany nature soon transformed it into an internet legend. It's ridiculous and weird, and we love it.
3. Star Wars: Jedi Fallen Order
After more than one Star Wars game release that was met with groans, the latest addition to the saga was much anticipated. Thankfully, what we got was a story-driven adventure that really felt like a welcome change of pace. Even the biggest Star Wars nerd in the office (Mike, I'm looking at you) seemed to be impressed – and that's saying something.
4. Resident Evil 2
We've been playing Resident Evil in one form or another for two decades now, but the remake of Resident Evil 2 managed to bring something fresh and exciting to the table. Somehow Capcom managed to recreate the game in a way that made it feel modern without compromising on the nostalgia. Survival horror at it's best, with a sequel on the way.
5. Borderlands 3
The original, and still the best, looter shooter around, Borderlands 3 was another instant hit. With more guns than we can count, this game is a riot of fun and mayhem. While there wasn't anything groundbreaking about the franchise's third outing, it was still a staple on the PCs here in the office. During our lunch breaks, of course…
6. Magic The Gathering: Arena
Bringing the classic card game, Magic: The Gathering, to PC was never going to be an easy task – especially with a fan base as dedicated as this one. But, this reimagining of this competitive deck builder did the trick! Players build their decks just like the original game, but there is less of a need to pour all your life savings into the game to actually have a chance at winning.
7. Sekiro: Shadows Die Twice
If gruesome is your favorite video game genre, then Sekiro: Shadows Die Twice should be right on the top of your list. A story-driven RPG with intense combat, you have to get used to looking your enemies right in the face when you kill them – but it's worth it.
8. Disco Elysium
This indie investigative game made a clean sweep at The Game Awards this year. Appearing from seemingly nowhere, Disco Elysium was an instant hit. After waking up naked and suffering a case of amnesia, you play a detective tasked with solving a gruesome murder. But, at the same time, you have to try and remember who you are along the way.
9. WoW Classic
With nostalgia being such a hot topic right now, Blizzard decided to cash in by bringing us back to the vanilla servers of old with WoW Classic. For those of us who haven't been with WoW from the beginning, it was a steep learning curve as we realized how coddled we had been with the newer interface. But, it was an instant hit, despite the hold-up getting on to the servers.
10. Gears 5
The final game on our list for 2019 is Gears 5. The latest installment in the Gears of War series, this time we followed Kait (voiced by the incredibly talented Laura Bailey) as she tries to discover more about the past that haunts her. In the lead-up, we were gifted with a whole host of trailers to get us invested, and it certainly worked!
Final Word
So, there you have it! These are our top picks for the best PC games of 2019. But, what were yours? Did we leave anything off the list? Let us know in the comments below!