Christmas is nearly upon us once again, and children (big and small) everywhere are getting their wishlists ready to send to Santa. And, for us gamers, that means trying to choose from the myriad of new game releases and pre-orders that have graced the stores this year, and it's not an easy task.
Check out our Best Gifts For Gamers and Best Gifts For Gamer Kids buying guides as well to make sure you're hitting the nail on the head with this year's gifts!
2019 has been a huge year for gaming, with hotly anticipated releases happening, seemingly, every week. We've been so busy covering release dates, game announcements, and game reviews here, we've hardly had a moment to sit back and reflect on what games would actually make our Christmas lists. Until now.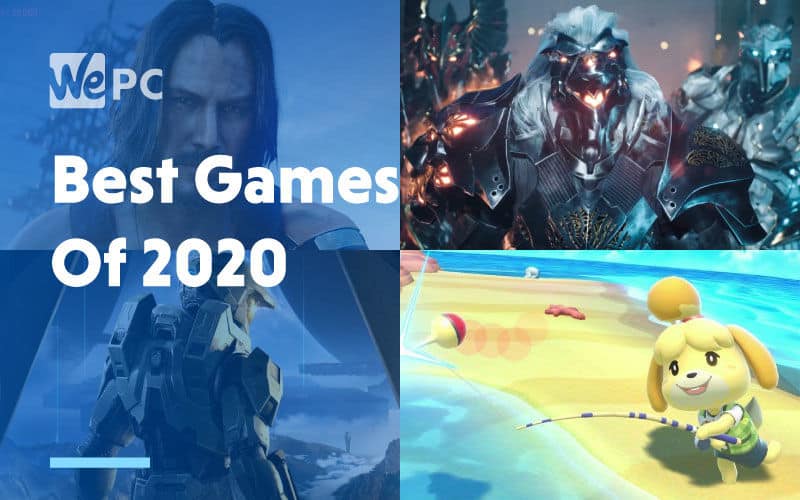 The Best Games Of 2020: 10 Games We're Looking Forward To The Most
Take a look at our top picks for the best games of 2020 across PC, Playstation, Xbox, and Nintendo Switch. Did your favorites make the list? Click below to find out!
Read More
Best PC Build For Gaming
Before we get to the games, you want to make sure that you're set up to enjoy them come Christmas Day, and that means getting an up-to-snuff gaming PC. You have two options here, you can choose to purchase a prebuilt gaming PC or you can build your own. Both are viable options, but you will spend more buying prebuilt than you will building from scratch.
Best Prebuilt For Gaming
If you just want to get right to it and be able to play the best games of 2019, then a prebuilt gaming PC could be the perfect option. We recommend this build from iBUYPOWER. It's powerful enough to play the best AAA games and can even handle VR – all for under $1000.
Best PC Build For Gaming
For those that want to build their own PC, either to save money or just to get their hands on something more tailor-made, we recommend our $800 build. It has the perfect balance between price and performance and beats console systems hands-down.
Consoles
Of course, if you're more of a console gamer, or you want to get your hands on some of those console-only games, you're going to need the latest hardware. There may be next-gen releases on the horizon in the form of the PS5 and Xbox Project Scarlet, but existing consoles still pack a real punch when it comes to a great gaming experience.
Buy PS4 | Buy Xbox One | Buy Nintendo Switch | Buy Nintendo Switch Lite
New Game Releases You Need To Play
Let's start off our Christmas wish list with some of the hottest new releases that you can't miss out on playing across PC and console gaming.
The Outer Worlds
A charming, witty, and incredibly replayable game, The Outer Worlds surprised everyone with just how jaw-droppingly popular it became. You play as the sole survivor (for now, at least) of cryogenics until you're rescued by a zany professor. What happens next is entirely up to you as the choices you make will influence which direction the story goes in.
Pre-Order Now: PC
Pokemon Sword and Shield
The latest in the long-running Pokemon franchise, this Nintendo Switch game has been up and down and up again in fans estimations since its initial announcement. The reception since it's release has been a bit of a mixed bag, but there's no denying this is a game that Pokemon fans will still enjoy. 
Buy Now: Nintendo Switch (Sword) | Nintendo Switch (Shield)
Death Stranding
One of the weirdest and most wonderful games of the year, Kojima Productions' Death Stranding was met with rave reviews from day one. This strange and wonderful game takes you on an intriguing and mysterious journey that reflects creator Kojima down to a tee. If you're looking for a typical game, look elsewhere. This is as weird as it is wonderful, and will definitely not be what you're expecting. 
Buy Now: PS4 
Pre-Order Now: PC
Gears 5
The most recent game in the Gears of War franchise, Gears 5 follows the story of Kait as she attempts to uncover more about her past and how it is affecting her. Filled with the same kind of heart-pumping action that we know and love, this was a welcome addition to the GOW saga for many. 
Luigi's Mansion 3
Another big hit for Nintendo this year was with Luigi's Mansion 3. The game was everything you would expect from the studio's titular plumber, and the added multiplayer options opened up the game to even more players. 
Buy Now: Nintendo Switch
Disco Elysium
A dark horse of gaming, Disco Elysium flew under the radar right up until it's release when gamers everywhere fell in love with it. You play as a detective attempting to uncover the culprit of a murder. The game plays like a "Choose Your Own Adventure" that manages to draw you into every decision and clue.
Buy Now: PC
The Best Games You Might Have Missed
Mortal Kombat 11
Whether you're a fighting game veteran or haven't played since the true-2D days of the original Street Fighter games, Mortal Kombat 11 should be high on your Christmas list. This game manages to be accessible to newcomers, endlessly entertaining (the Fatal Blows are glorious), and challenging to more discerning players, all in one game.
Buy Now: PS4 | Xbox One | Nintendo Switch | PC
Control
A mind-bending puzzle game with some interesting action sequences, Control fast became the game of the moment when it released earlier this year. With hidden clues to find throughout the game and an insane amount of attention to detail, this game provides entertainment value while managing to creep you out at every turn. 
Apex Legends
After its surprise release, Apex Legends found itself with a player base of 25 million in a matter of days, cementing its position as one of the most popular battle royale games at the moment. Now in its third season, it continues to sit comfortably among other similar titles and keeps attracting new players to the game. 
Borderlands 3
If you've played any of the previous Borderlands games, then Borderlands 3 will feel like coming home. With a litany of insanely entertaining guns to find, the game manages to feel fresh while still keeping the original game style. Fun, irreverent, and filled with shoot and loot gaming – if you're looking for a fun shooter, this is the game for you. 
Legend of Zelda: Link's Awakening
Fans of the classic Nintendo hero Link weren't disappointed with his latest outing in Legend of Zelda: Link's Awakening. What was actually a loving remake of one of Nintendo's classic games quickly became a new fan-favorite. Exploring the uniquely interesting Koholint Island, players control Link through a series of puzzles and battles. 
Buy Now: Nintendo Switch
Devil May Cry 5
Filled with heart-pumping combat, coolness ranks, and a rock soundtrack to your success, Devil May Cry 5 is a riot of fast and loose gaming. You play as three different protagonists – each with their own fighting styles – and get to shoot, slice, and maim your way through thousands of demons in this fun-filled adventure. A must for fans of the series, and fans of gaming alike. 
Fire Emblem: Three Houses
With 70 hours of gameplay from start to finish, Fire Emblem: Three Houses is a welcome update to the well-loved turn-based strategy franchise. While you're still commanding armies to wage war against each other, the updated story aspects with your choice of house help to keep it feeling fresh and modern. 
Buy Now: Nintendo Switch
Sekiro: Shadows Die Twice
A game that is every bit as dark as it is enthralling, Sekiro: Shadows Die Twice has been one of the highlights of gaming in 2019. You play as an instrument of death as you search for your abducted lord in Sengoku-period Japan. The range of attacks, killing blows, and skills make this game a dark, twisting experience perfect for lovers of Bloodborne-style games. 
Upcoming Games To Pre-Order
Animal Crossing New Horizons
Another of Nintendo's beloved game series that's getting another installment is Animal Crossing. New Horizons sees the player abandoned on a desert island, and allows you to build your own home and camp from scratch. Tom Nook is still there, along with everything we love about the series, but this time, with a tropical vibe.
Pre-Order Now: Nintendo Switch
Final Fantasy 7 Remake
For anyone who spent hours and hours controlling Cloud, Tifa, Barrett, and friends save the world from an evil corporation and a one-winged angel – the Final Fantasy VII remake cannot come sooner. The first part will be released in March 2020 and focuses on the Midgar storyline. It's available to pre-order now, so you can make sure it's ready and waiting come release day.
Pre-Order Now: PS4
Cyberpunk 2077
Thanks to a cameo by Keanu Reeves, Cyberpunk 2077 has become one of the must-have games for 2020. This FPS game comes with a bevy of character creation options as well as the kind of point and shoot aspects you'd expect. But, it also gives us plenty of options for non-violent conflict-resolution, making it stand out from other similar titles.
Pre-Order Now: PS4 | Xbox One | PC
DOOM: Eternal
For all of us who remember the heart-pumping action of the original game, DOOM: Eternal looks set to get our pulses racing once more. The heavy-metal shooter adventure comes with a bevy of new features like the laser ax, shoulder-mounted flamethrower, and new 1v2 multiplayer mode. After being pushed back from its original release date, the game will now release in March 2020.
Pre-Order Now: PS4 | Xbox One | PC | Nintendo Switch
The Last of Us Part 2
After the huge commercial success of the first game, when Naughty Dog finally gave us a release date for The Last of Us Part 2, fans were understandably excited. This sequel takes place a few years after the end of the first game and sees an older and strong Ellie heading out on her own. The trailers all seem to center around revenge, and we can't wait to see the next part of this story. 
Pre-Order Now: PS4
Final Word
How many of these games are on your Christmas wishlist? Let us know which releases you're looking forward to most in the comments below, and discuss with fellow gaming lovers over in the WePC Community.