Corsair Xeneon Flex release date prediction, specs, & possible price
Corsair break the mould with this foldable OLED gaming monitor
Updated: Dec 14, 2022 3:29 pm
After much anticipation, Corsair's bendable OLED gaming monitor is almost ready for release. It will be available for pre-order on 15/12/22, with pricing for the 43-inch panel marked at $1,999.
Corsair has officially unveiled the world's first bendable OLED gaming monitor. That's right, the brand better known for gaming mice and keyboards is releasing a never before seen gaming monitor that could pave the way for future display design.
READ NOW: LG launch 42-inch bendable gaming monitor
Corsair has partnered up with LG Display for the new Xeneon Flex 45WQHD240, utilizing one of the brand's high-performance OLED panels. Due to the nature of OLED technology, it will offer up bendable functionality – something Corsair will be taking full advantage of.
Users will be able to adjust the Xeneon Flex between fully flat (for strategy and productivity applications) and 800R curved (for shooters, sims, and movies).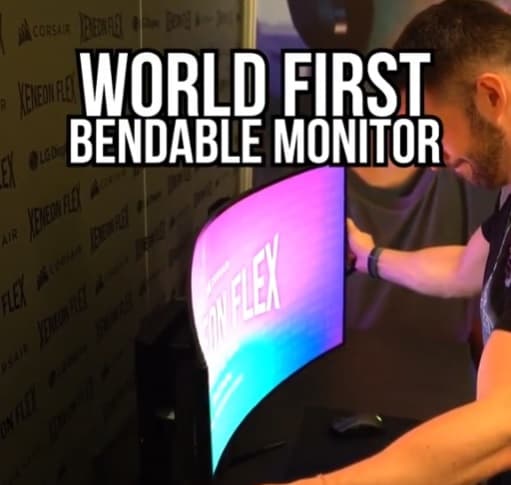 READ NOW: Samsung Odyssey Ark launches in US
At 800R, it will make the Corsair Xeneon Flex even more intense than all of Samsung's high-end Odyssey gaming monitors – which max out at 1000R.
Most monitors in today's market opt for a more relaxed 1800R curve, however, Corsair has decided against this with the new Flex.
We'll be making regular updates as and when they're announced.
Corsair Xeneon Flex release date
The Corsair Xeneon Flex finally has a release date, set for 15/12/22.
That's bang on time for Christmas – perfect timing for those last-minute Christmas shoppers who want to get their gaming enthusiast a great gift.
It will have to compete with similar OLED panels over this time period, so it'll be interesting to see how the flexible capabilities of the panel are received.
READ NOW: Samsung Odyssey G8QNB monitor
How much will the Corsair Xeneon Flex cost?
The Corsair Xeneon Flex will cost $1,999 on launch – making it one of the market's pricier options.
If we look at some of the market's other OLED gaming monitors, it still seems to showcase fairly good value for money, especially when you factor in some of the features it comes equipped with.
With OLED monitors more desirable than ever, we find it hard not to see this monitor doing well upon launch.
READ NOW: ASUS ROG SWIFT PG42UQ review
Corsair Xeneon expected specifications
Fortunately, we have plenty of information regarding the Corsair Flex specifications.
According to official reports, the Flex will utilize an LG Display W-OLED display, offering up stunning picture quality, perfect blacks, and infinite contrast ratio.
It will sit at an eye-watering 45 inches and will feature a 3,440 x 1,440 screen resolution (21:9 aspect ratio). While that does seem a little lacking for a 45-inch screen, the proof will be in the pudding – with a review sample expected in the WePC studio before the end of 2022.
LG Displays will be also be utilizing some of its features on this monitor, including Low Blue Light technology to reduce eye strain over long periods of time.
Despite being OLED, users can expect an impressive 1000 nit peak brightness from the monitor – with sustained brightness much lower.
A rapid 0.03ms GTG response time is expected from the OLED technology in this screen, alongside an equally impressive 240Hz refresh rate – making it a great choice for competitive gamers.
Hopefully, the Xeneon will feature some kind of customizable aspect ratio (like the PG42UQ) – which allows users to resize the screen in 24, 27, and 34 inch variants.
G-Sync and FreeSync compatibility is expected for this new panel, alongside a tonne of core features that prioritize in reducing burn-in and image retention.
See full specs list below:
| Specification | Corsair |
| --- | --- |
| Size | 45-inches |
| Panel technology | LG W-OLED |
| Resolution | 1440p |
| Curvature | 800R – Flat |
| Refresh rate | 240Hz |
| Response time | 0.03 ms |
| Pixel on-off time | 0.001 ms |
| Peak brightness | 1000 nits |
| Contrast ratio | 1,350,000:1 |
| Features | G-Sync, Freesync, HDR |
| Price | $1999 |
Corsair Xeneon Flex Vs Alienware AW342DW QD-OLED
Corsair could very well be going toe-to-toe with the Alienware AW3423DW when it finally launches, with both displays featuring similar 1440p curved panels.
However, that is where the similarities end.
The Xeneon Flex will feature OLED technology while the Alienware will offer QD-OLED tech – the latest arrival in display technology that sees the best qualities of both Quantum Dot and OLED merged.
What does this mean for performance? Well, it means the Alienware will feature a higher peak brightness, more accurate colors, and a wider color gamut.
That said, the Flex will offer up a more intense curve and better refresh rates for gaming.
Overall, it's tough to separate these two panels – especially when you consider just how impressive they will both be.
It could all come down to price at the end of the day – and with the Corsair Flex featuring a bendable display, it could very well be much more expensive than it's QD-OLED alternative.
READ NOW: Best QD-OLED TV
Corsair Xeneon Flex video
For anyone who missed it, here is the official Corsair Xeneon Flex reveal video:
---