*Updated* Meta Quest 3 release date prediction & What we want to see
Looking for information on Meta's latest headset? We've got it all here.
Updated: Sep 12, 2022 9:59 am
It's been a hell of a year for the folks at Meta, with the whole rebrand and more, but we're here to give you the lowdown on the upcoming Meta Quest 3.
With the Meta Quest 2 having been proven pretty popular, with record-breaking sales over the last holiday period, it makes sense to iterate on a good thing and further improve one of the best VR gaming headsets.
To be clear, the official name has switched over to the Meta Quest, but a ton of people still call it Oculus. It seems like a shame to ditch the iconic logo and naming, but hey. Mark Zuckerberg has a bigger brain than all of us combined.
The obvious successor to the Meta Quest 2, the Meta Quest 3 is in the works, and with reputable sources coming out of the woodwork and telling us that Meta wants their own custom silicon ready for launch, the headset is poised to make use of the Qualcomm Snapdragon XR3, a custom SoC that we've seen in previous generations in the Oculus Quest 2. The catch? It might not come out as soon as you might like.
READ MORE: PSVR 2 release date and specs
*UPDATED* Meta Quest 3 release date expectation
*UPDATED AUGUST 1*
Mr. Lynch has come through again with a fairly concrete expected release date, We are now looking at an October 25 2022 launch. Pre-orders might become available during The Zucc's keynote speech at Meta Connect.
*Updated July 25*
We are now hearing reports that the Meta Quest 3 may take longer than we had initially thought. This information once again comes from Brad Lynch.
The Meta Quest 3, now codenamed Stinson, is supposedly now releasing somewhere around Holiday 2023. This is unfortunate as we had previous hopes of late 2022/early 2023 as potential Meta Quest 3 release dates.
However, this could be seen as positive news, as it gives the dev team more time to meet the potential spec we're hoping for
---
According to VR / XR expert Brad Lynch, we might not be seeing the Meta Quest 3 until at least 2023, however, a surprise launch to coincide with the 2022 holiday season.
This would be an especially shrewd move, time notwithstanding, as the Meta Quest 3 will no doubt be a highly sought-after Christmas gift, particularly if the price is as accessible as the current Meta Quest lineup.
This is because of the ramping up of production that needs to occur when the new SoC has been finalized, which is rumored to come with a beefy GPU to handle cutting-edge VR workloads while on the go.
However, if these plans fall through the cracks, it's very likely that the chip that the Meta Quest 3 or Meta Quest 3 will be using is the XR3.
What is likely to be based on is the Snapdragon 8 Gen 1, but they may also be basing it on a newer generation of hardware they have in the worlds at Qualcomm and Meta, too.
While Meta has partnered with Qualcomm for the custom SoC, it could have easily partnered up with the likes of Samsung, who are in partnership with AMD for an RDNA 2-based GPU on the arm platform that we would have liked to have seen.
Regardless, Qualcomm is a reliable and consistent foundry, and the same cannot really be said for the struggles going on at Samsung at the moment.
The headset has apparently been in development for years, first mentioned by Mark Zuckerberg as far back as early 2021 in an earnings call. He stated to investors then:
"It's not like software where we're changing it every couple of weeks. We have product teams spun up now working on the next few generations of virtual reality and what Quest 3 and 4 are gonna look like."
It's also speculated that we could be seeing an announcement at Meta's connect 2023 event, and released afterward. This would pip the Quest 3's reveal for taking place in October 2023, which is still a while away.
But, that's not all that's in the works right now at Meta, they're cooking up alternatives to the Quest, which is a headset that only occupies one corner of the VR market, they are also looking at the higher end of the spectrum with the Meta Quest Pro, in addition to Project Cambria.
Meta Quest Pro
We've recently learned that Meta will be releasing two headsets soon, the Meta Quest 3, and the Meta Quest Pro. These are codenamed Stinson & Cambria respectively.
Meta Quest Pro potential features
According to a tweet from trusted insider Ming-Chi Kuo, the Meta Quest Pro could have full support for Facial expression recognition. While we aren't sure exactly what that entails, it could be a game-changer, depending on how developers choose to utilize it. Or it could be creepy, who knows?
We've also heard that the large rings that encircle the Quest 2 controllers might be removed, instead opting for camera-based tracking, but confirmation on this remains to be seen.
Meta Quest Pro price
As per usual in the world of tech and gaming, a "Pro" suffix automatically incurs an additional price premium. We've heard that the price might be somewhere around $800, which is a pretty substantial increase from the current Meta Quest pricing.
This comes from the Meta VR Roadmap. A more detailed version of this can be found on theinformation.com. Whether or not this price increase will be justified remains to be seen, but we'll keep you updated right here.
Meta Quest 3 expected price
We expect the Meta Quest 3 to come with a price tag of $299 / £299 / €299. This is because we have a clear trend thanks to the lowest price point of previous devices, with both the original Quest and Quest 2 launching at this price point.
It's clear that Meta wants to get as many people as possible through their doors, so with the hardware, they may be subsidizing the cost in order to get more people through the door to make VR development on the platform used for most people.
Mark Zuckerberg has expressly stated that they want 10 million users on the platform, a goal which they recently passed in late 2021.
So, will Meta be rushing to subsidize headsets to get more users onto the platform when the Quest 3 arrives? Only time can answer that particular question.
We'll be sure to update this page if we hear anything expressly different regarding the next-generation headset's pricing.
*UPDATED*
In the last few days, we've learned that Meta is going to raise the price of the Meta Quest 2 by exactly $100, beginning at the very start of August.
This is to help offset the cost of development for the Meta Quest 3, and further forays into the world of VR, AR, and MR. This money will also help fund Mr. Zuckerberg's eventual Metaverse too.
How to pre order the Meta Quest 3
We've had no official word regarding Meta Quest 3 pre orders yet. Our best guess is that pre-orders will go live very shortly after it's officially announced, mostly likely at The Zucc's Meta Connect event on October 11.
IF you're eager for more information, we've put together a whole 'When can I pre order the meta Quest 3' page, head over there for the most up-to-date info we've got.
*UPDATED* Meta Quest 3 resolution
Given the all-now HDR OLED screens that Rumor-Baron Lynch seems sure of, we could be expected a nice bump in resolution too. Especially as the Meta Quest will be going up against the PSVR 2.
The current Meta Quest 2 has 1832 x 1920 resolution per eye, which is fantastic, as anyone who's tied one will tell you. But, these days, 8, 6, and 12k resolutions are possible, so bumbling around the 1080P mark seems a little pedestrian for the Zucc.
We're expecting something between 1080p and 4K. Resolution is a particularly vital aspect of a VR headset, due to how close the screens are to your eyes. If Meta wants people to upgrade to the Meta Quest 3, they'd better bump the resolution up.
*UPDATED*
We've now got what seems to be a confirmed final resolution for the Meta Quest 3. Given the approaching release of the product, it's almost certain that the headset has started full-scale production too.
Brand Lynch has come through with the details once again here, with a small code snippet for the 'Eureka865' (Quest 3). This shows a single display running at 4128×2208. This is a massive 30% increase in pixels over the Meta Quest 2.
The technologically-minded among you will notice that this is actually a higher resolution than full-on 4K. However, the single display might be a turn-off for some people, especially those fond of a wide FOV.
Meta Quest 3 controller rumors
One of the most well-received aspects of the Meta Quest 2 was the controllers. However, they relied on wasteful, inefficient, and environmentally-unfriendly disposable batteries.
We'd like to see a more sustainable solution for this, preferably a user-replaceable battery pack rechargeable by USB Type-C. This would allow for fast charging, and allow replacement when the battery pack finally bites the dust.
Just like with essentially everything else in this article, Mr. Lynch has come through once again, with supposedly official CAD schematics for the Meta Quest 3 controllers. Lets have a look at them and see what we can find.
From these images, we can see a few things for sure, the most notable of which is the massive batteries that take up the entire handle. They are also unremovable, which is good for convenience, but bad for extended play sessions.
We can also see 3 contacts for charging, which would be super convenient, especially seeing as the huge price of the Meta Quest 3 hints to use that it'll include a wireless charging dock.
Meta Quest 3 potential specs and features
The Meta Quest 3 is expected to run a custom SoC developed by Meta according to expert Brad Lynch. Though if these plans fall through we could instead see them relying on a solution from Qualcomm such as an XR3 chip, for example.
We expect that the Meta Quest 3 or Meta Quest 3 will retain all of the features that the two previous Quest headsets have, in addition to throwing in a couple of tricks of its own.
With the Quest 2 now having a 120Hz refresh rate, this appears to be a good sweet spot for the headset to hit in, though some solutions with 240Hz are being tested by certain display manufacturers, it might just be too much power for whatever SoC that meta is putting into the Quest 3. 240Hz is a lot of frames, so it will require an incredibly powerful GPU to run.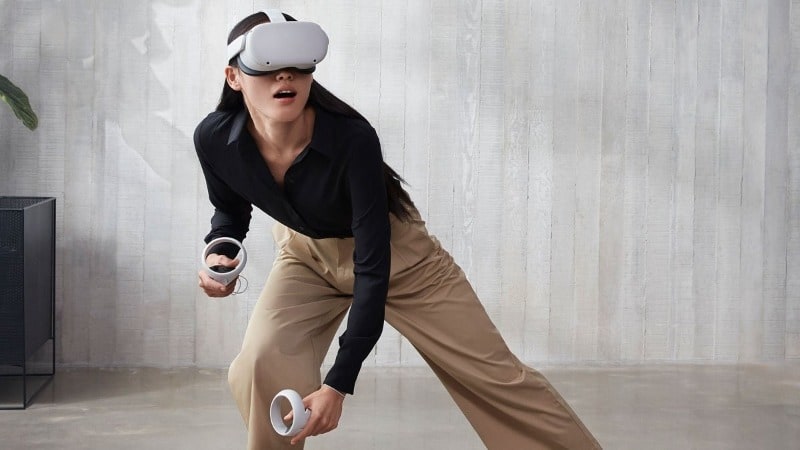 However, we've heard via the rumors from expert Brad Lynch, that the Meta Quest 3 may be using a uOLED display, which will be a huge upgrade over the current LCD panels present in the Quest 2.
uOLED is a more advanced form of OLED, which will make for better color reproduction, accuracy, and much more brightness, all the while being slightly more economical due to the way that an OLED panel works.
Additionally, Mark Zuckerberg has previously spoken about his desire to put eye-tracking and face tracking into their next headsets, so it's likely that we will see this in some form with the Quest 3, whenever it might be announced.
"One of the things I'm really excited about for future versions is getting eye tracking and face tracking in because if you're really excited about social presence you want to make sure the device has all the sensors to really kind of animate realistic avatars so you can communicate well."
Brand Lynch has also given us his best and final guess on the Meta Quest Pro specs. for the full info, check out his blog, Sadlyinreality, but here are the final predicted Specs for the Meta Quest Pro.
Qualcomm Snapdragon XR2 5G SoC
12 GB LPDDR5 RAM
256 GB Storage
10 Sensors + IR Depth Projector for Mixed Reality
(2) "Canyon" – 640 x 480 (IOT, IR Constellation tracking, Hand Tracking)
(2) "Glacier" – 1280 x 1024 (Depth, Passthrough, IR Constellation Tracking, Hand Tracking)
(1) "Teton" – 2328 x 1748 (16MP RGB Passthrough overlay)
(5) "Esker" – 400 x 400 (Face Tracking, Eye Tracking)
Dual Tianjin-3 QLED Panels
2160 x 2160 per eye (1800 x 1920 rendered per eye)
Quantum Dot layer for better color gamut
MiniLED backlighting for local dimming
Counterrotated at 21 degrees to improve vFOV
Custom Pancake Lenses
WiFi 6E Capable
Improved Spatial Audio
5000 mAh Li-Ion Battery (dock charging available)
$1500 for the Full Kit (HMD, Controllers, Charging Pad, Cables, Documentation)
Pre-Orders begin during Mark Zuckerberg keynote at Meta Connect
Street/Release Date: October 25th, 2022
Meta Quest 3 wireless
As with Quest 2, there will be no need to connect the Meta Quest 3 to a PC as it's entirely standalone, however, they'll probably reintroduce Oculus air link to further expand the capabilities of the device.
Additionally, we're hoping for some kind of wireless transfer/upgrade from the Meta Quest 2. this could mean a total transfer of any existing games from the current gen.
This would make the process of upgrading super easy, similar to how you can essentially transfer everything from one iPhone to a new one.
Meta Quest 3 refresh rate
We're hoping for at least 165hz here. Not only will it help the immersion and overall enjoyability, but there's a very real reason why higher frame rates will make the quest better, and it's about accessibility.
You might be familiar with the nauseous sensation that VR can provide. This is due to a mixture of inadequate response time and a lower frame rate.
If the Meta Quest 3 frame rate is between 165Hz and 240Hz, over the current Meta Quest 2's 120Hz refresh rate, this problem could be lessened by a large amount. This would increase the market for the Meta Quest 3, and VR as a whole.
Meta Quest 3 storage
One of the biggest issues with the Meta Quest 2 is its lack of expandable storage. You're limited to the built-in capacity of either 128GB or 256GB, this can very quickly run out, especially with games being the sizes they are.
So, we're hoping for the addition of an SD card slot. You can currently get MicroSD cards up to a huge 1TB in size and their theoretical maximum is far higher than that.
If Meta is listening to audience feedback, they might add this functionality, which could eliminate the juggling of games as you desperately try to make room for the latest and greatest release.
Is it worth waiting for Meta Quest 3?
The Meta Quest 2 is a very capable device to be sure. However, It's getting a little old now, so in our opinion, waiting for the Meta Quest 3 is the smart move at this point.
Given the all-but-confirmed early 2023 release date, grabbing a Meta Quest 2 at this point could result in a big ole' chunk of buyer's remorse in a short few months.
Additionally, it might actually be worth flogging your current Meta Quest, as it'll no doubt receive a big price cut ahead of the Quest 3's release, which will drive down the value of used units.
Meta Quest 3 vs PSVR 2
Two upcoming VR headsets, both with some very strong capabilities. So which one should you get?
In our minds, the answer to this is fairly simple as it comes down to platform preference, and value for money. This is where the Oculus Quest 3 gets a big boost as it won't require any additional hardware to work, like the current Meta Quest 2.
Obviously, the PSVR 2 will require a PS5 to work, which means it's a great investment if you already own the PS5. However, if you just want to try out VR and have no gaming PC/compatible console, we'd recommend the Meta Quest 3 as you need nothing additional to get going.
Is a new Oculus coming soon?
Yes, though since 2014 when Meta bought Oculus, the VR headsets we all knew as Oculus Rifts and Oculus Quests were rebranded as Meta Quest.
So, yes, but it no longer bears the name Oculus, which is a bit of a shame in our opinion as Oculus is a cool word and seeing as you're asking this question, it clearly stuck with people.
Did Meta buy Oculus?
We thought this was common knowledge, but some people don't know the ins and outs which is understandable.
Yes, Meta did buy Oculus. This deal was made back in 2014, for a total cost of $2b. This figure is made up of cash, shares, and other business sorts of things.
This is why there continues to be confusion about the naming conventions of their products. Everyone is familiar with terms like 'Oculus Rift', but he was discontinued in favor of the current 'Quest' line of products.
So, yes, Oculus was brought by Facebook, which later rebranded to Meta. So now all VR headsets in this line now share the same 'Meta' prefix. We hope this clears things up.
Will Meta release a new Quest in 2022
Probably not. Given the recent price hike of the Meta Quest 2, Meta probably wants to squeeze as much cash out of the incumbent headset before getting busy with the new one. We now expect the Meta Quest 3 & Meta Quest Pro to be arriving in 2023
---