Razer reveals Enki Pro Hypersense D-Box equipped gaming chair
Haptic hubris or thrilling frontier?
Updated: Jan 5, 2022 6:00 pm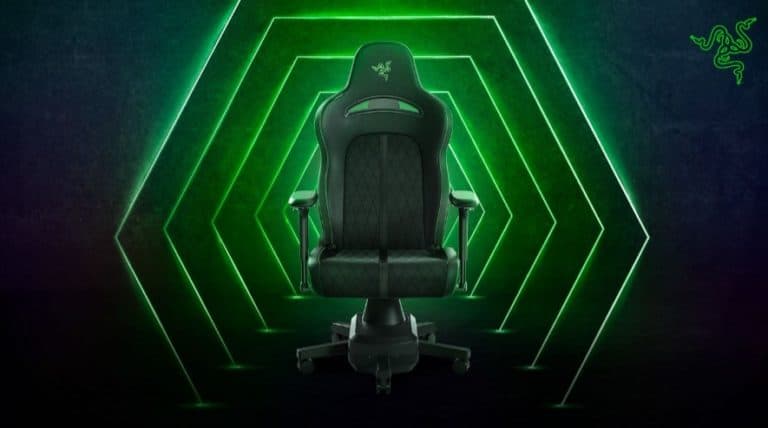 Razer has been unveiling some pretty incredible stuff at CES, from a refresh to their gaming lines, to a brand-new concept gaming desk– but it doesn't stop there. Razer continues to push the boundaries of what we've seen before by showing off their brand-new Razer Enki Pro Hypersense gaming chair. This gaming chair is a little bit different to the rest in the sense that it also has a D-Box functionality built-in, for a more immersive experience. D-Box is the thing that you get when you go to a cinema and your chair shakes around, and some theatre enthusiasts have equipped their own home cinemas with D-Box already, but Razer now wants this accessible to gamers.
We've previously seen the Cooler Master Motion 1 last year, which has similar functionality built-in, and more gaming chair companies than ever before are putting their hats in the ring to bring forth a brand-new gaming experience. But with the Cooler Master Motion 1 priced at around $2000, will Razer be able to beat the price for this vibrating monstrosity of a chair?
However, there comes a bold claim that the Razer Enki Hypersense is different to the rest of the competition, and have built the 'most advanced gaming chair to date' according to D-BOX CEO Sébastien Mailhot.
"Our combined efforts have resulted in a product that physically transforms the experience of games, movies and music through the use of cutting-edge high-fidelity haptic feedback. Razer's unparalleled attention to detail and striking design, alongside D-BOX's unmatched experience in haptic technology is laying the groundwork for the next generation of innovative home entertainment."

Sébastien Mailhot, CEO and President of D-BOX
Haptic Hypersensation
Featuring haptic feedback in which can be used with all manner of content, the Enki Pro Hypersense has an advanced haptic engine that can simulate textures and motion, with over 65,000 haptic variations. In addition to this is the active force in addition to vertical and backwards tilts that allow for a more immersive experience with a response rate of around 5ms.
The chair itself if based on the Razer Enki gaming chair, which we've checked out before here. However, the standard Enki will not let you feel every blade of grass in games like Assassin's Creed Valhalla or Forza Horizon 5. But it doesn't end there, you can use the Enki Pro Hypersense for up to 2,200 pieces of media between games, movies and even music. We just hope that Tetris Effect is somewhere on that list.
Razer Enki Pro Hypersense release date
Unfortunately despite this strong showing at CES, we've not seen anything from Razer in terms of a release date, or if they do intend to bring it to market at all. These types of gaming chairs have a tendency to disappear after the announcement, so who's to say if this one will, too.
Razer Enki Pro Hypersense price
Razer has not specified a price for the Enki Pro Hypersense at the time of writing. Nor do we have a release date, this means that this product could still be pretty far off from getting into actual consumers' hands. While it does seem like a great chair, there's not much point in developing an impressive product such as this if no one gets to actually use it.
---