In a great bit of news shared by the birthday boy Tony Hawk himself, a remastered collection of the original Tony Hawk's Pro Skater 1+2 are set to be released this year.
When it comes to the original Tony Hawk's Pro Skater games, one of the first things we all think about is the excellent soundtrack that made the skating even more satisfying. As soon as we read the news of this remaster the oh-so-familiar drum roll from Superman quickly got stuck in our heads.
This remaster comes as a bit of great news for both old and new fans alike. While the original games are fun, they are definitely starting to show their age. With a lack of great skating games on the market at the moment, this will be a welcome addition when it releases.
Tony Hawk's Pro Skater 1+2 Remaster Release Date
The good news is that this game will be released sooner than you may think. It's quite rare these days to see games announced and released within the same year, but this remastered collection will be hitting virtual storefronts on September 4th, 2020.
Tony Hawk's Pro Skater 1+2 Remastered will be released on the PC through the Epic Games Store, the PlayStation 4, and Xbox One for $40/£40.
Tony Hawk's Pro Skater 1+2 Remaster Trailer
If you want a quick look at what you can expect in this upcoming title, take a look at the official trailer below.
Tony Hawk's Pro Skater 1+2 Remaster Gameplay
We can see from the trailer that it is truly a remaster of the originals rather than a reimagining as some people may have first feared. We can see that the environments from the originals have been remastered and now look better than ever. You'll be able to skate around School, Mall, and Burnside just as you did in the original.
There will also be an online multiplayer alongside all of the original game modes. We're not too sure what this will consist of yet though.
It has also been confirmed that the core feel of the gameplay will remain more or less the same which is great for those who'll want to jump back in without having to master a new set of controls.
We can also see that the familiar cast of skaters will make a comeback in this title, you'll not only be able to skate as Tony Hawk, but you'll also have your choice of other skating legends such as Steve Caballero, Bob Burnquist, Chad Muska, Geoff Rowley, Bucky Lasek, Elissa Steamer, Andrew Reynolds and Kareem Campbell.
The Original Skaters Have Aged
This may seem like a strange statement when talking about a game that's getting a remaster, but many of the up-and-coming skaters in the original games have, of course, aged over time.
What's interesting is that this will be represented in the game. Each skater has been re-scanned into the game which means you can now skate around with a 52-year-old Tony Hawk and 55-year-old Steve Caballero all day long.
We're not too sure if the 'young' versions of these skaters will also be present in the game, but from the trailer shown above, the scanning is impressive and gives the game a unique touch.
Same Soundtrack?
Now, let's talk about the famed soundtrack. It's not yet confirmed exactly which songs will be making a comeback but we do know that not all of the original tracks will be featured. With the game being nearly 20 years old, it's great news that the vast majority of tracks will be available to listen to.
Earlier last week, part of the soundtrack was released by developer Vicarious Visions as part of a Spotify playlist that you can jam to while you wait for the game to release. This playlist does only include 18 songs at the moment but there's nothing stopping that from changing.
The original two games had a combined total of 26 songs and while we know a few will definitely be missing, we're still holding out hope that there won't be too many.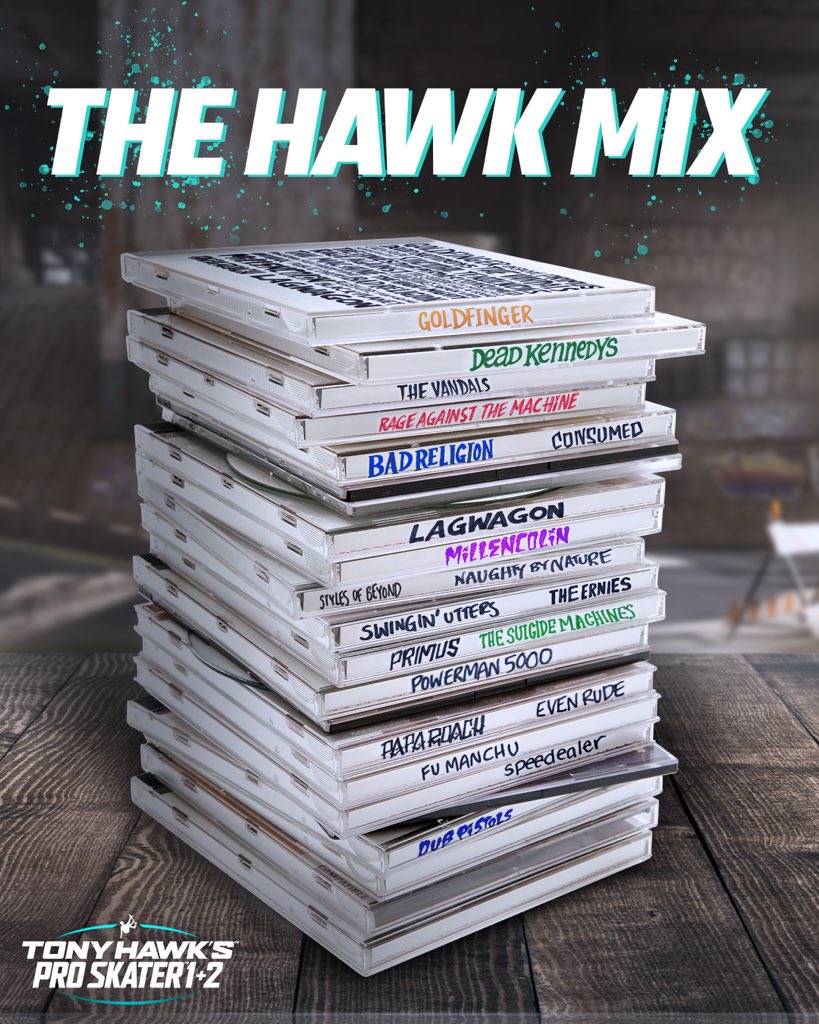 There are a couple of songs missing from the playlist that do make an appearance on the promotional image released, we're not sure if this is just a mistake or if they are some of the unlucky few that didn't make the cut.
For now, it is a bit easier to name the songs that didn't make it onto the playlist promo image, or the playlist itself. These are the following:
Bring the Noise – Anthrax & Public Enemy
B-Boy Document '99 – The High & Mighty, featuring Mos Def & Mad Skillz
Out With the Old – Alley Life
Cyco Vision – Suicidal Tendencies
Committed – Unsane
Final Word
Thankfully, we won't have to wait too long to get our hands on the Tony Hawk's Pro Skater 1+2 Remaster. We're excited to see just what this remaster has in store for us, what's changed, and whether or not we'll feel a massive nostalgia hit the first time we jump on our boards.
Are you excited about this remaster? Will you be picking it up on console or PC? Let us know down in the comments section below what your favorite part of the original games was, we love hearing your thoughts.